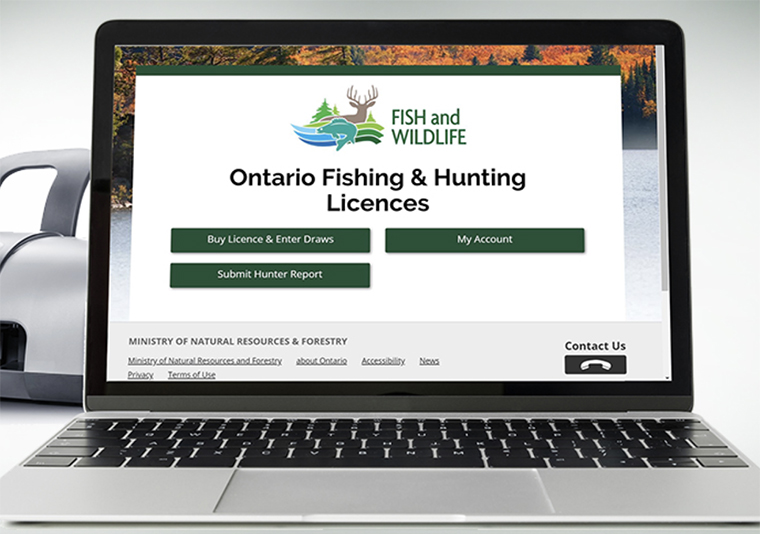 An online OOD story detailing issues with the new Ministry of Natural Resources and Forestry (MNRF) licensing system continues to receive comments from big-game hunters who are having problems with draw results and unprintable tags.
Since the story, "Problems with new MNRF online licences reported" was published on March 26, OOD has received more than 40 online comments, plus emails and phone calls from affected hunters, including those impacted by the Big Game Draw results. Common complaints include being told they did not enter a big-game draw when they believe otherwise, and printing issues with tags.
When OOD asked the MNRF about these complaints, MNRF Assistant Media Relations Officer Maimoona Dinani replied via email, "A small number of hunters have expressed concerns to the ministry; however, the ministry has confirmed that there has been no error with the licensing service or draw results and approximately 79,780 moose and 112,735 deer hunters successfully completed their draw."
Draw issues
In response to the complaints from hunters not being entered in draws they thought they had applied for, she said, "With the introduction of the new licensing service, hunters may not have been familiar with the layout of the draw entry screens and in some circumstances did not complete all the necessary steps required to enter the draw."
Dinani further explained, "When a hunter is entering a draw online and they have completed the Draw Entry information (i.e. hunt code, Wildlife Management Unit, animal type), hunters must click the 'Add to Cart' button before selecting to checkout. If a hunter has successfully entered the draw, the shopping cart will display their Moose Draw Entry, at this time hunters are reminded to ensure the correct information is displayed. Once the licensing products are purchased, the sales receipt will display the Moose Draw Entry information as well."
She also said that during this transition year, the MNRF is providing additional support and resources, available through the "Helpful Links" tab on the Fish and Wildlife Licensing Service website. Those unsure of the process can click here.
Dinani added that to support hunters applying to the moose draw in 2019, the ministry communicated step-by-step instructions with accompanying screenshots of the licensing service. The MNRF also created three tip sheets.
Print tags
"The ministry recognizes that hunters had the best intention to enter the 2019 moose draw and since it is a transition year, any hunter who purchased a moose licence before May 31, 2019 will be granted Pool 1 status for 2020. Any hunter who purchased a moose licence after the draw deadline of May 31, 2019 (Moose draw entry was April 17 to May 31, 2019) will not be granted Pool 1 status," she said.
Regarding the issue of printing tags, Dinani said, "The ministry has had some clients who have attempted to print their tags and were unable to print for a variety of reasons (e.g.: printer not connected, prematurely closed the PDF print window). At that point, the 'My Active Licences' page will show that the tag is already printed."
To resolve MNRF licensing issues, call the Natural Resources Information and Support Centre at 1-800-387-7011 or 1-800-667-1940, or visit one of the participating ServiceOntario locations or licence issuers that offer MNRF services.
For more outdoors news, click here
For more hunting stories, click here