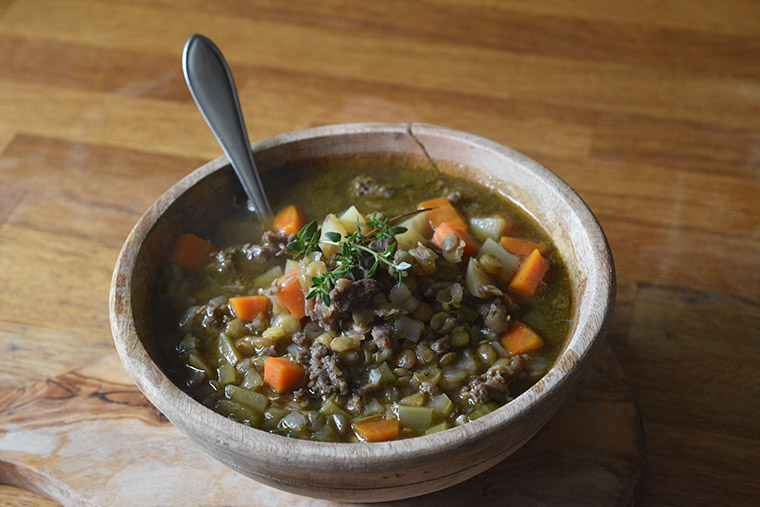 This tasty stew is full of flavour and hearty enough to fill up the hungriest hunters in camp. Just be sure to make a double batch as there will be plenty of empty bowls looking for seconds.
Makes 4 large or 6 small bowls of stew.
Ingredients
• 1/4 cup olive oil
• 1 white onion, chopped
• 5 garlic cloves, minced
• 1 lb. moose sausage, removed from casing, chopped
• 2 celery stalks, chopped
• 3 small carrots,peeled and chopped
• 1 Yukon gold potato, chopped
• 4 cups beef broth
• 2 cups water
• 1 cup green lentils
• 3 sprigs fresh thyme
• 1/4 tsp. ground cayenne pepper, for those who like a little spice
• 2 tsp. ground sage
• Salt and pepper, to taste
Directions
1. Heat olive oil in a large soup pot. Sauté onions and garlic for 5 minutes.
2. Add moose sausage and sauté for an additional 6 to 7 minutes.
3. Add carrots, celery, and potatoes to the pot. Sauté for 5 minutes. Add beef broth, water, thyme, and lentils. Season with ground cayenne and sage, salt, and pepper.
4. Simmer for 30 minutes. Add more seasoning if desired. Serve with some crusty bread.
Click here for more great recipes from Food Editor Andrew Rochon.