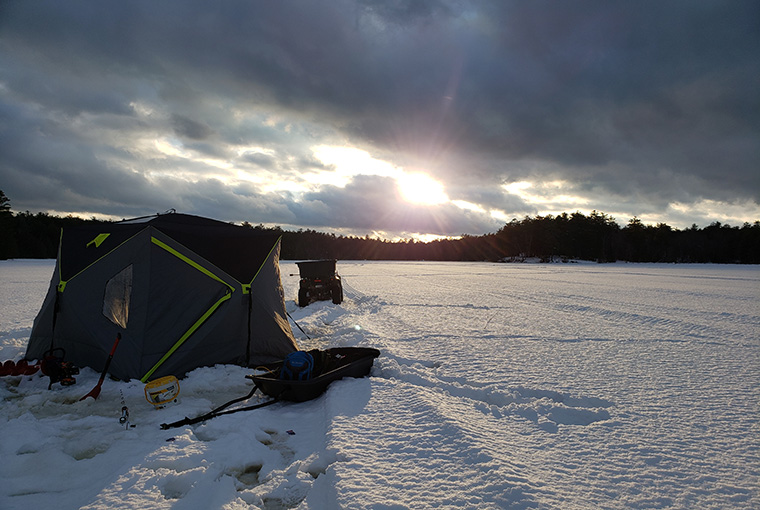 Hunters and anglers know that there is something about being outdoors that reduces stress and anxiety. Fortunately for our veterans and first responders, other organizations have also come to this realization.
Some groups offer outdoors programs and experiences for people in both groups who are dealing with post-traumatic stress disorder (PTSD) and other physical or psychological injuries. We contacted a few groups that are still providing services during the pandemic.
Heroes Mending on the Fly (HMOTF)
This non-for-profit organization was started in Edmonton in 2009 and was under the umbrella of Project Healing Waters (PHW), a well-known US group that introduces veterans to fly fishing. The association was terminated by PHW in 2019, and that's when HMOTF was born.
HMOTF uses fly fishing to reconnect afflicted veterans and first responders to nature.
Spokesperson Jamie Vieveen said, "Our program helps participants by taking them out of their daily routine. Many of our members feel isolated due to their symptoms. We provide opportunities for our members to connect with others who are also affected by the experiences of their service."
The group has chapters in most provinces. In Ontario, HMOTF takes approximately 20 to 25 people on a free fishing trip each year and hosts weekly fly-tying sessions. These are currently online virtual sessions due to the pandemic, Vieveen said.
One hundred to 150 people have gone through the program since its inception in 2009. Most funding comes from the Royal Canadian Legion and its branches across Ontario.
COVID-19 has affected HMOTF, causing the organization to postpone or cancel many trips and events.
"Our major event is a family-oriented weekend at a lodge where we typically host 30 members and their families with a number of outdoors and fly fishing activities. We have had to cancel this event for the last two years," Vieveen said.
Eligibility requirements
At press time, however, the group is in the final stages of planning for a family event in the fall. They are also starting up their virtual fly-tying sessions and, if public health restrictions allow, will return to in-person sessions.
To be eligible for one of their activities, a person must be a serving or retired member of the Canadian Armed Forces or the Royal Canadian Mounted Police who has been diagnosed with a physical and/or psychological injury related to service. First responders are also eligible but must be referred by their chain of command or physician.
To learn more about the organization, visit www.heroesmendingontheflycanada.ca.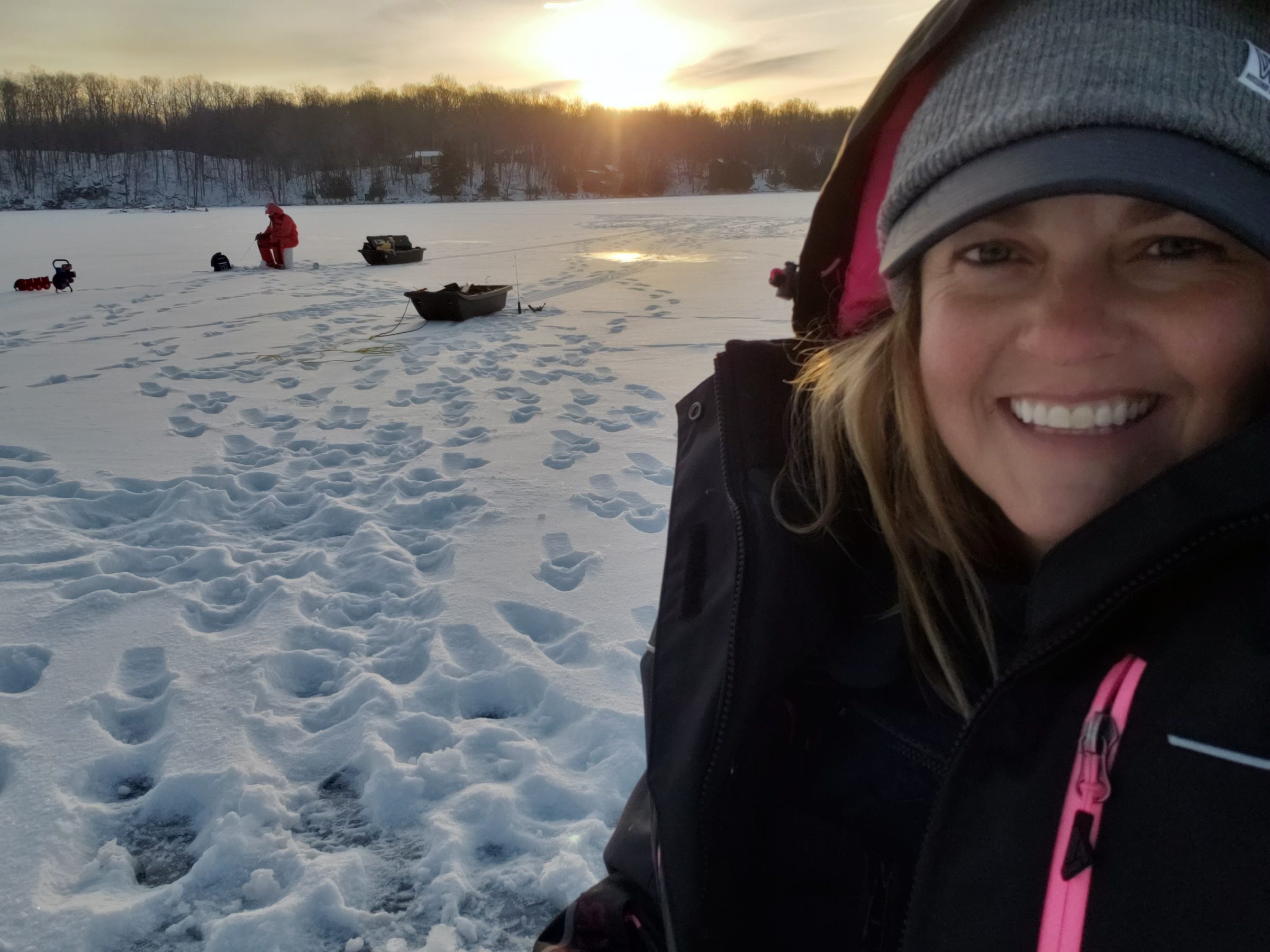 Mindful Fishing
Mindful Fishing is run solely by Christine Lapeer, a talented angler who is uniquely qualified to help first responders and veterans dealing with PTSD. Among other things, Lapeer is a Canadian Certified Psychiatric Mental Health Nurse who worked in the Canadian Penitentiary System for 12 years, including as a crisis negotiator. She now works as a nurse with Lanark County Mental Health.
Lapeer had her own brush with PTSD as a result of her experiences in the prison system and tried taking her own life as a result. She credits fishing for "healing her brain."
Soon after, she thought, "Wouldn't it be great if I could help first responders."
Since then, Lapeer has been taking PTSD- afflicted first responders fishing on day trips in eastern Ontario in, and around, Charleston Lake.
She connects with qualified participants through Facebook and Instagram but mostly through word of mouth and offers year-round angling experiences. Mostly, she does these trips out of pocket, but her program has benefitted from some fundraising efforts.
"We fish mostly for panfish in winter and spring and target walleye, bass, pike, lakers, splake and rainbow trout and brook trout at other times of year," she said.
There is no cost to the participant for the four-to five-hour fishing adventure, which includes food and water.
Fishing is a universal language
Almost as soon as she started, Lapeer knew she was onto something.
"Once I got a few first responders out in the boat, I could see how this would be beneficial. They had access to a mental health nurse and they were fishing. They were dealing with their issues outside in nature surrounded by a beautiful setting."
She said she currently takes first responders, in all stages of stress, out on a one-to-one basis about once a week.
"I know there is a reduction in stress, depressive symptoms, and they are not ruminating over their triggers and traumas. You're out there in nature and nothing else matters," she said.
She noted that she often gets fishing-related photos from those she helped three to six months down the road.
"I continue to keep these fishing relationships. Fishing is a universal language," she said. "When I take people out, I know what I see. I've been a nurse for 20 years and I've been able to help more people through fishing than as a nurse."
She is currently exploring ways to expand her efforts by looking for volunteers and more fundraising opportunities. To contact her, visit her Facebook page or @mindfulfishing on Instagram.
Vett II Vet (VTV)
VTV is a volunteer group based out of Royal Canadian Legion Branch 181 in Bancroft. Established in 2015, the group holds an annual fishing weekend in Wilberforce on the second weekend of September. The event is for current and former Canadian Armed Forces veterans suffering from PTSD and their spouses or partners.
Co-founder Brenda Boomhouer of Wilberforce says the goal of the organization is to bolster the purpose, self-worth, and dignity of the 12 to 14 Canadian Armed Forces veterans who participate in the event each year. Since its inception, nearly 60 veterans have taken part.
The event is supported heavily by up to 60 volunteers and each veteran gets one-on-one guiding and other local tourism activities.
"We try to provide them with an open environment where they can relate. Our volunteers provide their time, boats, gas, fishing rods. They will do anything to make the weekend a success for the veterans."
The initiative gets financial support from legions all over Ontario, Boonhouer said. "It comes out of the Poppy Fund."
This group has even gone so far are to arrange rides for veterans to and from the event.
To learn more, call the Royal Canadian Legion Branch 181 at 613-332-3250 and ask to speak to the Vet II Vet Coordinator.
Though this is a small homegrown operation, Boomhouer noted two offshoots have come out of their idea — both in Nova Scotia.
Lures for Vets
Lures for Vets is run by Clarence Grear out of Lawrencetown, Nova Scotia. Grear creates and sells fishing lures and rigs and donates 10% of the proceeds to groups that help veterans. More information can be found on the Lures for Vets Facebook page.
Others
There are other groups that help veterans heal in different ways. Outward Bound (www.outwardbound.ca), True Patriot Love (www.truepatriotlove.com), and Wounded Warriors Canada (www.woundedwarriors.ca) are notable examples.
Originally Published in the Jan.-Feb. 2022 issue of Ontario OUT of DOORS
For more fishing stories, click here