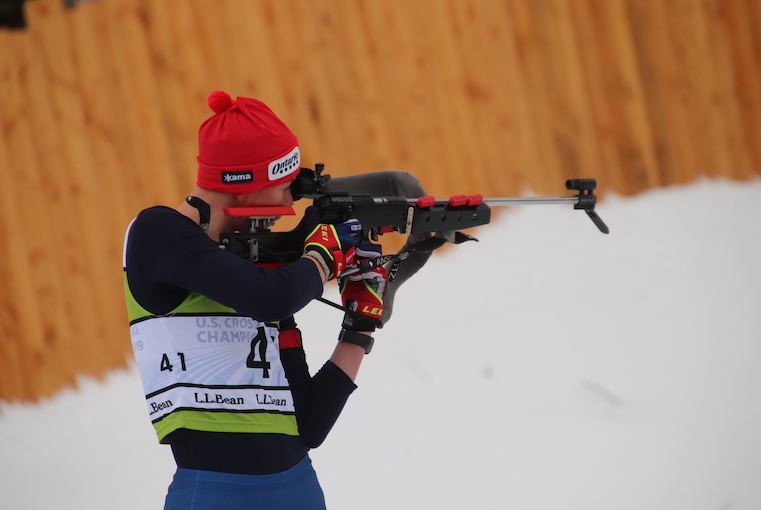 Hunters can learn much from competitive shooting. They share similar challenges with biathlon athletes — like shooting quickly under pressure with an elevated heart rate. Advice that can help a biathlete can also aid a hunter.
One of the keys to shooting under pressure is getting used to pulling the trigger while your heart is racing, Whistler Olympic Park and junior national biathlon coach Etienne Letondeur said. Biathlon competitors try to slow down a minute or so before shooting, and mentally prepare themselves for the shot.
"The goal is to be able to shoot with muscular fatigue," he said. "For us, the mental aspect is very important. You have kind of a sequence you have in your mind to hit the target. For hunters, if they know what to do at the right moment, they will also be successful."
Firearms instructor Todd Millard, co-founder of Redneck Country shotgun school in London, agreed the mind is the biggest hurdle for any shooting. Buck fever is the classic example of this, he pointed out. "Shooting is not difficult if it's competition or hunting," he said. "It's getting your mind around how, where, and when, and getting comfortable with your gun."
Millard's advice is to practice, practice, practice until a technique becomes natural. "If you're repeatedly pulling the trigger, you're getting better every time you do it."
Other tips
Another key to success hunters can learn from biathletes is in how they handle their follow-through, Letondeur said. "Once you release the shot, stay steady to help guide the bullet."
Gun mounting is another thing practiced by biathletes until it becomes automatic. Holding the gun steady and dry firing are daily rituals.
"Trigger control is very important," Letondeur said, pointing out releasing the trigger at the right time is crucial. "You have to learn to manage your breathing cycles and release the shot at the right time."
Shooting sports you can try
Trap
Targets are thrown away from the shooter from an oscillating trap machine. They're launched at a variety of angles within pre-set parameters. The shooter rotates between five different stations in an arc 16 yards from the front of the trap house, shooting one shell at each target with five targets per station. Variations are handicap, where the shooting distance is extended to between 20 and 27 yards dependent on the shooter's average, and doubles that involves throwing two targets each time. Trap is a 12 gauge-only sport.
International trap
Like trap, but targets are thrown faster and from three different machines per station. Often called bunker trap, the angles of the targets thrown are computer controlled.
Shooters are allowed to shoot two shells per target but are restricted to 7 ⁄8-ounce loads. Gone are the 100 straights of regular trap as this is a more challenging game.
Skeet
A skeet field has target machines placed high (10 feet) and low (3.5 feet). Targets are thrown in a pre-set pattern crossing the shooter's path (rather than away from it as in trap). Shooters are presented a combination of doubles and singles. Olympic skeet targets are thrown faster.
Skeet guns have more open chokes for closer distances and double barrels are most common. Skeet competition is in 12-gauge, 20-gauge, 28-gauge and .410.
Sporting clays
Sporting clays is designed to represent hunting situations and is shot in the woods or field. A variety of targets are thrown, including targets along the ground, and smaller clays. Targets are presented as singles, pairs and following pairs over either a 50 or 100-target course. There are no regulations regarding the type of targets and each course is unique. Many consider this the ultimate practice for the hunter, but it is also a sport on its own. Guns need to hold multiple shells, and interchangeable chokes are ideal.
Five-stand
To explain it simply, five-stand is like sporting clays shot from the five positions on a standard trap field. Multiple machines are used to present a variety of targets. Each round is 25 targets.
Paper target competitions
There are a variety of target shooting competitions organized through the Ontario Rifle Association (ORA) and Dominion of Canada Rifle Association. These include F Class (which ranges out to 1,000 yards), the Sporting and Vintage class (for hunting guns and service rifles), and other classes for various target guns, scoped guns and open sights.
Metallic silhouette
Metallic silhouette is a sport with off-hand shooting of metallic silhouettes of a chicken, ram, pig, and turkey. Targets are shot at different distances, with the goal to knock down as many targets as possible within a time frame. Both rimfire and centrefire can be shot. The Silhouette Rifle Association of Canada keeps track of statistics and helps with organizing the nationals. At present, there are limited opportunities for this sport in Ontario.
Canadian Precision Rimfire Series
The newest shooting sport to come to Canadian gun clubs, precision rimfire tests the shooter in extreme conditions and long distances. The original format has competitors shooting at metal targets from various obstacles, such as a barrel, tires, and unique rests, out to 300 metres. Variations include the X-22 (Ruger 10/22s only), a sniper series (spotter and shooter) and the Outlaw Rimfire Precision Series (max distance of 100 yards).
There are divisions for stock and target .22s. Of more importance than the gun is a scope with some sort of bullet drop compensation.
Precision rifle series
Organized through the ORA, precision rifle is similar to rimfire precision, but is shot with centrefire guns at greater distances.
Biathlon
A combination of cross-country skiing and target shooting. It's an excellent opportunity to learn to shoot while under physical exertion. There are nine biathlon facilities in Ontario and a new high-level training facility just opened in the Orillia area. Competitors need a target .22 or pellet gun with open sights.
And more
There are also many sports and competitions for handgun shooters and multi-discipline sports that are combinations of handguns, rifles and shotguns all shot in one event. More info can be obtained from shooting facilities or online.
Originally published in Ontario OUT of DOORS' 2022-2023 Hunting Annual