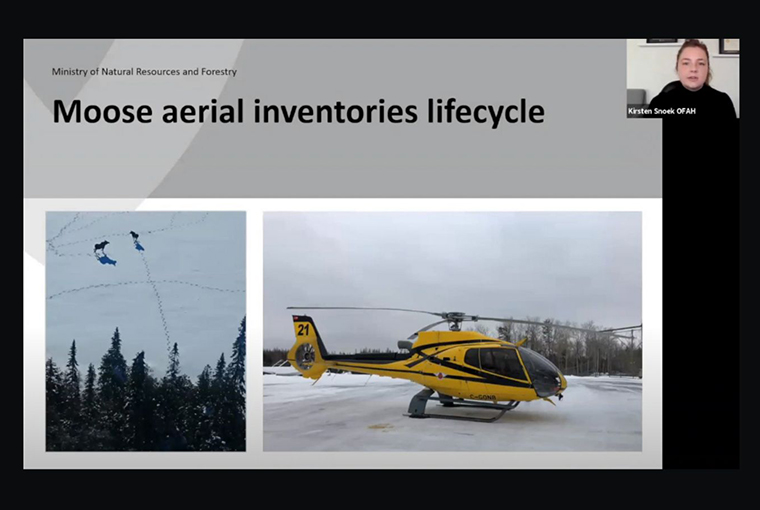 It's been a "hit-or-miss season" for annual moose aerial inventories, a Ministry of Natural Resources and Forestry (MNRF) expert told Ontario Federation of Anglers and Hunters (OFAH) members during a recent moose surveys webinar.
"It hasn't been great," MNRF Senior Biologist and Provincial Wildlife Monitoring Program lead Philip DeWitt said during the Jan. 26 evening OFAH Inside Access hosted by OFAH Wildlife Biologist Kirsten Snoek.
Ideal conditions would include five centimetres of snow added to a base of 30 to 50 cm and the arrival of a cold front — like three days of blue skies and little wind, DeWitt said. "That gives us time for moose to set tracks and us to see the tracks that lead us to moose."
A webinar participant had asked how the surveys were impacted in the north, given the lack of snow further south, save for a dumping at Christmas.
"It has been better, up north … but it's been difficult to get good blocks of weather consistently," DeWitt added.
Data supports MNRF functions
Webinar participants learned about the history of moose aerial inventories, including how they have been used to estimate moose populations since an approach first worked on in the mid-1970s was standardized in the 1980s.
Crews determine abundance, sex ratios, calf recruitment, and trends — important data which supports MNRF functions including cervid management, harvest planning, and habitat management through forest policies.
An updated method for predicting moose densities was adopted in 2019. Crews prioritize monitoring high-density plots for statistical reasons. Spending more time in these areas increases survey efficiency, DeWitt said.
As many as 15 aircraft, each with a pilot, navigator, and two rear observers, may be required at any given time, depending on weather. Survey conditions, including snow, play a big role in the final planning stages, DeWitt explained.
Conditions critical
Surveying starts when weather conditions permit and the controlled hunt has ended, from Dec. 1 to approximately Feb. 15, under specific conditions where moose are most visible.
These include surveying two hours after sunrise until two hours before sunset and when the sky is hazy or clear (for light), six to 72 hours after snowfall, when wind is less than 20 km/h, and when the temperature is below -5˚C, for fresh tracks and animal behaviour.
There must also be enough snow to cover rocks and stumps. Not enough means crews will be looking at dark, brown things that are not moose, and too much means moose will stop moving, which is also problematic.
Drones a possibility
DeWitt was also asked if the MNRF is considering alternative survey methods, such as the use of drones, to survey moose.
"We are having conversations on it, is the short answer," he said, pointing out that drones have only become more cost-effective in the past couple of years.
Challenges to using them in the past have included their relatively short flight durations, how they needed to be in the line of sight of the operator, and licence requirements.
"Those rules have changed … which are opening up more opportunities," DeWitt said, noting that they have been tested in Manitoba, with "positive outlooks in open areas."
How effective they would be in conifer-dominated areas remains up in the air, he said. Looking forward, as climate changes continues and snow becomes more dynamic, the ministry may end up using several different methods, such as aerial inventories, cameras, and hunter reporting, instead of hard shifting into a new technology.
It's an exciting question, Dewitt said. "It's always ticking around, in the back of our minds, trying to anticipate how we can take that next step to move it forward."
Harvest planning discussed
DeWitt's presentation also covered the extensive planning that goes into the surveys, the importance of moose tracks and how crews follow them, how bulls, cows, and calves are identified, and the calculations used to determine moose densities.
He was joined by MNRF Senior Wildlife Biologist and Policy Advisor Patrick Hubert, who spoke about the moose harvest planning process, including the importance of aerial data and how it translates into tag allocations.
The webinar is one in a series of digital presentations offered by the federation. Others have focused on the moose tag allocation process and firearms.
"The OFAH is continuing to bring our members valuable information and resources so they can get the most out of their hunting experiences," Snoek said.