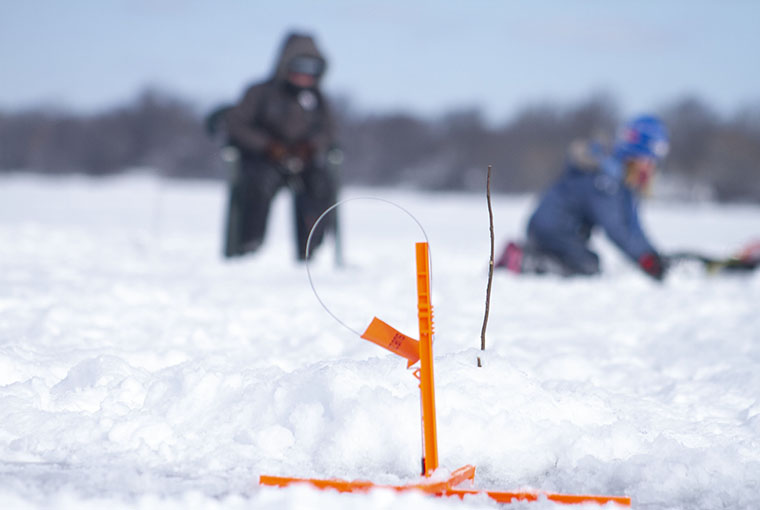 Catch the fun of province-wide free fishing starting this Family Day weekend from Feb. 18-20, 2023.
The annual angling opportunity is one of four free fishing events aimed at getting more folks outside and enjoying the sport. Other licence-free events include Mother's Day weekend (May 13-14, 2023), Father's Day weekend (June 17-28), as well as Family Fishing Week, from July 1-9, 2023.
Conservation limits apply during these times.
"The Family Day weekend is a perfect opportunity for anyone who doesn't have a fishing licence to try their hand at ice fishing," OFAH Outreach Programs Supervisor David Ryrie said. "Wherever you go, make sure safety is your number one priority. While 'no ice is safe ice', a minimum of four inches of clear, blue ice is the bare minimum to venture out on foot."
How to participate
Join a public event or register your own event to receive a free fishing goodie package, as well as to be entered into a draw for a larger $500 prize pack sponsored by Ontario OUT of DOORS, Lucky Strike, and Shimano. Arnprior, Britt, Manitouwadge, Nepean, Orangeville, and Penetanguishene are each hosting events, for example.
Tackleshare, an OFAH effort supported by Ontario Power Generation, loans fishing equipment to the public at more than 140 loaner sites across Ontario. You can learn how to ice fish via TackleShare YouTube Channel videos. Follow TackleShare on Twitter, Facebook, and Instagram or visit www.tackleshare.com for more information.
"Fishing is a time-honoured tradition and a terrific way for families and friends to enjoy the outdoors and spend time together," Minister of Natural Resources and Forestry Graydon Smith stated in a release. "Whether you are a seasoned angler or a first-time fisher, this is a great opportunity get outside and fish for free this Family Day Weekend."
To read the 2023 Fishing Regulations Summary and read up on your own Fisheries Management Zone (FMZ), click here