As much as I often write about things that have already happened, I'm not really a nostalgic person. Most of my energy is spent looking forward to things, not looking back. However, this spring, as the rivers have begun to open and the ice has receded from the lakes, I've been realizing that a long-time part of my steelhead fishing life is about to be retired. My favourite waders have finally passed their best before date.
These waders were not just your typical, run of the mill store-bought waders. They were actually made to fit me, and were custom tailored to fit properly. As anyone who wears waders a lot knows, the one size fits all thing does not typically work out that well.
Off-the-rack waders always seem to be a bit too short or too long, creating all sorts of uncomfortable situations. In contrast, the company that made my waders 20 odd years ago – Wardell –  took my leg inseam, waist and foot size and created waders that fit. This made wearing them all day a uniquely comfortable experience. 
These particular waders were also – at the time – the first hybrid of Gore-Tex and neoprene I'd ever seen offered. The leg section was thick 8mm neoprene, with reinforced knees and feet. This kept the cold of Lake Superior and its coastal streams from getting into my bones and prevented aching knees. And, the upper portion of the wader was made of a breathable material, so that even on long hikes up the river I didn't feel like I was microwaving everything from the belly button down .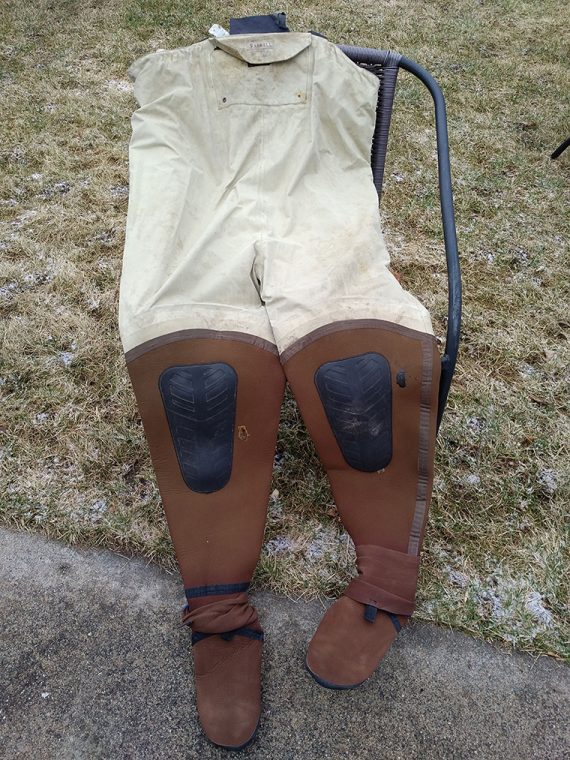 These waders did look a little unusual, however. From a distance, it may have seemed like I was wearing white cut-offs and showing off some very tanned legs. But a lack of visual appeal was a small price to pay for true comfort, especially when cold water steelheading.  
To say these waders got a lot of use would be an understatement. One of my favourite early spring activities is to shore-cast Lake Superior, and with the water temperature always hovering around the freezing mark, these particular waders were called in to use regularly. They were remarkably warm, even on the coldest days, and cut high enough on the torso to allow for some fairly bold wading.
Most of the largest steelhead I've caught were taken while wearing these waders and they are visible in many "hero shots." These super warm waders were also worn in the boat during late and early season forays on the Nipigon River and elsewhere. 
My waders did not leak until just a few years ago, when I felt a cold trickle of Lake Superior water running down my leg. A close inspection revealed some long-term wear was the problem. I aqua-sealed the spots and the problem was resolved.
However, in recent years, the neoprene has started to show its age, and the aqua seal has gone into high rotation. The leaks are relatively small, but when you're talking about Lake Superior water, you really don't need much to take the shine off the day. In early April of this year, I shore-cast Superior and the leaks had spread. I got wet and cold very fast.  
So it's time. After 20 some years of hard use, my waders are being retired. I'm really not sure what to do with them, as throwing them out seems a harsh ending. For now, I will likely keep them in my outdoor clothes closet, like an old, retired hockey jersey. They will be a reminder of many good fishing trips and the inevitable passage of time.
Here is hoping the replacement will be even half as good. 
Read more from Gord here.