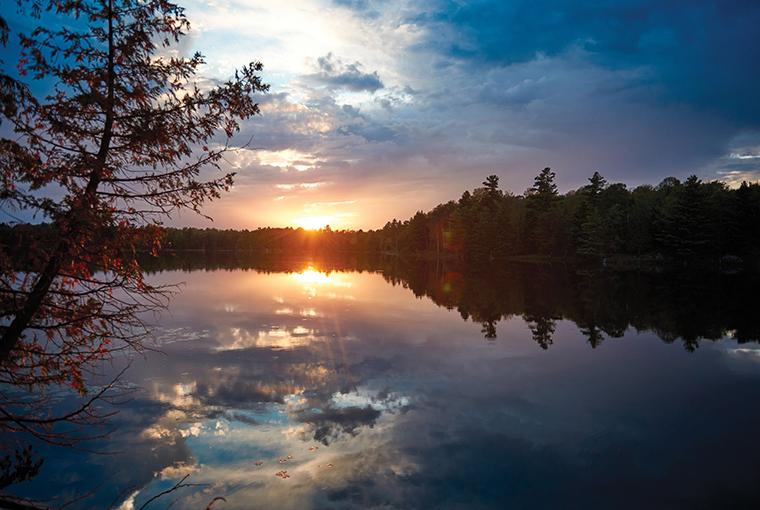 The sun was just high enough to give the lake an orange glow as I quietly slipped out of the tent and walked to my docked boat. After firing up the Mercury, I quietly idled my way out of the bay, trying not to disturb sleeping campers.
Two minutes from the campsites, the rugged Canadian shield shoreline provides staggering drop-offs with depths of over 100 feet just a stone's throw from land.
I dropped my trolling motor and began cruising while looking for marks on my Garmin fish finder. I was approaching 115 feet of water when I noticed some promising "hook" marks near bottom, so I sent my jig down and began aggressively ripping it.
Setting up camp
My wife, Lesley-Anne, and I had been coming to Murphys Point for years, located on Nobles Bay of Big Rideau Lake in southeastern Ontario. We love camping on the boat-in sites located on islands and away from the bustle of the main sites.

A three-minute boat ride from the launch brings you to a dock that services the two or three campsites on each of the islands. The campsites include a fire pit and toilet access. Our sites were situated next to a small, quiet bay that was perfect for our golden retriever, Goose, to enjoy swimming.
We unloaded our camping gear and Lesley-Anne began setting up the tent. I piled wood near the fire pit, gathered some kindling, and headed down to the dock to ready the fishing rods.
Fish factory
While I was primarily targeting lakers, Big Rideau Lake hosts a handful of bass tournaments due to its healthy number of trophy-sized largemouth and smallmouth. Wacky worms, drop-shots, and crankbaits will all help you hook them.
My lake trout lures of choice include Berkley PowerBait Power Jerk Shad five-inch in pearl white with a two-ounce jig head, PowerBait "Ripple Shad" in pink shine with a two-ounce jig head, and the Blue Fox Gomame jigging spoon in a variety of colours. I've had good success with all these set ups, but that morning, the plastics seemed to be the ticket.
Lakers abound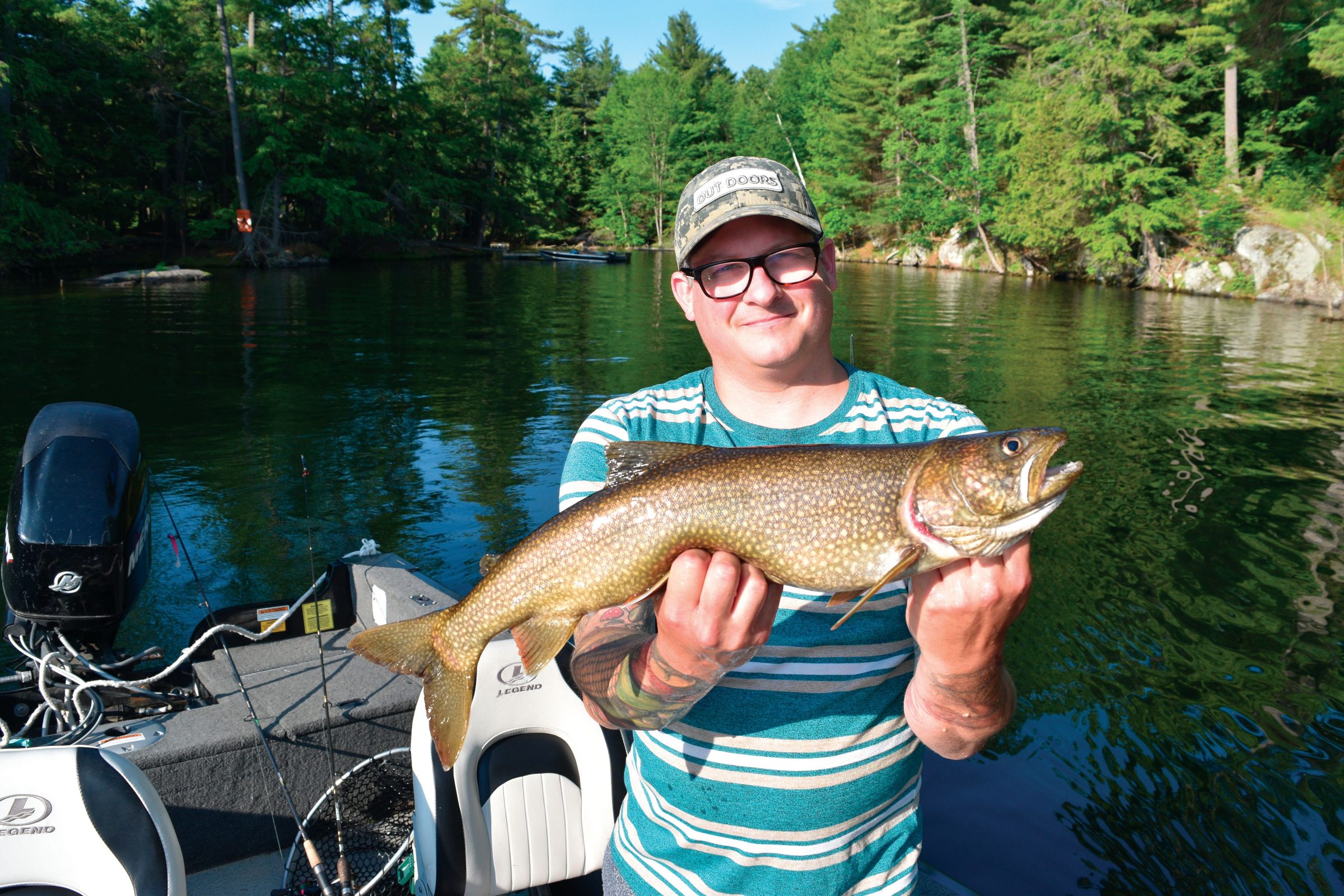 A kayak angler about 50 yards from me was hooked up. We'd been chatting, so I went over to see if he needed a hand with a net. He landed the nice fish himself and let me snap a quick photo.
Afterwards, I cruised to a spot about 122 feet deep and dropped down. All of the sudden, I had the "uh oh, I think I'm snagged," feeling immediately followed by the unmistakable headshakes of a hooked laker.
A four-minute battle brought the angry fish to the surface. I netted it just before it broke the surface and put it into the live well. The rest of the morning was consistent. Before heading back to camp for breakfast, I boated three smaller fish and lost one that shook off near the boat.
Plenty of amenities
The park has a visitor centre/park store that offers firewood, snacks, fishing tackle, and bug spray, and a bunch of other camping supplies. It also has a boat launch, canoe rentals, and comfort stations with flushing toilets and showers.
There's boat-in access to the nearby town of Portland, where you can enjoy a meal at a restaurant, get gas, or hit up the LCBO.
On docks all around the park, kids spend hours reeling in a variety of panfish. Murphy's Point also has access to many different hiking trails.
Murphys Point Provincial Park is our favourite camp site for many reasons, including its proximity to where we live, remote and clean campsites, and, of course, great fishing. Whether it's just you and your significant other or the whole family, Murphys Point offers a camping getaway you will want to recreate year after year.
Lots to do
The Park offers a variety of fun, interactive, educational programs during the summer and on some fall weekends.
Try a guided tour of the Silver Queen Mine, a restored early 20th-century mica mine.
You can also walk to the amphitheatre for an evening nature show, check out a kid's program, or stop by the visitor centre.
For a weekly list of programs and schedule of events, visit: www.friendsofmurphyspoint.ca
---
Getting there: From Ottawa, take Hwy. 417 southwest to Hwy. 7 to County Rd. 1 in Perth. Take Elm Grove Rd./County Rd. 21 to the park, which is on the east side of Elm Grove. The 75-minute drive is about the same distance northeast from Kingston on Hwy. 401 and Hwy. 15.
Cost: The cost of a back-country site is $10.17 per adult, per day.
Contact:
Murphys Point Provincial Park
Perth, ON
613-267-5060
www.ontarioparks.com
---
Originally published in the April 2021 issue of Ontario OUT of DOORS magazine.
Click here for more travel stories