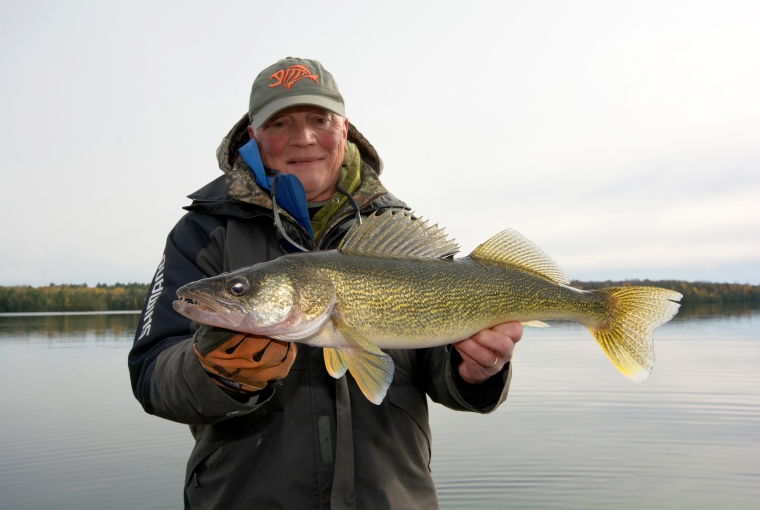 Late fall is an incredible time to fish a lake for walleye. Turnover tribulations are long gone and hungry walleye are concentrated on mid to deep structures and around the last bastions of healthy vegetation. Walleye are often willing biters, but having several presentations helps if they should get choosy, like during a cold front. Here's a rundown of where to find walleye in late fall and tactics for catching them.
Deep structures
In autumn, walleye can often be found on 20- to 35-foot humps, saddles, secondary points, and flats rising out of 40- to 60-foot basins.
The area surrounding a structure should also be considered, as the more structures there are around, the more likely this portion of the lake will contain a lot of fish. For example, a small, solitary hump topping out at 30 feet that's sur­rounded by 50 feet of water may hold walleye, but it's unlikely to support the quantity or qual­ity of fish of a similar hump that's part of a com­plex of humps, saddles, and bars within a 40- to 60-foot basin. Add islands and big points to the mix and things get even more interesting. These larger, structure-rich regions provide many fish­ing opportunities, with active biters replenishing hot spots throughout the day.
Forage is another big influence on walleye location. Marking baitfish on electronics when scouting deep structure is a good sign walleye are likely around.
Mid-depth zones
A lesson I've learned is not to overlook mid-depth spots in autumn. Even when deep structures hold fish, anglers can catch walleye fishing 10 to 20 feet, give or take.
This occurred on a trip to Georgian Bay with "Big" Jim McLaughlin and several other anglers. Fishing weededges, breaks, and points spanning 14 to 20 feet of water produced the biggest fish, many of which ate crankbaits, while the deeper flats were overrun with smaller walleye.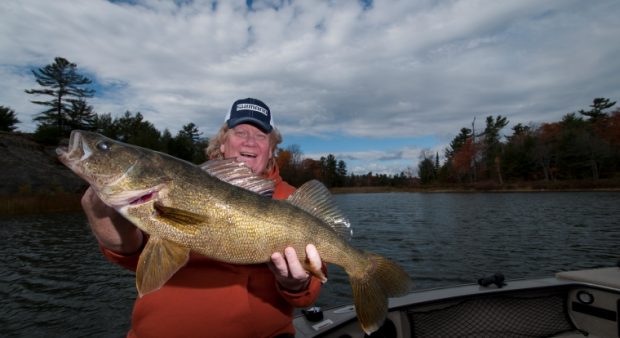 The best mid-depth spots are typically close to deep water. I can't imagine a walleye hanging out on a 12-foot sand flat during an autumn storm when they could be on bottom in 30 feet where conditions are more stable. The closer a mid-depth food shelf is to deep water, the more it will appeal to walleye. Many of the best mid-depth spots I fish are extensions of the deep structure complexes previously listed.
When fishing mid-depth flats, it's common for walleye to hold close to the deep drop-off. Yes, I find them scattered and roam­ing the flat, but fishing the edge of the flat leading to the drop-off as well as exploring down the ledge is a must.
As with deep spots, food is a fac­tor for mid-depth walleye. Stretches of deep vegetation are where baitfish, perch, and other forage move to in fall after shallow plants in the fertile bays and flats die back. Walleye follow their noses and feed heartily among deeper beds of cabbage and other vegetation.
Fish cruise flats
Tall weedbeds and thick clumps aren't the only game in town, however. Sand and mud flats with patches of grass are also productive. Walleye cruise these flats looking for minnows, perch, cray­fish, and other invertebrates.
Fishing mid-depth spots near a tributary can also pay off. Inflows deliver oxygen and nutrients, which prolong the health of vegetation and attract forage. Plus, several baitfish species migrate into and around tributaries in fall. It isn't just about baitfish, though. When a tributary passes through a marsh or a grassy field it serves as a route for frogs migrating to the lake to overwinter in the muddy bottom. Generally, the migration wraps up before late fall, but frogs in the muck are certainly another draw for walleye to hang out around tributaries.
Covering water
It's good to have baits for quickly covering water and locating fish that also appeal to aggressive walleye.
A bladebait is one of my favourites. It casts a mile, sinks quickly, and can be retrieved at a good pace. Fan casting a bladebait over a large hump or flat will quickly tell you where the wall­eye are holding.
A bladebait is easy to fish. Let it drop to bottom, then raise it enough to make it vibrate, keeping the rod still as the bait sinks to bottom. Reel up the slack and do it again. Lures anywhere from 1⁄4- to 3⁄4 of an ounce are applicable for fall tactics.
Lipless crankbaits
This spring I experimented with lipless rattlebaits in scenarios where I'd typi­cally cast a bladebait. They caught quality fish and I'm looking forward to using them more this fall.
Spoons and jigs
Spoons in the 2 1⁄2- to 4-inch range and 4- to 5-inch paddletail swimbaits on 1⁄2-to 3⁄4-ounce jig heads are other options. Jig these baits anywhere from 8 to 24 inches off bottom.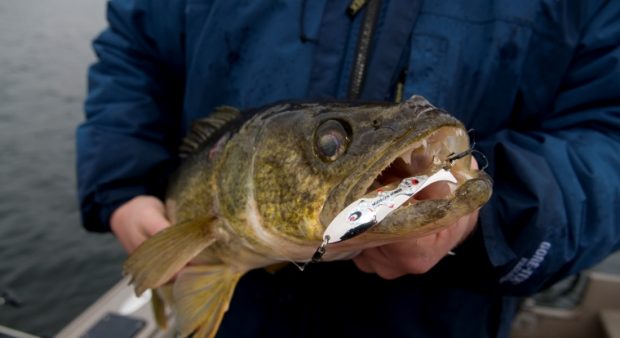 These lures also vertically jig well. Use anything from a short rod flick to a 1- to 2-foot sweep, before following the lure as it sinks. Touch bottom, lift it slightly, pause, then jig again. Jigging minnows can also be used this way
Mid- to deep-diving crankbaits
These are fall mainstays for covering water and catching big fish. Having walleye crack a 3- to 5-inch crank­bait is a riot. Fish a crankbait by tossing it parallel to deep weededges, fan casting it to cover flats, or casting one on a 45-degree angle to work down a structure break. A moderate to slow retrieve is best. Be sure to add pauses and rod snaps. This was something I've watched "Big" Jim do many times to sweet talk Georgian Bay 'eyes into bit­ing his crankbait.
Trolling deep-diving cranks around structures is another deadly tactic. Some days, this produces better than casting, and, in ugly weather, it's often more comfortable. It's certainly tough to beat when walleye are relating to pods of baitfish.
When dealing with weed walleye, pitching and rip jigging a 3⁄8-ounce bucktail jig will get you bites. Snap it up a foot or two to clear off any weeds then let it fall. This also catches walleye from flats con­taining weed clumps or sand grass. You can use jigs and plastics, too, but be sure to get the jig thump­ing down and jumping up to stir up silt and sand to attract walleye.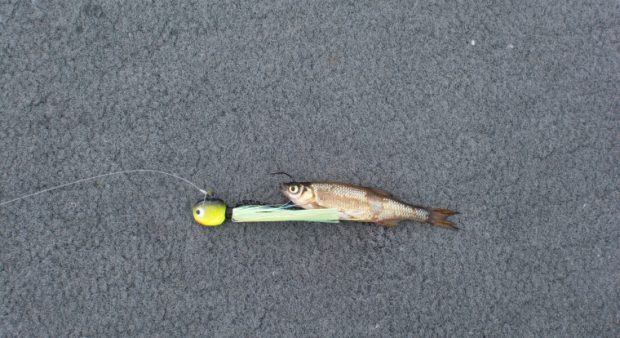 The finesse game
Fall walleye sometimes need coaxing, a common situation during cold-front conditions. This is when finesse presentations earn their keep.
Finesse worm or fluke
A jig tipped with a 4- or 5-inch fluke or finesse worm will tease bites from fish. So will a dressed jig tipped with a minnow. Meat makes walleye eat when other presentations fail. Use 3⁄16- and 1⁄4-ounce jigs in mid depths and 1⁄4- to 3⁄8-ounce ones in deep water.
Live bait rigs
A common fall rig is a 6-inch chub or sucker on a size-2 hook tied to a 36- to 42-inch lead of 10-pound fluorocarbon attached to a swivel. That's followed by a bead, then a 1⁄2- to 3⁄4-ounce walking sinker threaded over 20-pound braid mainline. Slowly drag the rig on deep flats, down bars and points, over the crown of structures, and other places you've marked big fish using your electronics. Feed a biting fish line for a few seconds to let it get a mouthful, then reel down and sweep the rod to set the hook.
Baitfish as structure
It's common in the fall for schools of baitfish to suspend and congregate over deep water. These pods can be approached as a type of moving, "live" structure for walleye.
Locating large schools of bait mixed with larger predator fish on electronics is the first step. Use GPS waypoints to track bait movement. Next, determine where walleye are positioned around the bait, and use crankbaits that will run just above this depth. Trolling a spoon on lead core or a snap-weighted line is another option. Troll the edge of the "structure." Inline planer boards prevent spook­ing fish. Line-counter reels ensure precise depth control of lures.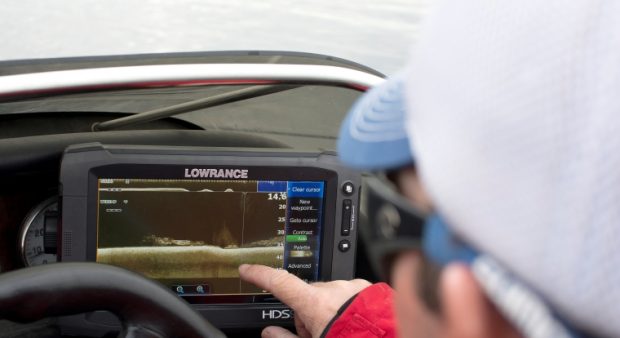 Next comes figuring out how to get walleye to hit the jig. Start with a hop-fall-pause retrieve. If unsuc­cessful, try dragging and shaking it along bottom.
Slowly reeling to swim a light jig 2 to 12 inches off bottom is also deadly. Add nods with the rod to make a plastic or a minnow quiver and tease bites.
Controlled drifting is another way to work a jig. Slowly move the boat with the trolling motor to stay at the ideal depth, while pulling the jig behind the boat. On clear lakes or lakes receiving heavy fishing pressure, getting jigs away from the boat can get you more bites, especially from mid-depth areas.
Fall is one of the best times to fish for walleye. Fish are concen­trated on key areas and generally willing to bite. Explore your favourite lake with a mix of fast and finesse tactics and you'll enjoy some amaz­ing autumn catches.
A drop-shot
Another fall finesse option for swimming over a flat, pitching up on a point, pull­ing down a ledge, or fishing vertically on deep structure. While finesse plastics in the 3" to 4" range are great, a live minnow is potent during tough bites. For more info on tactics, see "5 pro tac­tics for walleye," pg. 36, in the 2019 Fishing Annual and "The drop-swim," pg. 34, in the May 2019 issues.
Originally published in the Fall 2019 edition of Ontario OUT of DOORS magazine.
Click here for more fishing stories
For more outdoors news, click here