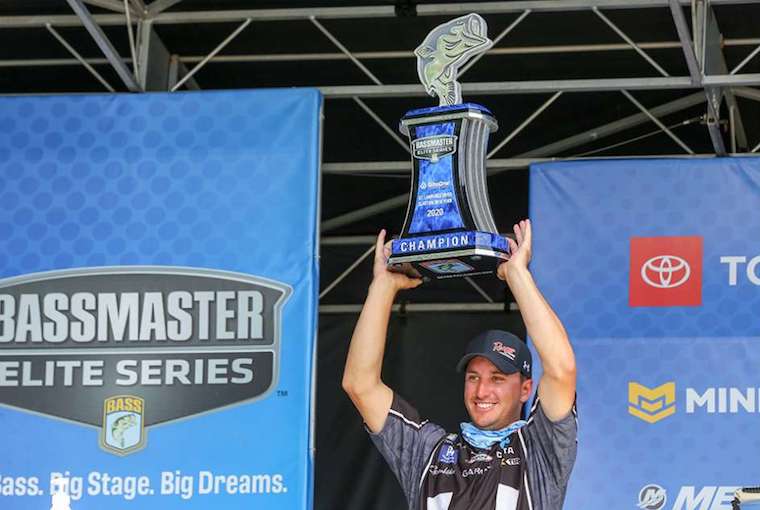 Peterborough's Chris Johnston became the first Canadian to earn a BASS Elite title on Sunday, July 26, winning the 2020 SiteOne Bassmaster Elite at St. Lawrence River with a four-day total of 20 smallmouth bass weighing 97 pounds, eight ounces.
Unable to venture into Canadian waters, BASS relocated the tournament from Waddington to Clayton, New York and permitted anglers to venture into Lake Ontario, which previously was off-limits. The venue change allowed the 31-year-old to put years of experience there to good use.
Battling ocean-like waves on the final day, Johnston used a tube, Ned rig, marabou jig, and drop shot to leapfrog Connecticut angler Paul Mueller, who lead each of the first three days. He won a coveted Elite trophy, $102,000 US, and the admiration of the nation's fishing community.
Win felt great
"This win is huge. Next to the Bassmaster Classic, an Elite win, especially on my home water of the St. Lawrence River, where I have been so close to winning many times … its feel so great to accomplish this goal," Johnston said. "With so many friends and fans wanting me to win here, I felt the most pressure at this event."
It was Johnston's first BASS victory, but his second career top-tier career victory — the first coming in Florida on the FLW (Fishing League Worldwide) circuit in 2018. He also joined another prestigious group this year, being a professional angler who claimed victory the same year as becoming a father. Johnston and his wife welcomed their second son, Beau, on July 7.
Brother finished seventh
Fellow Canadians Cory Johnston (Chris's older brother) finished seventh and Ontario OUT of DOORS contributor Jeff Gustafson finished 12. Each won a sizable cash prize and valuable points for the 2021 Bassmaster Classic championship.
For more information on Johnston's win, click here.
Follow each angler on social media or www.bassmaster.com. Their next tournament is on Lake Champlain, New York, from July 29 to August 2, 2020.
For more outdoors news, click here
Read more about fishing here