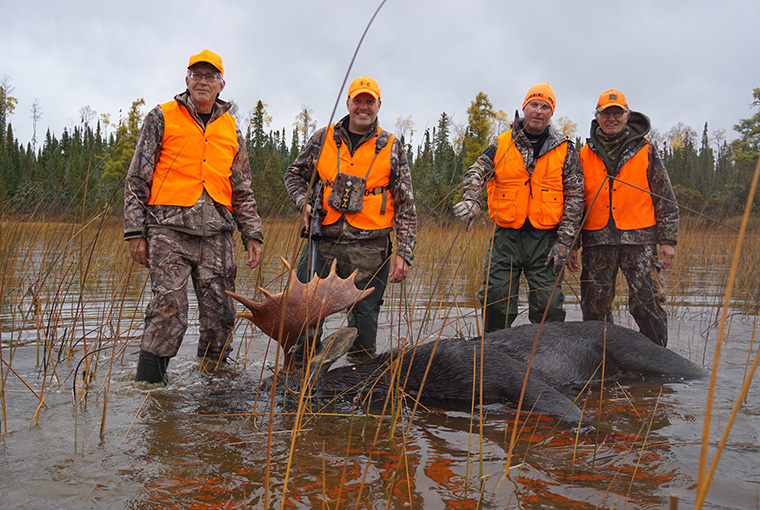 My family has a long history of hunting. My grandfather Ora Ellis was a keen hunter, as is my father, Gord Sr…I've hunted since a youth, as have my two boys. Yet, moose hunting wasn't a part of my life experience until I was in the later 20s. Although my grandfather had hunted moose, my father didn't pick up that tradition. He's a white-tailed deer hunter, so that's what I did. It wasn't until I married my wife, Cheryl, that moose hunting came into my life. Her grandfather Edward Marsh was a keen moose hunter and wanted me to join him.
So, when I was 29, Edward got me out in the moose woods. And sure enough, we got one. Over the course of the following years, I hunted more with Ed, then joined up with another friend and Gord Sr. I shot my first bull moose in 2001, and, five years later, Senior got his first bull. Moose hunting became a part of our family tradition.
Keeping the tradition
Then, in the past decade, my dad and I began doing some hunting with my friend and OOD contributor Tom Armstrong and his father, Ted. Both Tom and Ted are seasoned moose hunters and have hunted with members of their own family for years. But time has changed the situation, so we have joined forces for a couple of years. Usually with Ted's wife, Jean, Tom's uncle Ed Hall, and when available, my oldest boy, Devin. We had success the past couple seasons and enjoyed each other's company — despite the endless dad jokes. But this past spring, Uncle Ed passed away in his sleep. It was a blow for all of us, but especially his family. Ed loved the moose hunt more than just about anything. He would be sorely missed in our group.
Coming together
Due to the pandemic and some scheduling issues our annual moose hunt in 2020 was looking iffy. Then an opportunity presented itself. Wilderness North in Thunder Bay had a fly-in moose hunt trip available. You can't get much more socially distanced than being in the middle of the northern Ontario wilderness. We went from zero to 60 very quickly, and the plan was made.
In late September, Ted, Tom, Gord Sr., and I drove to the Wilderness North seaplane base just south of Armstrong, and had our gear loaded into a turbo Otter. Our destination was Musqrave Lake, a remote outpost camp north of the Ogoki River. As the plane prepared to land, we all craned our necks at the amazing moose habitat. The main lake and an adjacent waterway called Kilbarry were lined with reeds and lily pads hung on in some back bays. We were all just a little excited. Once we were unloaded and set up at camp, it was time to hunt.
We decided the "young bucks" would explore the adjacent lake while the old bulls examined the main lake. My dad and Ted set out to check out a few back bays, while Tom and I boated down the lake and found the trail into Kilbarry. We pulled the boat up on shore, tied it up, and began our scout.
The first thing we saw were two piles of wolf poop full of moose hair. We scanned the trail for moose tracks and found a few but not a ton. After, we broke out into the lake and it looked like moose heaven. We called and listened but no response. There was much potential there!
Back at the camp that evening, the elders seemed a little concerned about the places they had been. They had seen less moose sign than expected, plus had a bad run-in with some shallow loon slop bottom. Expectations had dipped. I reminded my hunting companions we were on a lake, not in a cut-over full of food. Moose sign would be more diffuse. There was no way there weren't moose here.
Making a plan
After a delicious supper and a drink or two, we sat down to plan a strategy. Tomorrow was the first full day and we wanted to maximize our coverage. Ted would hunt the east end of the lake by canoe, while Tom and Gord Sr. would hunt the west end. I'd head down to the back lake.
I boated solo down Musgrave, then walked the rock and moss trail into Kilbarry Lake. After making some calls, I noticed something in the water well down the lake. It was too big to be a duck. The binoculars revealed a cow feeding on aquatic plants along the shore. It was at least 600 yards away, and oblivious to me. There was a cow tag in my pocket, but it seemed unlikely I'd be able to get to it fast enough. Yet the cow carried on feeding, and I started picking my way through the woods.
The morning was rainy, foggy, and incredibly grey. Yet there was no breeze and no chance of being winded. At about 300 yards, the cow got out of the water, and made me. She stared my way from across the narrow lake. At 260 yards, I felt like there was a chance for a good shot. I sat down, put the gun on the shooting stick, and looked through the scope. It was completely fogged up. In a mild panic, I cleaned the eyepiece with my bandana. By the time the gun was back up, the cow was in the woods. Slightly dejected, I headed back to the trail and my boat.
"Bull down!"
When I called the others on the radio, Tom answered. "We have a bull here," he whispered. "Stay put."
After 20 minutes, there was a shot, then two more.

"Bull down!" said Tom moments later, excitement in his voice.

A while later, my dad, Ted, Tom, and I stood around the bull. Tom had called it out of the bush and right down to within 100 yards. My father, who had been with him, said he could hear the bull grunting the whole way, splashing as it walked down the edge of the lake. Tom had shot as it walked towards him along the shore, and it ran and fell in the reeds. As we stood there, around the great beast, two fathers and sons, we remembered Edward, our friend and family member.
"He would have loved this," said Ted. And he would have.
Hunting has bonded families and friends for eons. And in that moment, deep in the wilderness, we all felt the agelessness of the experience.
There are few connections as deep as sharing a successful hunt with the most important people in your life.
And there is nothing more important than your family.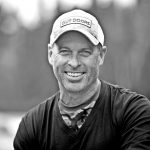 Senior Editor Gord Ellis is a journalist, radio broadcaster, photographer, and professional angler based in Thunder Bay. Reach Gord at: mail@oodmag.com, Twitter: @GordEllis
Originally published in the Jan.-Feb. 2021 edition of Ontario OUT of DOORS magazine.