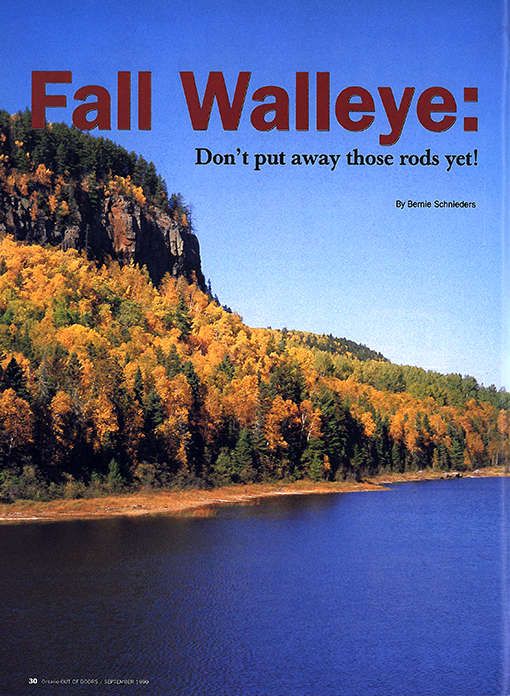 The changing colours of leaves, cool nights, and the smell of autumn in the air signal that one of the best walleye bites of the year is underway. Yet, many outdoors enthusiasts have packed away their rods and exchanged them for guns or bows.
Why switch entirely? Com­bining hunting with fall walleye fishing makes for great surf-and-turf trips.
Understanding depth and the thermocline
I concentrate on walleye between early September and mid-October on mesotrophic shield lakes that offer a va­riety of depths and fish species. During summer, many of these lakes stratify and develop a thermocline. In fall, surface water cools and, combined with strong winds, ruptures the thermocline. Surface water turns over and mixes with deeper, usually less-oxygenated, water.
It means a lot of deeper areas are now open to walleye. Timing of the turnover varies with the location, size, shape, and depth of the lake. From my experience, surface temperatures in the 55° to 60° F (12. 7° to 15.5° C) range generally signal it has started. Walleye fishing then isn't easier than in summer, but it is more straight­forward. To be successful consistently there are key points that anglers should understand, but finding the fish is the main task.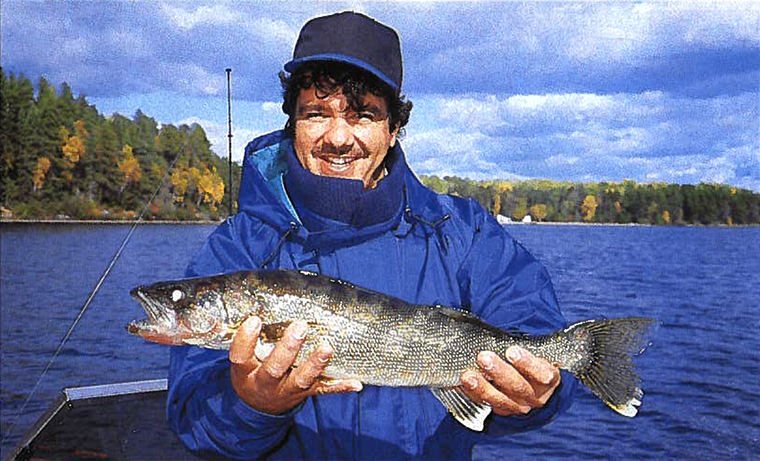 Fall walleye locations include sunken islands, humps, and reefs, especially with access to deeper water; deep feeding shelves and mud flats; and main-lake points, narrows, current areas, islands, and steep dropoffs. A general rule of thumb is to look deeper than would in summer. I get my hands on a depth map, if available, and look for main-lake areas with abundant sunken islands, feeding shelves, and current areas in 20-to 45-foot depths (6 to 14 m).
Depth and a lower sun angle allow walleye to feed all day in the fall. Some of my best fishing has been at mid-day. However, take light conditions into ac­count. During high sun periods look for walleye on the shaded side of structure. Also use the wind to locate walleye. Look for wind-bashed points, humps, shelves, and shorelines where light levels will be lower.
Sonar (depth/fish finders) is extreme­ly important in the depths to locate struc­ture, walleye, and baitfish. If you can see walleye stacked on your screen, then you can usually catch them. In water deeper than 20 feet (6 m), you're less likely to spook walleye, but it still pays to be quiet and use stealthy presentations.
Spend time searching with your sonar and marking key points, shelves, and sunken islands on your lake chart and logging them as waypoints into a GPS unit, if you have one. GPS makes getting back to offshore structure simpler and less time consuming.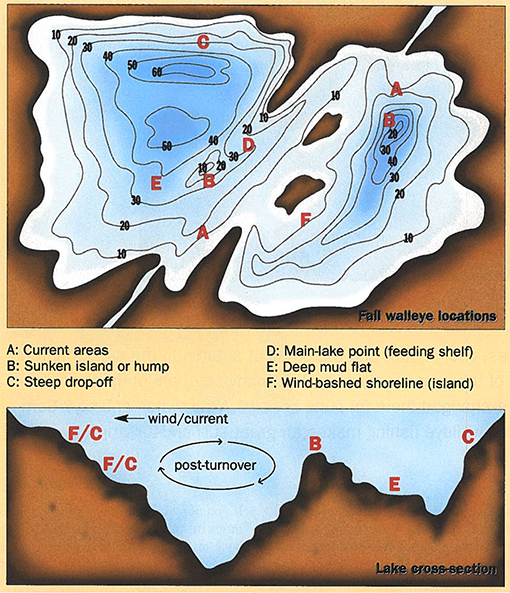 Movement helps
Successful walleye anglers cover a lot of water, searching with sonar and fish­ing various spots. Fall walleye feed heav­ily to put on weight and develop eggs and milt for the spring spawning season. If you don't catch fish within 15 minutes, move on and try another location.
Come back and try the same location later in the day or if the wind changes. Walleye could move in. When you do catch a fish, throw out a marker buoy and thor­oughly work the area. While these points might seem simple, they are im­portant. The beauty of fall fishing is that if you try a number of locations, it's only a matter of time before you catch fish. Find walleye, feed them a tasty tidbit, and they'll co-operate.
What to use
Near-vertical presentations work best for deep-water fall walleye. I vary be­tween bait rigs, jigs, and jigging spoons, depending on how aggressive the fish are. When searching for them, a bottom­-bouncer sinker and a live-bait rig are tough to beat for getting down quickly and covering ground. Bottom-bouncers are fairly snag-resistant and can be ma­nipulated over rocky structure where walleye feed. Low-stretch lines, such as 10-pound-test braids or fused braids, make excellent main lines to the bounc­er. Their thin diameter creates less drag, allowing for a more-vertical presenta­tion, and the lack of stretch instantly tele­graphs bites.
I use a 9-foot rod and, depending on water depth, run up to an 8-foot monofilament leader behind a 2-or even 3-ounce bouncer. I use spinner rigs on bouncers when the fish are really turned on. When they're finicky, a small lime, chartreuse, or green bead and a No. 4 octopus-style hook and bait does the trick. Fall walleye love 3-to 6-inch minnows, especially chub, dace, and suckers. To fish big minnows, I use tan­dem hooks as large as No. 2. If you're not into bouncers, then three-way or Wolf River rigs, using large bell sinkers, also work well.
Improve your fish-hooking rate by changing to a slip-sinker rig and 8- or 10-pound-test line in less-snaggy situa­tions. Use 5/8- to 3/4-ounce walking sinkers on windy days and in deeper water. Use large minnows, a 5-foot lead, a straight hook and a small bead, or a floating jig head. Keep the bail open on spinning reels and your finger on the line. Fall walleye smack large minnows, so you have to drop line back quickly before the fish feels resistance. After you decide the appropriate amount of time, reel back to the fish and set the hook hard.
Maintaining position
Three-eighths- to 5/8-ounce lead-head jigs can also be tipped with minnows for fall fishing. Switch to a standard 61/2- to 7-foot medium-action walleye jig rod. Position the boat over prime structure and use a jig heavy enough to allow con­stant contact and feel with the bottom. Good boat control is important. A bow­mounted electric motor is invaluable for maintaining position. In clear lakes I like silver, gold, orange and brown, and blue jigs. In stained or stirred-up water I use orange, green and chartreuse, pink and white, and fire-tiger.
Proven jigging spoons for fall walleye include the Hopkins Smoothie and Shorty, Swedish Pimple, Kastmaster, Mr. Champ, Snakie, and Crippled Her­ring. My favourites range from 1/2- to 3/4-ounce sizes in hammered stainless steel, green, chartreuse, rainbow, red and silver, and gold, for overcast days. Use an aggressive lift and drop, ripping he spoon up several feet and letting it fall to bottom.
The erratic motion drives walleye crazy. To prevent line twist and allow for easy lure changes, without using a bulky snap-swivel, I attach a spoon to the line with a snap and tie a barrel-swivel into the line a foot or so above it. High-visibility monofilament helps me to see some strikes before I feel them. I remember several fall trips where, on warm days, spoons outfished live-bait rigs. It's an exciting way to fish. There's nothing subtle about a walleye slamming a spoon.
This fall, give the depths of your favourite lake a try for walleye. You might catch your biggest fish of the year and still have time to go hunting.
Originally published in the September 1999 issue of Ontario OUT of DOORS magazine.
Click here for more about walleye fishing
For more outdoors news, click here