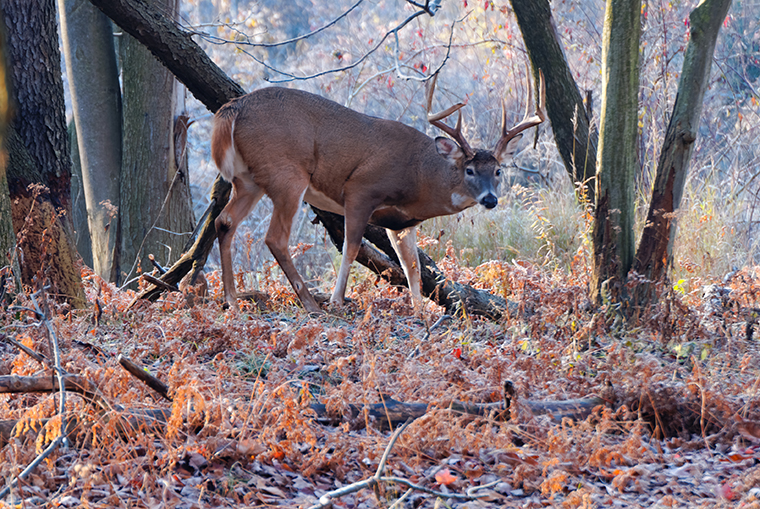 Samples taken from deer found dead in the Kingston area have tested positive for epizootic hemorrhagic disease (EHD), officials confirmed.
The Canadian Wildlife Health Cooperative (CWHC) confirmed an adult buck and doe fawn from Wolfe Island and an adult buck from Gananoque tested positive, the Ontario Federation of Anglers and Hunters (OFAH) told members via email on Monday, Oct. 25.
Dead deer were also found near water in the Stirling, Kingston, and Lansdowne areas.
Midges transfer virus
EHD mainly affects white-tailed deer but has also been known to affect mule deer and American pronghorn. One of the deadliest diseases for US whitetails, it is spread by small midges of the genus culicoides, which many refer to as 'no-see-ums'.
Warm winds can carry midges north into new areas and result in new outbreaks as they bite infected deer and transfer the virus to new animals, the OFAH explained in an Insider post on its website.
These epidemics usually occur in late summer or early fall until a frost kills the midges. EHD cannot be spread from deer to deer and dead deer are not sources of infection.
Outbreaks can kill many deer, especially in northern areas where the viral disease has not yet been found. EHD was initially suspected because of the nature of the reports and an EHD outbreak in neighbouring New York State.
There are also outbreaks in border counties in Michigan, but no potential EHD cases have been reported in southwestern Ontario, the OFAH stated. EHD has only been detected in Ontario once previously, when two deer in southwestern Ontario tested positive in 2017.
Disease will be ongoing challenge
The OFAH is monitoring the situation closely and is in close contact with wildlife disease professionals with the Ministry of Northern Development, Mines, Natural Resources and Forestry (MNDMNRF).
"Unfortunately, EHD is likely going to be an ongoing challenge for Ontario's deer as climate change leads to warmer summers and later frosts," OFAH Wildlife Biologist Dr. Keith Munro stated. "Hunters can play a crucial role by reporting any sick, strange-acting or dead deer that they find to the Canadian Wildlife Health Cooperative. Hunters are literally the eyes and ears in the woods."
The OFAH will work to ensure that deer management in the province factors in this new challenge, Munro added. "While there is no effective treatment or preventative measures for EHD, deer populations managed at ecologically sustainable levels are generally more resilient to disease outbreaks."
Hunters that encounter sick, strange-acting, or dead wildlife, should report what they find to the CWHC by clicking here.
Click here for more outdoors news