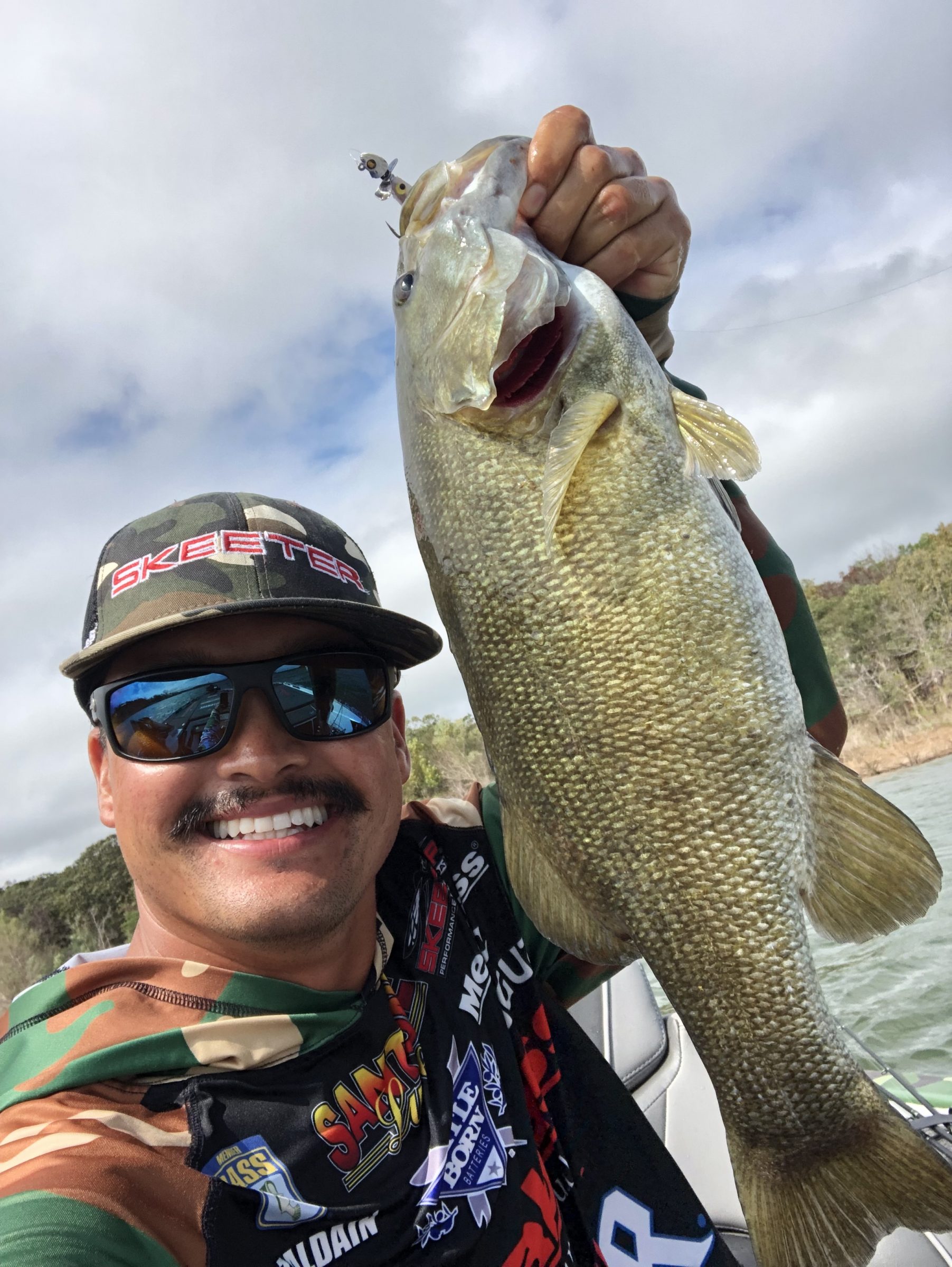 Paddle-tail soft-plastic swimbaits really came into their own at the height of the Alabama rig craze. A decade later, shelves are lined with an array of swimbaits.
Why so much excitement over one bait? "Get a swimbait near a big smallmouth and they will eat it," assured BASS Elite pro and smallmouth expert Chris Zaldain. His experience has found the 3-inch Megabass Sparks Shad is just the right size to fit in the tiny mouth of a smallmouth. He is convinced swimbaits look like bait and has narrowed his tackle to include just two colours: the Hiuo (white) and baby bass (perch colour), both in 3 inch.
Although effective right out of the package, learning to modify swimbaits is well worth the effort.
New-school grubs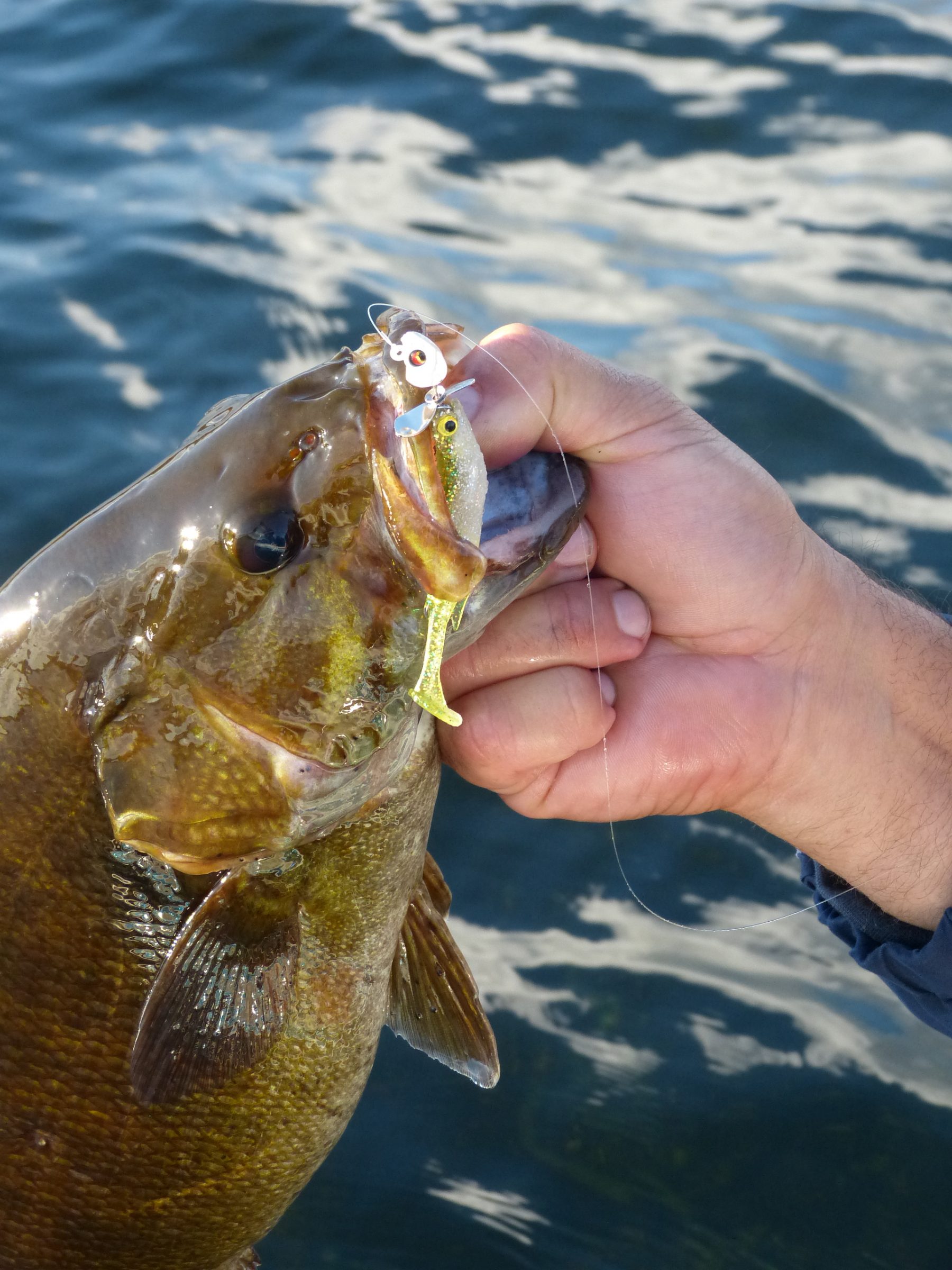 "Swimbait fishing with a jig head is a new-school version of grub fishing," Zaldain explained. "The swimbait has replaced the grub as it swims better and looks more realistic. It's just more refined."
For water between 10 and 20 feet, Zaldain uses a 1⁄4-ounce ball-head jig. For deeper water, as much as 50 feet, he goes up to a 3⁄8-ouncer. "I never go heavier. On the big lakes, there is always wind and current, which makes it challenging to keep a bait down." Another secret is using a very small, yet strong, jig hook. "Smallmouth, even six-pounders, have a tiny mouth. I try to use a very small hook so that in can be eaten," Zaldain said.
He works his bait ultra slowly. Cranking at that pace guarantees the bait will run along bottom throughout the entire cast.
2. Flash and awe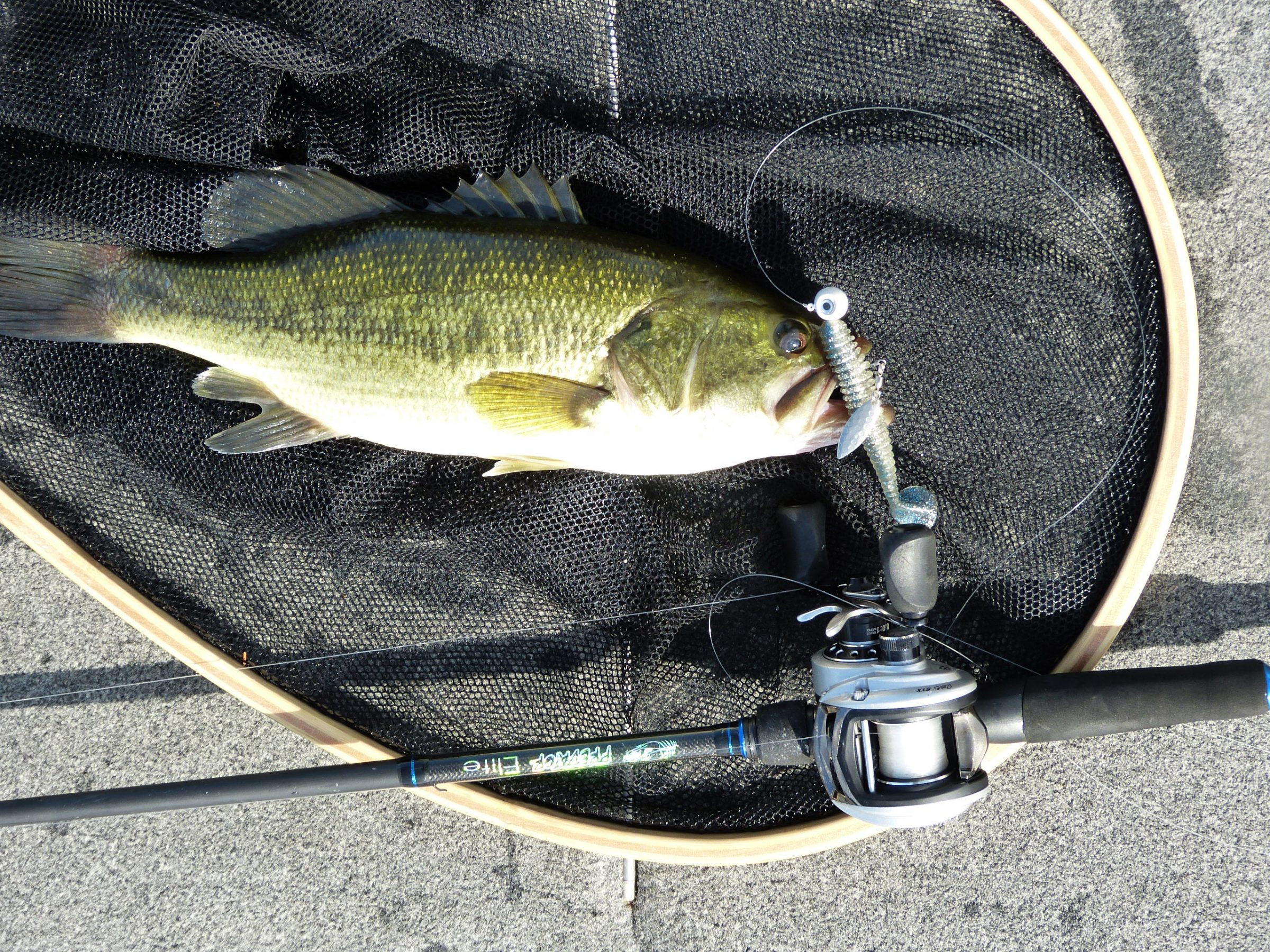 Adding flash can made a tremendous difference to a swimbait. Just pop in a Z-man TDR SpinZ tail or X Zone Blade spin. The Colorado or willowleaf blades thump and glitter as the bait moves through the water. Keep the spinner close to the jighead so it won't interfere with the bait's tail. Check and readjust the locking pin regularly to avoid losing it. Top anglers will allow this rig to glide slowly downward on an arcing, crawling retrieve. It's a methodical, medium-paced way to search for bass. Zaldain is a strong advocate of never retrieving too slowly.
Realizing how lethal the swimbait/blade combo can be, several hook companies now offer weighted large-gapped hooks with blades.
Faster than a topwater frog and more weedless than a spinnerbait, a big swimbait with a bladed hook will up your shallow-water game. Most hooks are monstrous, so pair them with 4-inch or larger baits and use stout braided line.
In-line or line-through swimbaits should never be left out. Replace the standard treble hook with one of the new VMC Hybrid Bladed trebles. A tiny willowleaf is positioned in the crown of the hooks, adding just enough sparkle to draw more bites.
Rig big baits, without big hooks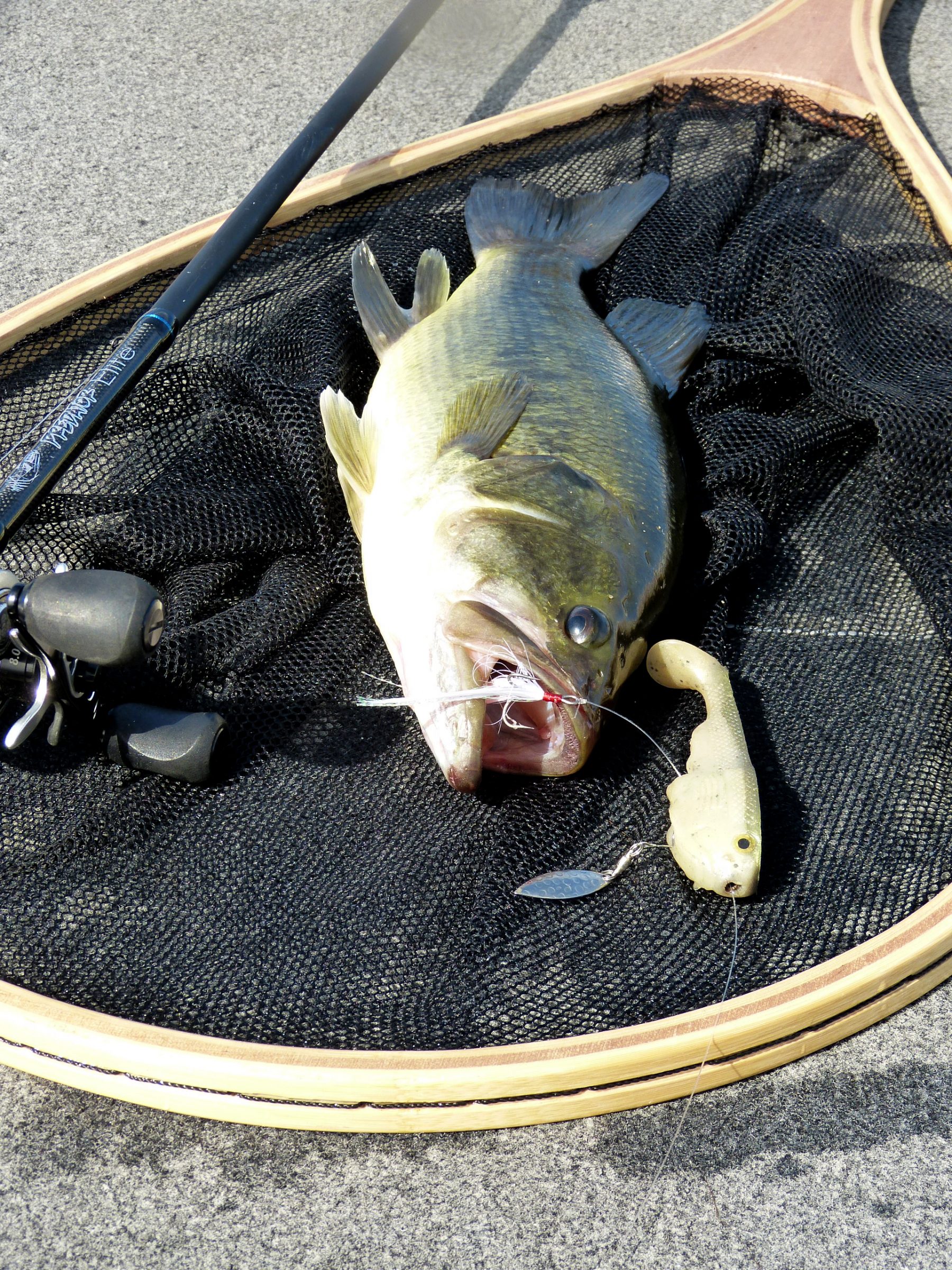 The longer and thicker the plastic, the more gigantic the hooks tend to be, forcing anglers to upsize their gear. Avoiding a massive hook wasn't possible until now. While this neat rigging solution involves a bit of building, but it's worth it.
Start with a screw-lock clip, a slip ring, a long swivel, and an appropriately sized treble hook. Slip the eye of the swivel onto the screw lock clip. On the opposite side of the swivel, use the split ring to link the treble to the swivel, creating a tethered hook system. The hook will dangle freely from the bait. To rig the bait, twist the screw lock into the nose of the swimbait.
Next, bury one hook of the treble into the belly of the bait. Knot your line to the swivel eyelet by the nose of the bait. The swivel provides a strong link to the hook and prevents leaping bass from twisting off.
If you're unimpressed with all the hardware, create your hook leader using braided line. Creating your own leader lengths allows for great customization and ensures easier positioning of the hook along the underbelly. Walleye jiggers have used this style of stinger hook for decades.
Swimbaits have transformed into one of the most versatile lures you can cast. Adopting new tricks will increase your success with these amazing baits.
4. Dance, baby, dance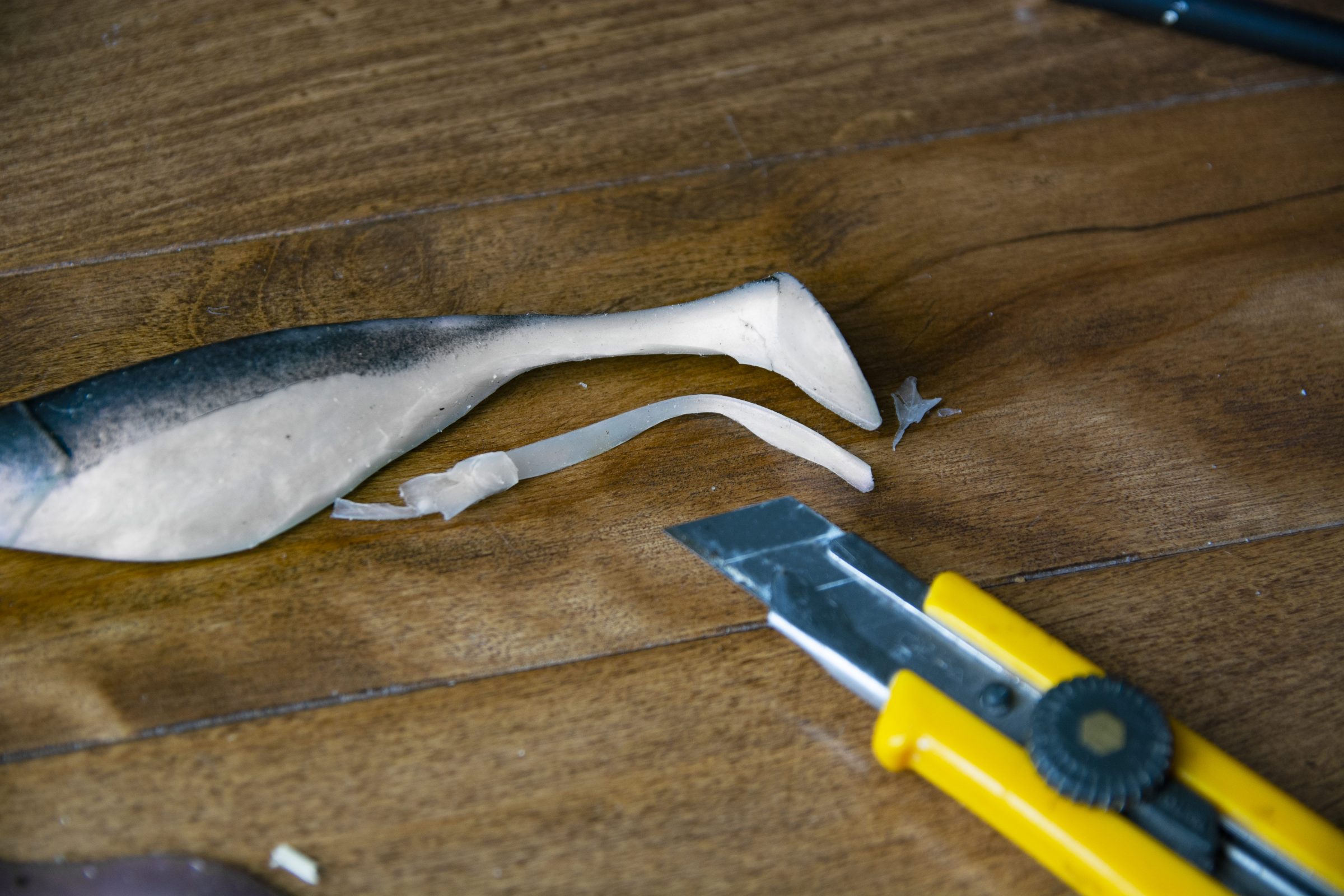 You're bound to purchase a bait that just doesn't swim like you want it to. You can fix this by trimming the belly of the bait from the base of the tail to where the anal fin would be on a real minnow. This creates a freer, more lifelike movement. Don't be overzealous; cutting too much will weaken the tail section. Using a hole punch to cut perfect circles is one of the coolest hacks I've seen on the water.
---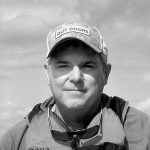 Luigi's love affair with angling started when he was a lad and has never faltered. When not gawking at lures, he can be found setting goose or turkey decoys, or in a tree stand. Reach Luigi at: mail@oodmag.com
Originally published in the 2021 Fishing Annual edition of Ontario OUT of DOORS magazine.
Click here for more fishing stories