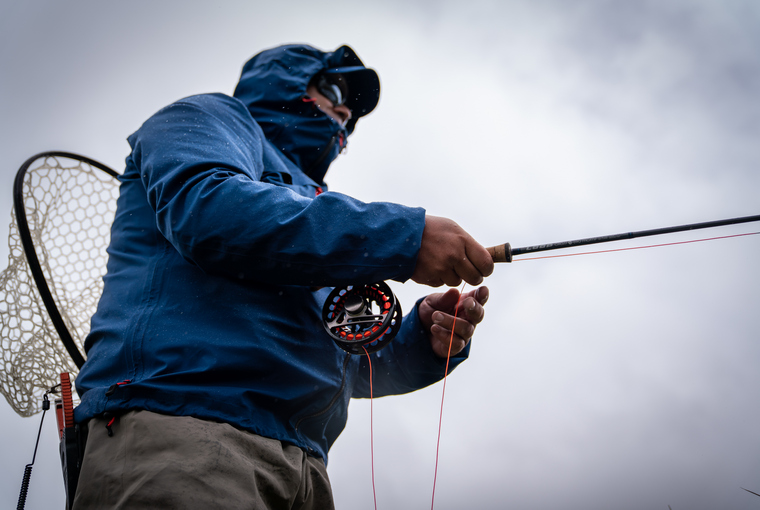 When I tried to buy my first fly rod, things did not go well. With an air of importance and sophistication, the salesperson bombarded me with jargon about rod weight and length, line types, leader taper, tippet material, and casting techniques. After 30 minutes of listening to him, I was overwhelmed and decided fly fishing was too complicated. I left the store defeated. Later that night, I questioned how any type of fishing could be so complex. There was no way fly fishing was as convoluted as the salesperson made it seem. I did some research and eventually ordered a set-up that suited my needs. Then I set out to teach myself to fly fish.
Over a decade later, I'm still learning, but I think it's fair to say I've succeeded. I've worked as a fly-fishing guide, taught fly fishing and casting lessons throughout North America, and written numerous articles about fly fishing. Still, after all these years, the most common question I get from both seasoned anglers and beginners is "What rod should I get?" Thinking back to my negative experience, I want to give an answer that is straightforward, simple, and direct, but my answer — "it depends" — is none of those things. I can almost sympathize with my salesman.
The reason it is hard to give a single answer is because what rod someone gets depends on what they're going to use it for. While there are general-purpose rods, I find many anglers get into fly fishing with a specific purpose in mind — they want to catch a muskie on a fly rod, they want to fly fish for steelhead, they want to catch panfish for dinner, they want to target chinook salmon. How a fly rod will be used is just as important as the size of the fish they want to catch. I can frankly say that fly fishing is much simpler than it is made out to be, but before I get into buying a fly rod, it's important to understand how they work.
How fly rods work
Fly rods need to do a number of things to work correctly: bend, abruptly stop, and travel in a straight line. When the rod bends during a cast, it loads energy into the rod, which is transferred to the fly line. Fly rods are designed to cast by transferring speed and momentum to a fly line, ideally also controlling the direction and distance of the cast. Fly rods also assist in fighting fish, especially as the size and strength of the fish increases.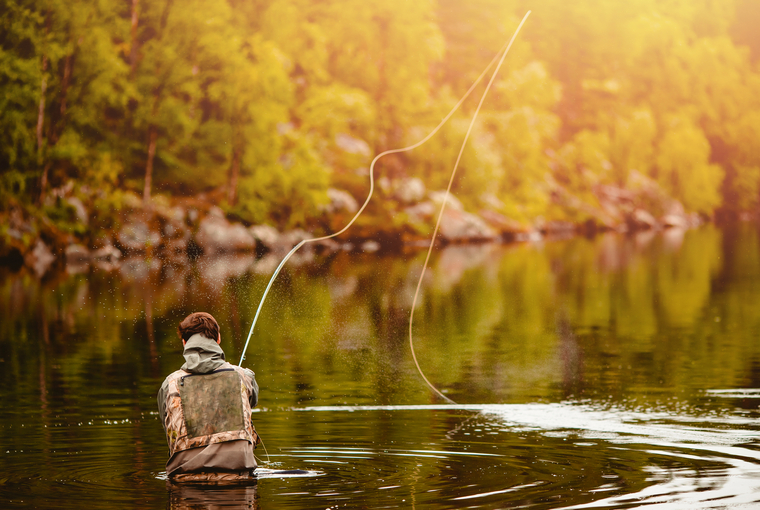 Weight – Unlike conventional fishing where the angler catapults a weighted lure, fly anglers use the weight of the line to cast their flies. Because of this, rods are sized by the "weight" of the fly line they are intended to cast. The term "weight" doesn't refer to the physical weight of the rod, but rather what line it is intended to cast. A 5-weight rod is designed to cast a 5-weight line, and so on.
Action – As in traditional fishing, the term "action" refers to the stiffness of a rod. Rods designed for large saltwater fish or muskie (e.g.. 10 or 12 weights) are generally very stiff or "fast" so that they can cast heavy lines. Softer, or slower, rods allow you to feel the rod load more. Fast-action rods are usually not good for beginners because the caster can't feel what the rod is doing as much as with a soft, flexible rod.
While a muskie angler might want a heavy fast-action rod to cast large flies long distances, a trout angler should select a smaller weight rod with a slower action to make short, accurate casts to rising trout. Although, that is not to suggest heavier weight rods are always fast and light weight rods are always slow and flexible. Even within the same weight category, rods can have different actions.
Length – Fly rods act as levers to transfer energy to a fly line — so length is very important when picking a rod. Longer rods cast long leaders more easily, roll cast better, are better at mending your line (steering your fly through long drifts while trout fishing), and are generally better distance casters. They are also useful when fishing out of a float tube or when wading in deep water, because they provide more distance from the water. Shorter rods are more manageable when fishing in brushy conditions, are excellent at making short, precise casts, and offer more lifting power when fighting heavy fish. If you are unsure about what length to choose, a 9-foot rod provides a good mix of distance, accuracy, and line control in most situations.
---
Best weight for me?
You should decide what weight rod you want based on what species you will fish for most. Here's a general list of pairings.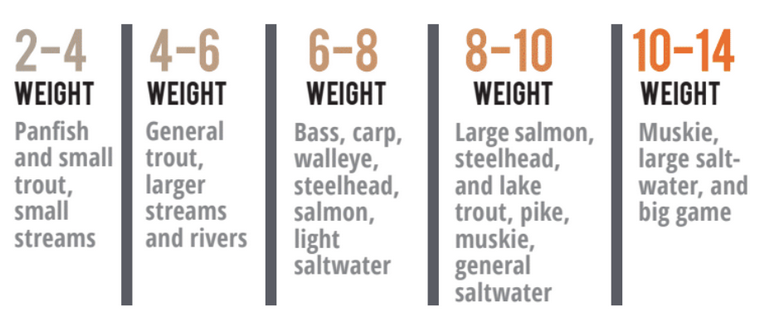 More than weights
How and where you fish also affects what you should buy. For example, a 9-foot, 5-weight rod is often recommended as the best all-around trout rod, but it might be way too long and cumbersome when fishing tight quarters on small streams and can be under gunned when casting big streamers for large trout in big, fast rivers. A 7-weight rod might seem perfect for bass, but when fishing around lily pads where you often need to horse fish out of cover, a 9 or even 10 weight is better. On large lakes in windy conditions, you might use a rod several weights heavier than usual to combat the wind. Most anglers primarily fish for one species in a handful of locations and scenarios. Choose your rod for the species, locations, and conditions you fish.
---
Rod construction
Fly rods are made out of a variety of materials including fibreglass, carbon graphite, and bamboo. Graphite rods are the most common and are more versatile than fibreglass or bamboo rods. Some prefer fibreglass for its slower action and increased flex, which can come in handy when fighting big fish. I personally love to fish with fibreglass rods when targeting carp or topwater bass. Bamboo appeals to anglers who value the traditions and history of fly fishing as well as the craftsmanship required to make them. The increased cost has more to do with the skill and time required to make them than their performance.
Budget
You can find cheap fly rods for under $100 and custom fly rods can set you back several thousand dollars. Brands like Echo and Redington, specialize in affordable rods, while others focus on performance-driven high-end rods. If you are just starting out you won't be able to cast an expensive rod any better than a cheap one. I prefer the middle-of-the-road rods because I feel you get more bang for your buck.
A good warranty is the main reason you should avoid cheap rods. Car doors, ice buildup, ceiling fans, and errant casts can all break rods. A cheap rod, without a decent warranty, might end up costing you more in the long run. I've had positive personal experience with Orvis, Redington, Sage, Echo, and G. Loomis. These companies provide the same warranty on their starter rods as they do for their top models.
Two-piece models are fine if you will leave the rod strung up most of the season. In my opinion, 4-piece rods are almost always better due to portability.
The bottom line
If I had to make a blanket recommendation for someone new to fly fishing, I would choose a combo kit from Echo, Sage, or Redington. These kits include a quality rod, reel, backing, line, and a case. They are properly balanced and paired with a line that is perfect for the rod. It gives a new fly angler the whole package and leaves the guesswork behind.
If you are still unsure about what to buy or need a rod for a very specific purpose, your local fly shop is the best place for information. I tried to buy my first fly rod from a big box store and although they might have knowledgeable staff on hand, I generally avoid them. Fly fishing is all fly shops do. You can cast all the rods you are interested in and even try them with different line combinations. They might even tell you a great place to try out your new fly rod.
I still enjoy fishing with my first fly rod precisely because it was the first one I ever owned and there are a lot of memories soaked into the cork. Fishing with a rod that means something to you will make your experience more enjoyable.
---
Grip styles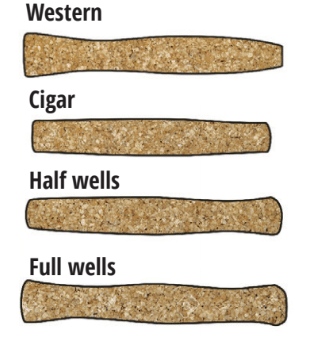 The most common grips are full and half wells, and the western grip. I prefer half wells because I cast with my thumb on top of the grip and hold the rod near the end of the grip. If you cast with your index finger on top of the grip, or you just like a slimmer feel, the western or cigar taper might be best for you. The grip should feel comfortable, and you shouldn't be thinking about it while fishing.
Solid buys
Here are some great choices to check out:
Intro fly combos
(rod, reel, backing,
line, leader, case) $200-$350
• Echo Base
• Echo Traverse
• Redington Vice
• TFO LA Series
Intro fly rods
$100-$150
• Cabela's Synch
• Echo Base
• Sonik SKS
• Ugly Stik Bigwater Fly
• White River Fly Shop Dogwood Canyon

Medium price-range fly rods
$250-$600
• Echo ION XL
• Echo Trout
• Fenwick Aetos
• Orvis Clearwater
• Pieroway X-series
• Redington Crux
• Redington Vice
• Sage Foundation
• St. Croix Mojo Bass
• St. Croix Mojo Trout
• TFO Axiom
High-end fly rods
$800-$1,200+
• G. Loomis Asquith
• G. Loomis IMX-Pro
• G. Loomis NXR+ LP
• Hardy Zephrus
• Loop Cross S1
• Sage Trout LL
• Sage Salt
• Sage X
• Thomas & Thomas Paradigm


Originally published in the April 2020 issue of Ontario OUT of DOORS.
Click here for more outdoors news