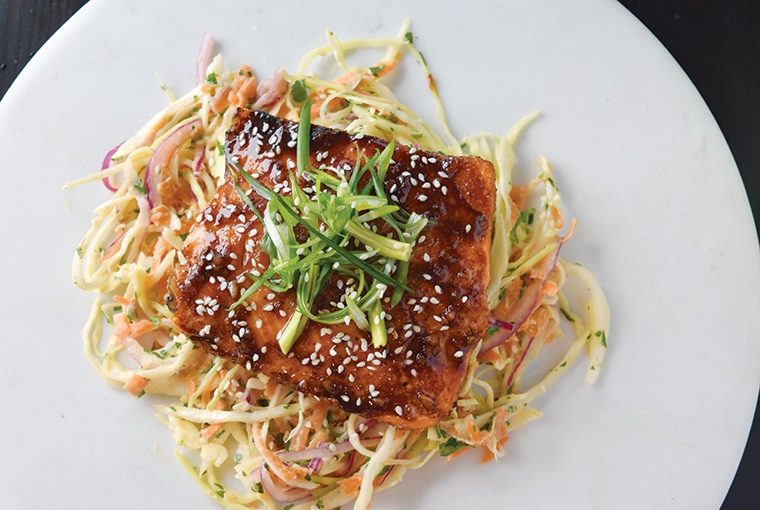 Arctic char is one of my favorite fish to cook. They become nice and fatty from the cold northern waters where they live, making them stay nice and juicy while cooking at high temperatures. Another char species like brook or lake trout or splake will also work with this recipe. I like to serve this dish with a zesty Asian coleslaw.
Ingredients:
Serves 2
2 fillets of Arctic char, 6 oz, boneless, skin on
2 tbsp olive oil
Salt and pepper, to taste
2 scallions, sliced thin on an angle
1 tsp sesame seeds
For hoisin glaze:
1/2 tsp chopped garlic
1 tbsp soy sauce
1/2 tsp fresh ginger, grated
1 tbsp hoisin sauce
1 tsp sesame oil
For zesty Asian coleslaw:
3 cups green cabbage (shredded)
3 cups red cabbage (shredded)
1 large carrots (julienned)
3 green onions (finely sliced)
¼ cup cilantro (chopped)
¼ cup mint leaves (chopped)
For Asian dressing
3 tbsp rice vinegar
3 tbsp soy sauce
2 tbsp lime juice
2 tbsp peanut oil
1 tbsp sesame oil
1 tbsp sugar
½ tsp red chilli (finely minced, optional)
2 garlic cloves (minced)
Directions
1. Mix all dressing ingredients together in a bowl. Pour dressing over slaw 1 hour before serving.
2. Preheat oven to low broil.

3. Heat olive oil in a non-stick pan on high. Season both skin and flesh side of fish with salt and pepper.

4. Oil should be quite hot. Sear skin side down, pressing gently with the back of a spatula so the skin is evenly touching the bottom of the pan. This will prevent curling and make sure all the skin gets crisp.

5. Once the skin is nice and golden, about 2-3 minutes, spoon some of your glaze on the flesh side of the fish and place in oven for 3-5 minutes, still with the skin side down. Keep a close eye on it as the sugar content in the glaze can burn quickly.

6. When the glaze starts to bubble and take on some colour, remove from heat.

7. Garnish with sliced scallions and sesame seeds.
Andrew Rochon is OOD's food editor. You can follow more of his culinary adventures on Instagram: @wilderness_chef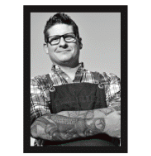 Originally published in the July 2021 issue of Ontario OUT of DOORS magazine.