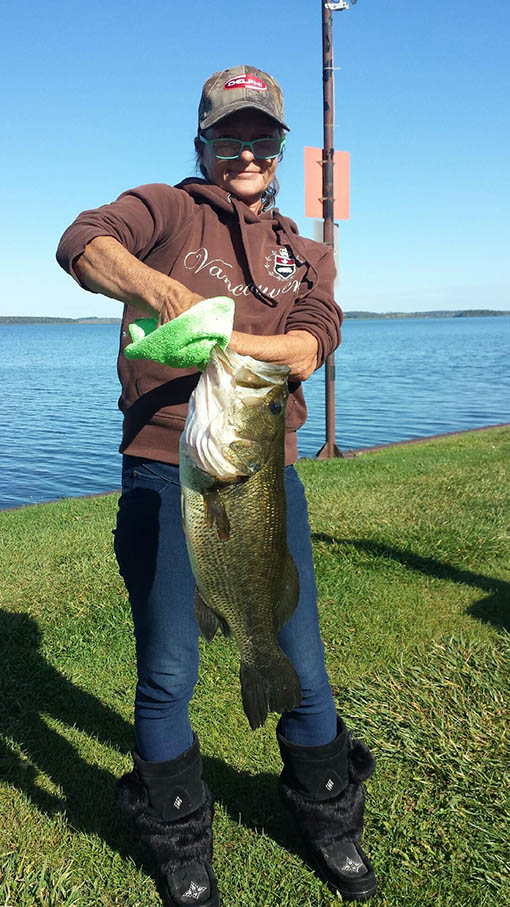 When Vivian Heaton of Lindsay caught and released a personal-best largemouth bass in late September of 2019, she didn't realize how special it was until sharing a photo of it with bass anglers she knew.
"I just thought it was my personal-best largemouth," she said. "And I was very happy with that." A lifelong angler, Heaton became very serious about fishing four years ago. "I'm retired," she said, "so I fish a lot." On that day, she was one hour away from leaving after a solo 10-day fishing vacation, when she decided to walk the piers of the lodge she was staying at on Rice Lake to give it a few last casts.
Using a large worm on a circle hook, Heaton thought she snagged a big stick. It turned out to be a 23-inch bass, according to her measurement.
"It didn't actually fight that much," she said. In fact, it fought so little that she was able to put her rod down, run for a net, and land the fish. "It gave one little tail flip and it was in."
Heaton got a passerby to take photos, then measured and successfully released the fish.
Heaton, who fishes all over the Kawarthas, says she has caught plenty of five-pounders, so she knew it was big. She is happy, but not surprised, that there are fish like that on Rice Lake.
"I've watched tournament weigh-ins on the lake and have seen what it holds," she said.
Still, a 23-inch bass is rare. Asked if she thinks she will ever see another one, she replied, "I hope so. I will never stop trying."