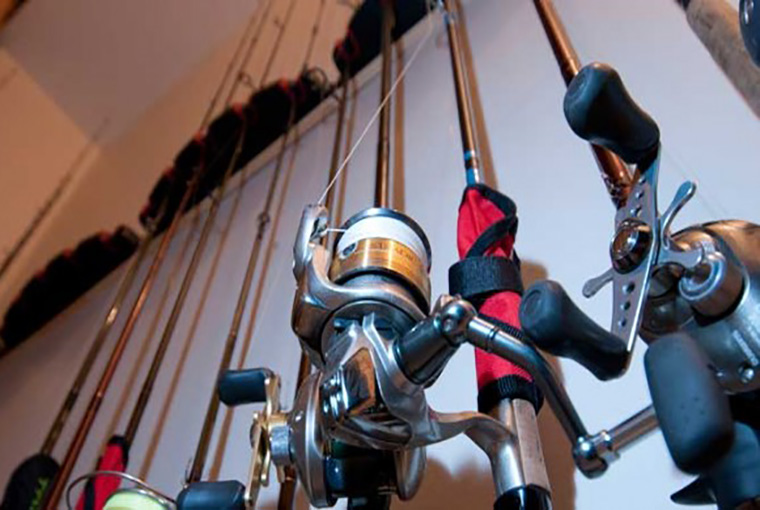 Organizing a fishing room may seem daunting, but it doesn't need to be an epic endeavour. Keeping equipment tidy is time well spent. It makes packing and unpacking for trips easier and it boosts the room's storage capacity. Here's how to do it.
1. Organize gear based on use
Take time to plan the layout of your fishing room and what you're going to use to store your gear. Consider the space available and how best to use it. For example, if lure tinkering or fly tying are priorities, plan plenty of space for a workbench or table near a good light source. Gear storage is also a common priority, in which case you'll want ample shelving to hold tackle trays and other containers. I also have designated spots for tools, repair supplies, clothing, and duffle bags and bins for transporting gear.
2. Install shelving units to organize tackle
Freestanding or wall-mount shelves are great for storing tackle trays, containers, and equipment. Shelves keep gear off the floor. This frees-up space and keeps items visible.
3. Contain it
Using containers to hold and compartmentalize gear is another way to stay tidy. I use a variety of plastic totes that range in size to store extra or off-season fishing gear, including spare lures organized in clear, plastic sandwich bags. In-season lures are stored in tackle trays. I use baskets and trays to hold smaller items that I regularly use, such as rod wraps or line conditioner. Consider colour-coding containers if you own a lot of gear. Dollar and department stores generally have a wide and inexpensive selection of bins, and is where I've gotten most of mine.
4. Label it
Use labels to itemize a container's contents. A picture or graphic is good way to tag what is inside large totes and boxes. I like to write on strips of white or yellow electrical tape with permanent marker and stick them to my tackle trays. Also label shelves to denote where items are stored to maintain order.
5. Arrange space for clothing
Carve out an area in the room for outdoor apparel. Racks and hangers are practical choices for holding rain gear, jackets, and waders. Consider baskets for gloves, hats, and other small items. Include space for drying wet clothing and footwear.
6. Invest in rod racks
Fishing rods are cumbersome to manage in closed quarters. Rod racks prevent tangles and protect poles. Models are available in floor, wall-mount, and overhead designs for customized rod storage, no matter the room layout. You can find these in the fishing section of many department stores as well as at local or online tackle shops. Prices start around $15 for a six-rod, wall-mount rack but can quickly surpass $100 for a freestanding, all-wood, showpiece rack or cabinet.
7. Set-up a reel servicing station
Arrange an area for reel repair and line spooling. This way everything you need is ready when it's time to put on fresh line throughout the season or perform reel maintenance. Sample items to have on hand are spooling tools (e.g., scissors, cutters, dowel, or spooling station), extra line, and line conditioner. Reuse an empty tissue box for holding old fishing line until you visit a recycling station. For reel repairs, the basics include grease, oil, Q-tips, rags, reel manuals, service logs, and reel-specific tools.
8. Tidy tools, gadgets, supplies, and lures
A pegboard installed on a wall provides great vertical storage for fishing tools and equipment. A toolbox or a soft-case are alternatives if space is tight. Magnetic strips attached to the wall or a shelving unit or door are handy for holding lures awaiting repair or ones that need to dry before being stored, like bucktail spinners. Ice cube trays and muffin tins make great temporary storage for small items, like terminal tackle or reel parts during servicing.
9. Writing and paper supplies
Pens, markers, paper, and sticky notes are handy for making to-do lists and jotting down reminders. Keeping a detailed "going fishing" checklist for reference will speed-up trip preparation. Store fishing regulations, maps, and magazines in a desk file organizer and be sure it keep it handy.
Planning space, installing storage shelves and rod racks, and compartmentalizing gear are easy ways to organize a fishing room. Give them a try to cut out clutter and keep tackle tidy.