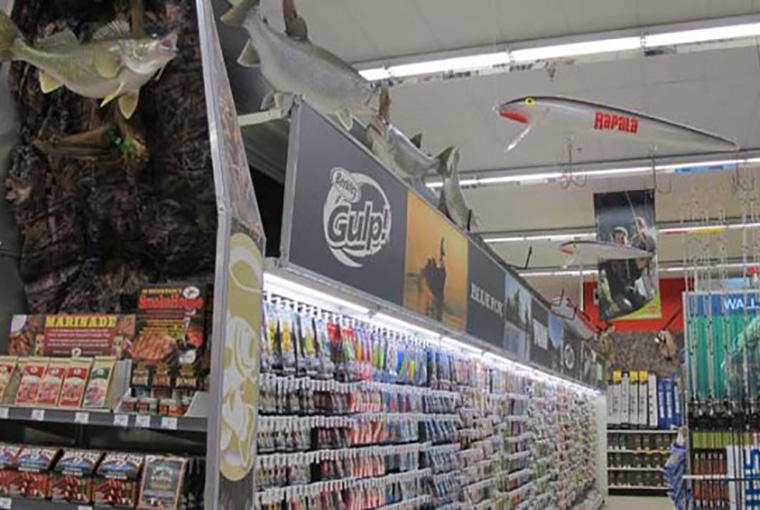 If your local Canadian Tire store is undergoing renovations, it is reason to smile. The Canadian retailer is expanding the hunting and fishing products it carries and creating pro shops within selected stores.
Come spring, consumers will notice an improved ambiance, more high-end brands, a larger variety of seasonal stock, and even firearms in some locations. For example, anglers will be able to find Lowrance fish finders and hunters will have a larger variety of turkey products to choose from during that season. Other brands and products coming to Canadian Tire include: Yo-Zuri lures, Trokar hooks, Muck boots, and a variety of items from Browning, Redfield, and Nikon.
While not every item in the retailer's inventory will be in each store, Stokes says everything the company sells will be available through its online store. "We are trying to be more attune to what's going on in communities and add what's locally and seasonally relevant to those stores," said Sean Stokes, associate vice-president of outdoor recreation with Canadian Tire. "We aren't adding [pro shops] to every store but definitely to markets where hunting and fishing is a part of the fabric of that community." The retailer plans to amp up on knowledgeable staff as well. "All of the staff will have their PAL," said Stokes. "We are hiring local experts who have experience hunting or fishing in that market."
Pro shops will be opening in 27 stores in April and May in the following locations:
Amherstburg;
Bracebridge;
Bradford;
Collingwood;
Fort Erie;
Hawkesbury;
Kemptville;
Keswick;
Kitchener;
Listowel;
Minden;
Morrisburg;
Newmarket;
Orillia;
Orleans;
Oshawa;
Pembroke;
Port Perry;
Sarnia;
Simcoe;
Smiths Falls;
St. Catharines;
Sturgeon Falls;
Waterloo;
Welland;
Windsor; and
Woodstock.
The pro shop expansion started in 2011, with 5 test stores. Canadian Tire currently has 119 of the specialty shops across Canada, with 31 fishing pro shops and 43 hunting pro shops in Ontario.