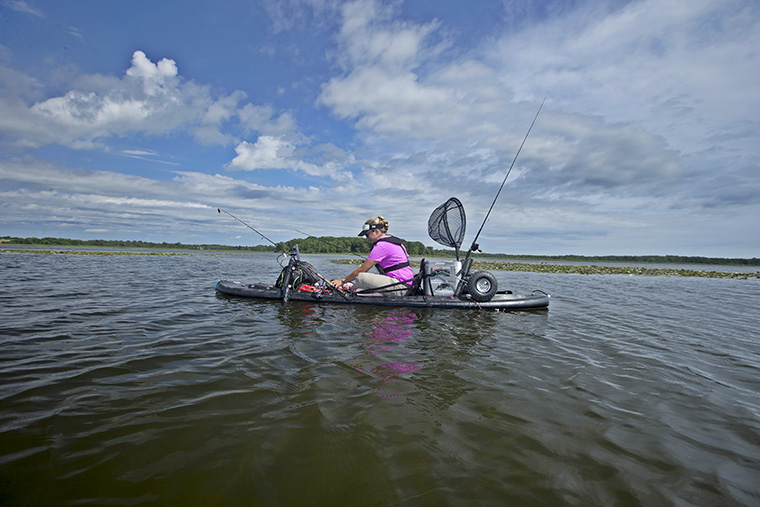 If you can't stow or tow a fishing boat, try something smaller, lighter, and cheaper. Here's a look at some cool alternatives
Last spring I was in the market for a new all-purpose boat. Initially, I set my sights on an 18-footer, but hadn't gotten very far into my search when I was stalled. For one thing, I started second-guessing the purchase of my three-year-old Jeep, which was lacking in towing capacity. I needed to rethink things.
That's when I discovered how many compact, affordable alternatives are available to the angler who wants to be on the water.
When bigger isn't better
For numerous reasons, small boats are often a better choice than their larger counterparts. They're considerably less expensive to purchase, maintain, and insure. They require less room to store, and less power to transport. Even a 12-foot aluminum or jon boat requires more of everything than most small-scale specialty boats.
Thanks to advancements in technology and innovation, the past decade has seen an explosion in alternatives to the traditional power-driven aluminum or fibreglass boat. Each comes with its own characteristics, specifications, and strengths, with prices that start in the hundreds and can climb well into the thousands of dollars, but for the most part, anyone looking for an economical solution can get on the water for around $1,000.
One of the great advantages of the alternatives I've short-listed is the ability to pick up and go, and that includes hitting some back lakes accessible only by rough, uneven roads without a boat launch in sight. Several options weigh only 25 to 75 pounds, enabling an angler to secure the craft atop (or inside) a smaller vehicle. Winter storage is also much easier when your boats fits in a closet, under a bed, or in the rafters of a garage.
Float tubes
Highlights: Economical, lightweight, storage, simplicity
MSRP: $200-$750
Popular for years, float tubes were one of the original alternatives for those looking to get on the water. These days most brands offer tackle compartments and comfortable chairs, and can be inflated in minutes. Ideal if you're a minimalist or looking to access hard-to-reach back lakes.
Savage Gear recently entered the market with two offerings. Their flagship model, the HighRider 170 is made of 0.9 mm armoured PVC, and with four chambers, offers a rugged and durable inflatable. At just 31 pounds, lightweight oars, and included back straps, it makes accessing a little-fished lake a snap.
Have a look:
www.davescaddenpaddlesports.com
Inflatable pontoons
Highlights: lightweight, storage, simplicity
MSRP: $500-$2000
Pontoons, though they require set-up and take-down, can be utilized in numerous ways, and their reduced footprint makes them a good choice where storage and transportation are considerations.
Best suited to smaller water bodies and for drifting down rivers, pontoons offer stability and relative comfort. They are somewhat susceptible to wind, which can make controlling them and fishing out of them challenging, and slower point A to point B speed could be a factor should a wind come up. Most models can carry a little gear, and can be equipped with electronics. In many cases, a small motor can be installed, too.
Frameless options are becoming quite popular; a new spin on float tubes, but with more going for them. With no frame to assemble and disassemble, they are faster to set up than their counterparts, and lighter too. They are a good choice if you like to literally pick up and go — simplicity in a compact design.
Have a look:
www.davescaddenpaddlesports.com
Tetra-pod
Highlights: Highly versatile, rugged
MSRP: $3500
Relatively new to the market, the Tetra-Pod offers a lot in a small package with almost unparalleled versatility. The most obvious being its ability to serve as both a small, fully-enclosed utility trailer that can hold up to 27 cubic feet, and a Transport Canada-certified 11-foot jon boat. The off-road version is best suited for the outdoors enthusiast. It even comes with an accessory that enables you to convert it into a hunting blind.
Empty, the boat weighs 230 pounds, has a 52-inch beam, and a depth of 22 inches. Included are two polyethylene-foam-filled seats. It takes just a couple of minutes to convert from a utility trailer to a boat, with a combined weight capacity of 650 pounds and two people, that can  be powered by up to a 7-hp motor.
For the adventurous camper who lacks a truck and its towing and cargo capacity, a Tetra-Pod might present an all-in-one solution. You can store your camping and fishing gear in the Tetra-Pod and hitch it to the back of your vehicle — then hit the open road. Once at your destination, unload it, set up camp, and convert the Tetra-Pod to a boat for some back-lake fishing.
Have a look:
Stand up paddle boards
Highlights: Portability, storage, stealth
MSRP: $500-$2500
Stand up paddle boards, or SUPs, as they are known, have been popular with recreational users for many years. They're a good way to combine time on the water with a bit of a workout. Increasingly, SUPs are catching the attention of anglers, and for good reason.
Relatively light, they can be transported on top of a car or in the bed of a truck, which eliminates the need to own and store a trailer. Like canoes and kayaks, their portability and minimal storage requirements make them a great choice for accessing hard-to-fish waters. Most models allow for some customization.
Similar to sit-on-top kayaks, SUPS have enough deck space for some onboard cargo. Adding a seat, electronics, and tie-downs, or even a small cooler is more than doable, and usually only limited by the angler's ingenuity.
Have a look:
Bote rover
Highlights: Speed, stealth, powered shallow-water accessibility
MSRP: $8000 U.S. and up
New on the market is the Bote Rover, a SUP hybrid of sorts. A modular system enables owners to easily add or remove proprietary modifications without tools. At 14-feet long and 105 pounds, with a max load capacity of 500 pounds, it's larger and heavier than a typical SUP though it still functions as one. It's perfect for someone looking for the combined benefits of leisure and exercise. What makes it unique is the ability to utilize it as a skiff by adding a motor of up to 6 hp, all while maintaining its shallow draft. Combined, these options allow easy access to skinny water and distant back bays. The Rover's wide beam, sunken cockpit, channelled hull, and deep-V design slices through a variety of water and keeps it stable while under power at speeds of up to 16 mph. Truly innovative.
Have a look:
Porta-bote
Highlights: Lightweight, 5-person capacity, storage
MSRP: $3000-$3800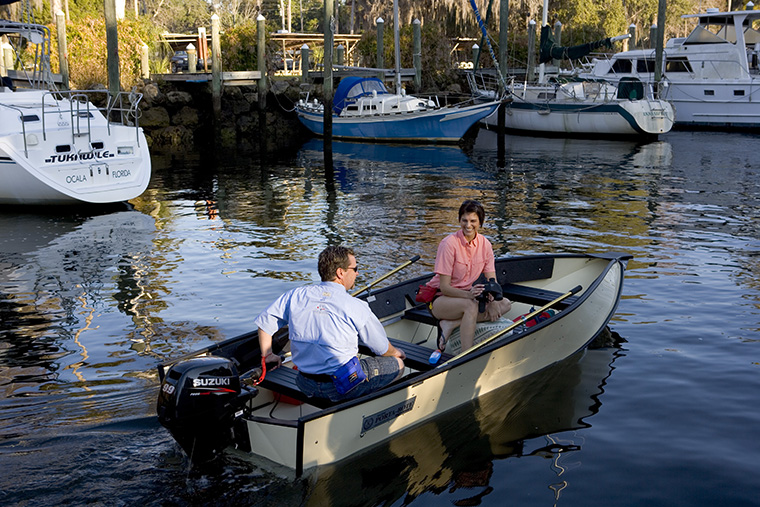 In production for over 40 years, these fold-up boats come in a variety of designs that share the same four-inch draft and wide beam for stability. They range in length from 81⁄2 to 14 feet, and weigh from 49 pounds to 60 pounds when folded. Made of polypropylene copolymer, Porta-Botes are extremely durable. In waves and rough water, the deep-V bow cuts through the chop, and the double-concave hull provides a steady and smooth platform.
A full-sized four-seat Porta-Bote is rated for five people, holds up to 807 pounds, and accommodates an engine weighing up to 89 pounds, with a maximum 9.9 hp.
Roughly the size of a paddleboard when folded, the Porta-Bote requires minimal storage space. Transporting it is similar to car topping a canoe or kayak, but without the bulk.
On the water, the Porta-Bote offers some advantages over inflatables and traditional aluminum boats. Due to its light weight and hull design, it can get up on plane in under five seconds with just a 3.5-hp short-shaft engine. The wide beam and flat bottom keep draft to a minimum, allowing access to back bays, or the duck blind.
Have a look:
Oru kayak
Highlights: Lightweight, compact, portability
MSRP: $1300-$2500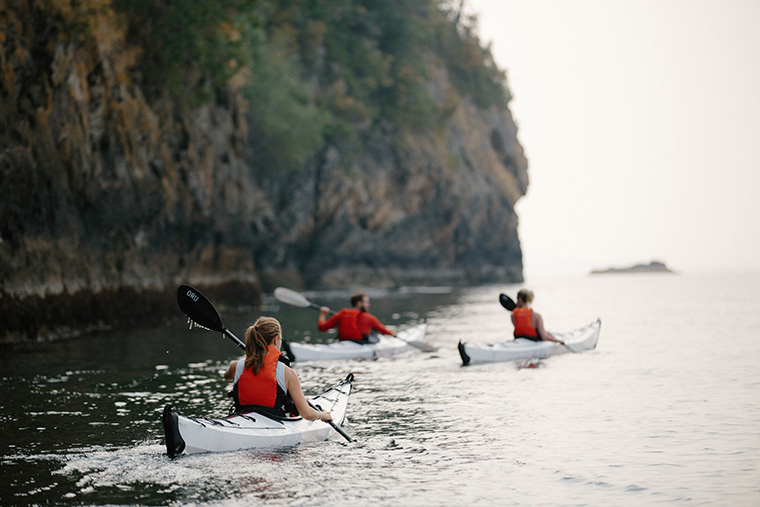 Oru Kayak has an interesting history that includes an online Kickstarter campaign and a spot on Dragon's Den.
If you enjoy origami, you'll love that this folding kayak collapses into a box. An obvious advantage for anyone concerned with storage, or who might be pressed for space. At 33 x 29 x 12 inches folded, it's small enough to fit under your bed or in the trunk of a car, and can be carried on your back, enabling access to remote waters.
While assembling it takes some practice, set-up can take just minutes. The 12-foot Bay ST model weighs only 28 pounds, has a load capacity of 300 pounds, and ample on-board storage of 90 litres.
Enjoy backcountry camping? More than once I considered a back-country fishing trip into Algonquin, but having to portage over rough terrain with a hard-shell kayak was a hurdle I wasn't prepared to leap. At under 30 pounds, the Oru kayak is an ultralight backpacker's dream come true.
Have a look:
Jet ski
Highlights: Speed, fun factor, multi-purpose
MSRP: Accessory prices vary
If you own a jet ski, you can outfit it for fishing. The main advantage over other options is speed, and powered trolling. If your vehicle's tow rating is up to 2,000 pounds, it's akin to towing an ATV. In fact, you can hook it up to an ATV and get off the beaten trail to backcountry lakes and rivers.
With a modified jet ski, getting to your destination is half the fun. You can cover a large amount of water in a day and handle just about any weather.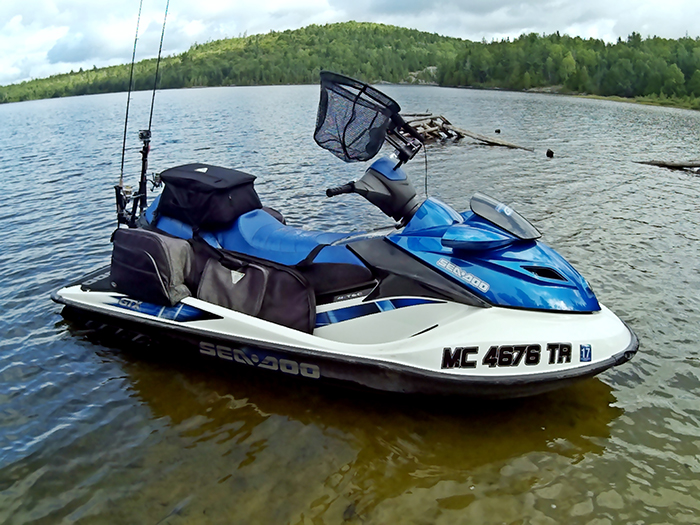 When modifying a jet ski for fishing, there are some things you need to be aware of. The addition of DIY homemade milk crates or coolers to the landing platform at the rear of the machine can impede self-rescue. Caution should be exercised when selecting your fishing attachments and accessories. Depending on weight and location, these can impact the centre of gravity.
To combat design hurdles,  Maverick Fish Hunter out of Sault Ste. Marie, offers an assortment of solutions that are non-destructive, low cost, and safe. Maverick offers a suite of jet-ski bags for fishing, camping, and touring. They've also partnered with RAM Mounts, the world's leader in fishing mounting systems.
Have a look:
Ultraskiff
Highlights: Stability, rugged, control in wind
MSRP: $1500 U.S.
Small and lightweight, the Ultraskiff is a unique platform to fish from. Its round design and detachable swivel pedestal enable an angler to maintain facing, regardless of wind drift or current. The sloped outer perimeter provides a comfortable, ergonomic footrest while you swivel around.
With an outer deck and inner hull that is sloped, the further you step from the centre, the gradient of the deck shifts your centre of gravity down and back, thus the more it self-stabilizes. At six feet in diameter, the hull provides three storage compartments measuring 30 x 101⁄2 x 15 inches, six moulded rod holders, and a battery compartment that can hold up to class 31 deep-cycle batteries. There are also four cup-holder and utility pockets. Four removable five-inch cleats and wire guides help keep the deck clear of clutter. On the underside are four recessed inserts for magnets, and mounting plates to place pumps and transducers. Strap guides secure the craft to trailers. Empty, the hull weighs 123 pounds, and has a weight capacity of 460 pounds.
Have a look:
Alternative boats aren't without their challenges. Less storage, speed, stability, standing room, and even safety are all trade-offs that need to be considered. Rough water, current, distances, and weather conditions should always be factored in prior to purchase, and before each launch.
Click here to learn how to DIY floats.