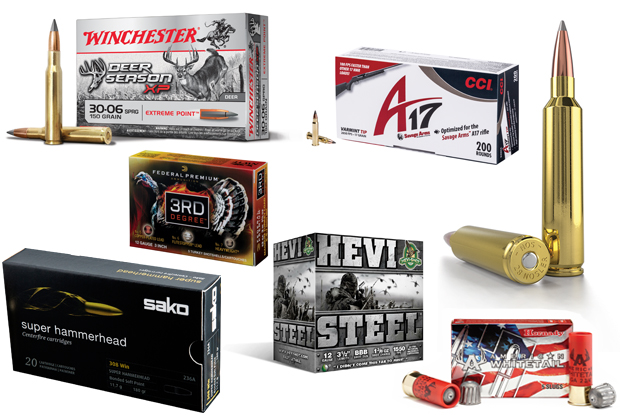 Advances in technology continue to show up in the ammunition world, as manufacturers target new offerings for specific purposes. Technology is also a part of a newer, more powerful 7 mm cartridge. And, to round things out, there are a couple of solutions to the ammunition availability issue that plagues Canadian shooters and hunters.
Hevi-Shot introduced eight new lines for fowl, beast, or clay. Of particular interest to Ontario hunters is the Hevi-Steel load, which is the company's first all-steel loading. It boasts speeds of 1,500 fps for duck loads and 1,550 for goose loads in 3.5-inch BB and BBB sizes. It's available in 12 gauge, 2.75 to 3.5 inch, and 20 gauge 3 inch. A Hevi-Teal load is offered in 2.75 and 3 inch in shot size 6 only. Hevi-Game is the company's first all-lead shell. It is targeted at small game and is available in shot sizes 6 and 7, in both 12 and 20 gauges. The Hevi-Upland shell is similar, but is available in shot sizes 5 and 6, in 12 and 20 gauges.
MSRP: $9.99 per box, www.hevishot.com
Nosler follows up on the introduction of last year's 26 Nosler with a big brother — the 28 Nosler. Boasting muzzle velocity of 3,300 fps with 160-grain bullets, it is the quickest of the 7 mm cartridges. The new cartridge takes advantage of new technology, such as the high ballistic coefficient bullets in the AccuBond Long Range line for the long shots. It is initially offered loaded with 160-grain AccuBond and 175-grain AccuBond LR bullets.
MSRP: $65 per box, www.nosler.com
Sako ammunition is not new — it's been around since 1929 — but it was just introduced to Canada last year. There are 100 different loads in 35 calibres, all offering 1 MOA accuracy out of the box. It's produced in Sako's Finland factory.
MSRP: from $29.95 CDN, www.stoegercanada.ca
Federal Premium's new 3rd Degree turkey load is the company's first load using different shot size technology in the same shell. It's designed to be more effective at a wide variety of ranges. Unfortunately for Ontario residents, it uses size 7.5 Heavyweight pellets so it isn't legal for use on turkeys in the province (shot size must be 4, 5, or 6), but could be used for other hunting purposes.
MSRP: $21.95 to $24.95 per box of five, www.federalpremium.com
CCI A17 is a .17 HMR cartridge optimized to work in the new Savage A 17 semi-auto in that calibre. It is unique in that it's designed for one gun, but can be fired in any .17 HMR gun. The ammunition is available in boxes of 200.
MSRP: $66.95, www.cci-ammunition.com
Winchester joins other ammunition companies with a line specifically for deer hunting with its Deer Season XP. It features polymer tips built to expand quickly for maximum trauma and knockdown power. The ballistic profile was designed to maximize long-range accuracy. It's initially offered in eight popular calibres from .243 Win to the .300 magnums.
MRSP: $20 to $22 per box. On the shotshell side, Winchester added magnum loads in 12 gauge to the Long Beard lineup in both 3 and 3.5 inch.
MSRP: $25 per box, www.winchester.com
Hornady brings its American Whitetail technology to the rifled-slug line. The 1-ounce rifled slug is a Foster-style slug designed for smooth bore shotguns. It will work with choke tubes from cylinder to full, and even rifled tubes. The slug is manufactured to deform rapidly upon impact. It's only offered in 12 gauge 2.75 inch initially.
MSRP: $10.51 for a box of 5. Hornady is also offering a .17 Winchester Super Mag load, which is good news since ammo in this calibre can be hard to find.
MSRP: $21.41 for a box of 50, www.hornady.com
This article originally appeared as part of the Hunting Gear Guide in the May 2015 edition of Ontario OUT of DOORS. For more articles like this, subscribe today.