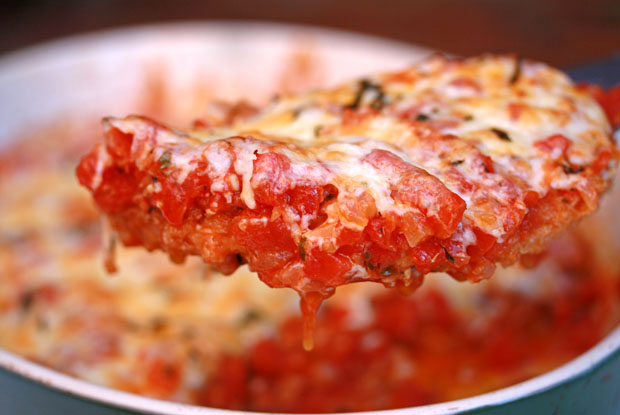 If you think your moose meat might be a little tough, this is the recipe for you.
Instructions:
Preheat oven to 400˚F. Prepare the sauce. In a medium-size saucepan, heat olive oil on medium heat, add onions and sauté for two minutes. Add minced garlic and cook one more minute. Add tomatoes, oregano, sugar, basil leaves and bring to a simmer. Reduce heat to keep to a simmer and cook uncovered while you prepare the meat.
Cut meat into four serving-size pieces. Take one piece and place between two pieces of wax paper. Using a meat hammer, or rolling pin, pound until you get an even thickness of ¼ to ½ inch. Remove from wax paper and sprinkle both sides with salt. Repeat with remaining pieces.
In a shallow bowl, mix bread crumbs and ½ cup Parmesan cheese, add a pinch of salt. In a separate bowl, whisk eggs. Add ¼ cup water to egg mixture. Heat fry pan with ¼ cup olive oil on medium.
Working with one piece at a time, dip meat in egg mixture then into bread-crumb mixture. Place the meat into the fry pan and brown on both sides.
Coat the bottom of a large baking dish with the sauce, then top with the browned meat. Arrange the four pieces in a single layer. Top with remaining sauce. Sprinkle with grated cheese and remaining Parmesan. Lastly, top with sliced basil. Bake in oven for 10 to 12 minutes or until the cheese begins to bubble and brown.
Ingredients
1½ pound moose steak
1 tsp. salt
2 eggs
1 cup panko, or bread crumbs
¼ cup olive oil
1 cup grated mozzarella or Monterey jack cheese
1 cup grated Parmesan cheese
2 tbsp. fresh basil leaves, thinly sliced
Sauce
½ large yellow onion, chopped fine
¼ cup olive oil
2 cloves garlic, minced
1 can, 14 ounce, diced tomatoes (I like the really spicy ones)
1 tsp. oregano
2 fresh basil leaves, chopped fine
Pinch of sugar
This article originally appeared in the Fall 2015 edition of Ontario OUT of DOORS. For more recipies like this, subscribe today.