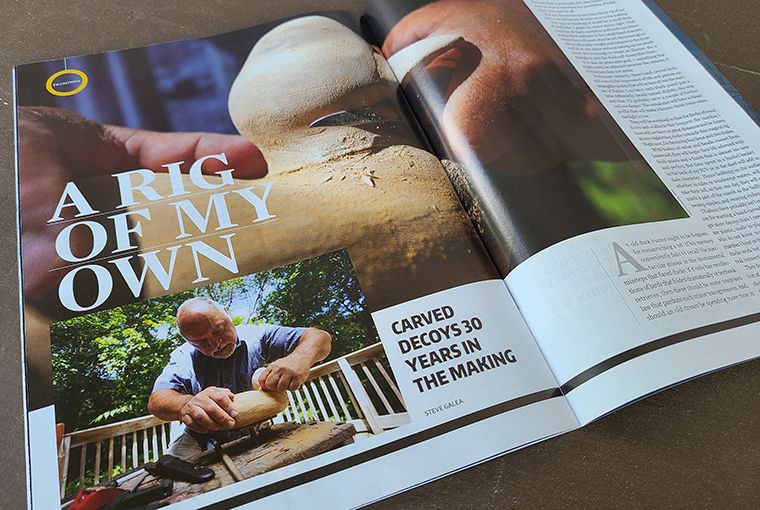 Four Ontario OUT of DOORS contributors have once again been honoured by the Outdoors Writers of Canada (OWC) with five annual awards for 2022.
Senior Editor Gord Ellis, Assistant Editor Steve Galea, Senior Reporter Jeff Helsdon, and contributor James Smedley were recognized.
Helsdon and Ellis took second place and third place, respectively, in the Column category, for "The jake debate," from the May 2021 issue and "Fact or fiction?" from the Fall (October) 2021 issue.
Galea won third place in the Hunting Feature category, as well as second place in the Ducks Unlimited Canada Award in Conservation, for "A rig of my own," his passionate tale about finally carving his own duck decoys from the Fall 2021 issue.
Smedley won second place in the Fishing Feature category for "Snowshoe to squaretails," in the Jan.-Feb. 2021 issue.
Efforts appreciated
The awards match the OOD's OWC award haul from the year before.
"These four writers are no strangers to the awards, as they consistently win each year," OOD Editor/Associate Publisher Ray Blades said. "Their efforts over the last three decades or longer are very appreciated."
OOD contributors also won for their work elsewhere.
Helsdon won third place in The Future of Hunting in Canada Award for "Grandpa's gun," published in Delta Waterfowl. He won third place in the Magazine Column category for the same piece in 2020 after it was published in OOD.
Smedley also won third place in the Photography – Fish, Wildlife, and Wild Spaces category for Wood Canoe on Superior, and second place in the Photography – Outdoor Activities category for Paddling the Agawa, both published in Algoma Country Travel Guide 2021.
More than 100 entries assessed
Judges evaluated 109 submissions in 11 categories, OWC Awards Chair Adam Patterson stated on Monday, May 30.
"Thank you to all of the judges who volunteered so many hours to evaluate the submissions, and a very special thank you to our sponsors, Tourism Saskatchewan, Ducks Unlimited Canada, Benelli, Delta Waterfowl, and Canadian Shooting Sports Association," he wrote. "Support from our sponsors and the dedication of our judges continues to raise the bar for Outdoor Communications in Canada."
For more information on the Outdoor Writers of Canada, click here