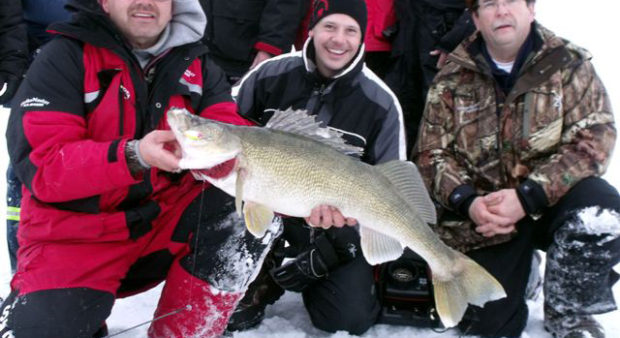 A retired Saskatchewan police officer hopes to claim the ice fishing world record for catch-and-release walleye. Tim Geni, 51, of Wilcox, Saskatchewan, hooked, landed, and released a walleye that measured 33.75 inches in length and 19.375 inches in girth on January 5, 2011.
The huge walleye nailed a PK spoon jigged through the ice on Last Mountain Lake, north of Regina. Geni, who was only using a 4-pound fluorocarbon line on an ice rod and reel, quickly realized he was fighting a giant.
"After I set the hook, the walleye took several long runs," he recalled. "Its raw power was something else." The fish was entered under the live-release rod-and-reel ice-fishing category with the Freshwater Fishing Hall of Fame in Hayward, Wisconsin.
The International Game Fish Association usually handles world record catches, but is only now implementing a live-release category. To qualify, anglers must use an official IGFA measuring tape. The current walleye record is 32 inches. Caught-and release fish are measured in length, not weight.