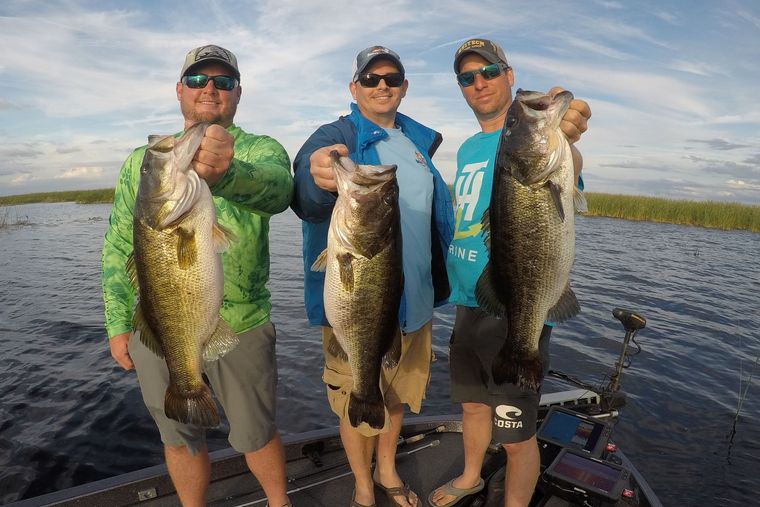 One of the best things about competing in the Bassmaster Elite Series across the United States is hooking up my boat in late January and heading to Florida. While we're all frozen in Ontario, the Sunshine State offers pleasant weather and great bass fishing.
DIY it or get a guide
You can either bring your own boat or hire a guide who'll provide one and all the gear you might need. Guides know where to fish and what to use, and are the best option for a day or two of fishing. If you have the time to fish for several days or weeks, bringing your own boat and equipment gives you the opportunity to explore a variety of waters and to fish whenever you want.
The most popular lakes like Okeechobee, Toho, and the Harris Chain, all have great boat launch facilities and guides. Plan ahead for the best chance to get hooked up with the top guides.
There are also some little hidden gems all over the state, small lakes that receive little pressure and have excellent fishing. I've used Google Earth to find small lakes that have boat launches, figuring if they have good launches, they probably offer good fishing, too.
One thing you should know about Florida is just about any water you can find probably has bass in it. Even small ponds off the side of the road, in sub-divisions, or around the golf courses usually have a few bass in them, and potentially some big ones.
Catching bass in Florida
The main difference between bass fishing in Florida and Ontario is that the majority of lakes in Florida are shallow (under 10 feet) and the fish relate to weeds. You want to pack tackle that is designed for fishing through weeds for most situations.
You have a legitimate shot at catching a 10-pound-plus fish anytime you put a line in the water, so bring heavy tackle for muscling fish around the weeds. Braided line is best for its strength and ability to cut through the weeds.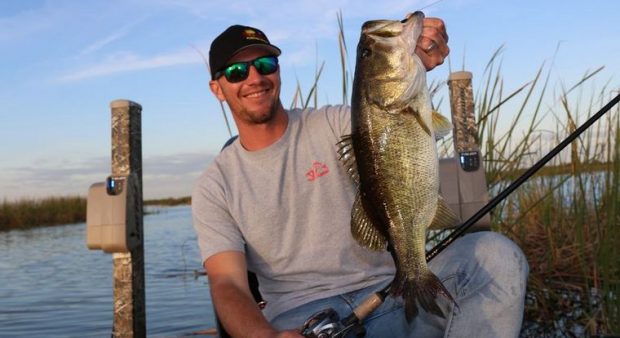 Pack a bag with top waters, spinnerbaits, lipless rattle baits, and chatter baits for casting and covering water. If faced with a cold front, try flipping plastics into heavy cover with a heavy tungsten sinker. Casting wacky-rigged worms or lightly weighted worms around sparse weed clumps is a good bet, as well.
Bass spawn in Florida between January and April, but often you can see them, so casting these worms next to cover is a good technique.
Cold front conditions can make the fishing tough. Florida largemouth do not like cold weather, but you can pick up live shiners at almost any tackle shop or marina and they will produce fish under any condition. Many guides only use shiners because they work so well, and it's neat watching fish hammer them.
Getting a break from our Canadian winter to fish in Florida is great for the soul. The warm weather, catching fish in open water, and simply enjoying the sun will make you happy.
Top bass waters
Lake Okeechobee
Kissimmee Chain
Lake Tohopekaliga (Toho)
Harris Chain
St. John's River
Stick Marsh/Farm 136
Lake Garcia
Lake Placid
Disney Lakes (great if you've got kids)

Need a guide
• Lake Okeechobee (South Florida) Kyle Monti (561) 261-1862
• Kissimmee Chain (Orlando area) Big Toho Marina (407) 846-2124
Fishing licence
You can buy a non-resident Florida fishing licence over the counter at many sporting goods stores (or Walmart) or online. I typically fish in 10 to 12 states, and buy my licences online in advance to save having to find a place.
Bring a boat
It's not a big deal to bring a boat into the states, but your registration number needs to be on the boat or you'll be pulled over by a customs agent. If you're registered and, insured, you'll have no issues. Florida requires nearly the same boat safety equipment (life jackets, rope, whistle, throw cushion, etc.) that Ontario does. I've had natural resource officers check my boat without any issues. You can lookup the exact requirements online.
Where to stay
My friends and I usually find rental homes online. If you're bringing a boat, just make sure your accommodation (subdivision) allows boat trailer parking. Your guide might work with a hotel or resort and might be able to hook you up with a deal. Roland Martin's resort on Lake Okeechobee is a bass angler's paradise and a really cool place to stay if you're going on a pure fishing trip. The attached tiki bar is a fun place to hang around and hear fish stories.
Originally published in the Jan.-Feb. 2020 issue of Ontario OUT of DOORS magazine
Click here for more travel stories