After a long day on the water, turn your hard-earned walleye into this creamy, cheesy fondue dip that will have everyone asking for more bread. It's sure to be a hit!
Ingredients
Serves 6-8
• 1/4 lb. butter
• 1 cup white onion, diced
• 1 tbsp. garlic, minced
• 1 cup flour
• 1 cup dry white wine
• 3 cups fish stock (or chicken stock if not available)
• 2 cups heavy cream
• 2 boneless, skinless walleye fillets, cubed
• 1 cup cold-water shrimp (the mini ones)
• 1 cup Brie cheese, cubed
• 1 cup shredded mozzarella cheese
• Salt and pepper
• 1 cup shredded Parmesan cheese
• 1/2 cup green onions, chopped
• 1 whole French baguette
Directions
1. Melt butter in a medium-sized pot. Sauté onions and garlic for 5 minutes on medium heat. Add flour and stir to make a roux and cook for an additional 2-3 minutes.
2. Whisk in white wine and cook off for 30 seconds. Add fish stock and heavy cream. Simmer for 10 minutes.
3. Add cubed walleye, cold-water shrimp, Brie, and mozzarella and gently stir to combine.Simmer for an additional 5 minutes or until cheese is nice and melted. Season with salt and pepper to taste.
4. Fondue mixture should be thick and cheesy. Set oven to broil on low. Pour mixture into an oven-safe casserole dish. Top with shredded Parmesan cheese and bake until top is golden and bubbling.
5. Sprinkle green onions on top and serve hot with slices of baguette.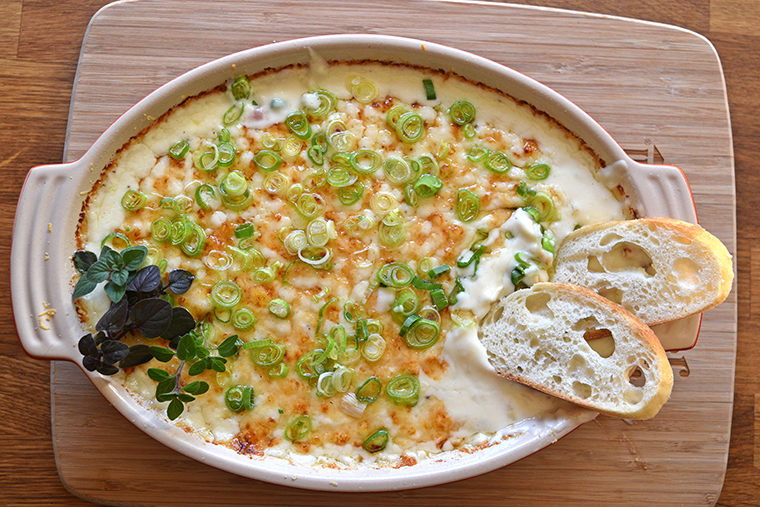 Find more great fish and wild game cooking videos from Chef Andrew here.