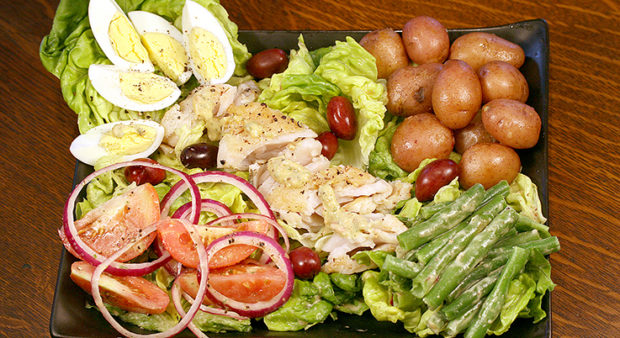 This is one of those dishes that you can serve family style, piled on one big plate in the middle of the table. The recipe is for two, but you can multiply it for as many as you wish.
Vinaigrette
1/4 cup lemon juice
1/2 cup extra-virgin olive oil
1/2 shallot, minced
1 1/2 tsp. minced fresh thyme leaves
1 tbsp. minced fresh basil leaves
1 tsp. minced fresh oregano leaves
1/2 tsp. Dijon mustard
Salt and pepper
Whisk lemon juice, oil, shallot, thyme, basil, oregano, and mustard in a medium bowl, season with salt and pepper to taste.
Salad
2 walleye fillets marinated in olive oil for 1 hour
2 hard-boiled eggs, peeled and quartered
4 small new red potatoes
1 medium head Boston lettuce, cleaned, dried, and torn into bite-size pieces
1 small ripe tomato, cored and cut into sections
1/2 red onion, sliced finely
4 oz. green beans, snapped in half
1/4 cup Nicoise olives (Kalamata olives will work)
1 tbsp. capers
Instructions
Heat a large skillet. Cook fillets 2 to 3 minutes on each side until done. Set aside. Place 2 quarts of salted water in a large pot and bring to boil.
Add potatoes and cook until tender. Transfer potatoes to small bowl and toss with ¼ cup of vinaigrette. Set aside. Don't throw out water. While potatoes are cooking, toss lettuce with ¼ cup of vinaigrette until coated. Arrange lettuce on a serving platter.
Cut walleye into slices and coat with vinaigrette. Mound fish in centre of lettuce. Toss tomatoes and red onion in a small amount of vinaigrette, add salt and pepper to taste. Arrange tomato and red-onion mixture and potatoes on lettuce bed.
Return water to boil, add 1 tsp. salt and green beans. Cook until tender but still crisp. Drain and dry beans. Toss beans in a small amount of vinaigrette. Arrange on lettuce bed. Arrange hardboiled eggs and olives on mounds on the lettuce. Drizzle eggs with remaining vinaigrette. Sprinkle salad with capers. Serve immediately.
First published in the 2012 November/December issue of Ontario OUT OF DOORS. Subscribe today!