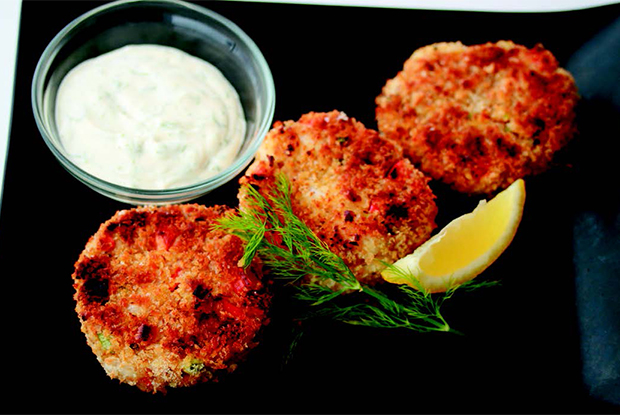 This version of crab cakes differs from most, not only because of the wonderful addition of the walleye, but because it's cooked in the oven, not fried in oil. The sauce just makes it zing.
INGREDIENTS
Makes six good-sized cakes or 12 appetizer-sized cakes.
• 1 lb. walleye fillet, chopped
• One 8-ounce can crab meat
• ¼ cup melted butter
• 3 green onions, chopped finely
• 1/3 cup red bell pepper, chopped
• 1/4 cup mayonnaise
• 1 egg
• 1/2 cup seasoned breadcrumbs
• ¾ tsp. Old Bay seasoning
• 1 tsp. Dijon mustard
• ¾ tsp. salt
• ½ tsp. pepper
• ½ cup panko crumbs, to roll cakes in
LEMON-DILL SAUCE
• 1/2 cup mayonnaise
• 1 tbsp. fresh minced dill
• 1 tbsp. fresh lemon juice.
Combine and let sit for at least five minutes.
Instructions
1. Preheat oven to 375˚F.
2. Mix all ingredients, except panko crumbs, and form into patties.
3. Roll patties in panko and place on a lightly greased cookie sheet.
4. Bake in oven for 12 minutes, turn and continue to bake for 10 minutes, or until cooked to desired crispness.
5. Serve with lemon-dill sauce.