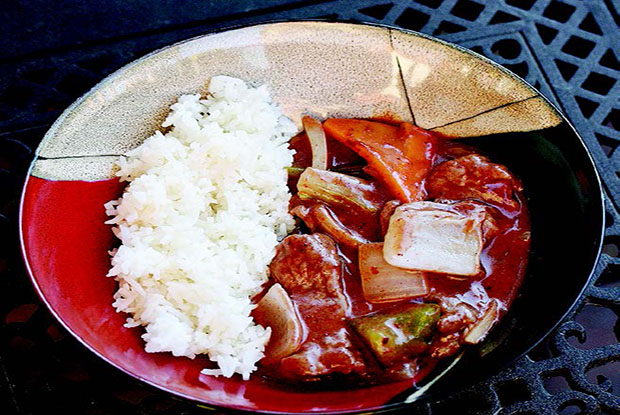 I don't know about you, but as I grow older I'm enjoying many more flavours than I did as a kid. Thai food is becoming one of my favourites and it works well with game meat. This simple recipe can handle many substitutions for things that you may have on hand.
Ingredients
1 

1

⁄

4

lb. venison (can use moose or elk)

1

⁄

2

tsp. salt
2 tbsp. oil
1 medium onion, thinly sliced
Cooked jasmine rice
1 red bell pepper, thinly sliced
1

1

⁄

2

tbsp. red curry paste
13

1

⁄

2

ounce can coconut milk, divided
1 tbsp. brown sugar
1 tbsp. lime juice
2 tsp. fish sauce
8 ounce sugar snap peas or thinly sliced carrots or corn niblets
1/2 cup chopped Thai or Italian basil or kaffir lime leaves
Instructions
1. Sprinkle meat with salt and set aside. Heat oil on high in large skillet. Add onion and red pepper. Cook until tender-crisp and tinged with brown. Push vegetables aside and add red curry paste and 1⁄2 can coconut milk. Stir until curry is dissolved. Add remaining coconut milk, brown sugar, lime juice, and fish sauce.
2. Bring to a boil and cook 2 minutes. Add sugar snap peas and meat. Stirring, cook until meat is medium rare. Remove from heat and stir in basil. Serve over jasmine rice.
Looking for more game recipes? Click here
This article originally appeared in the Nov-Dec 2014 issue of Ontario OUT of DOORS . To get more recipes like this, subscribe to OOD today.