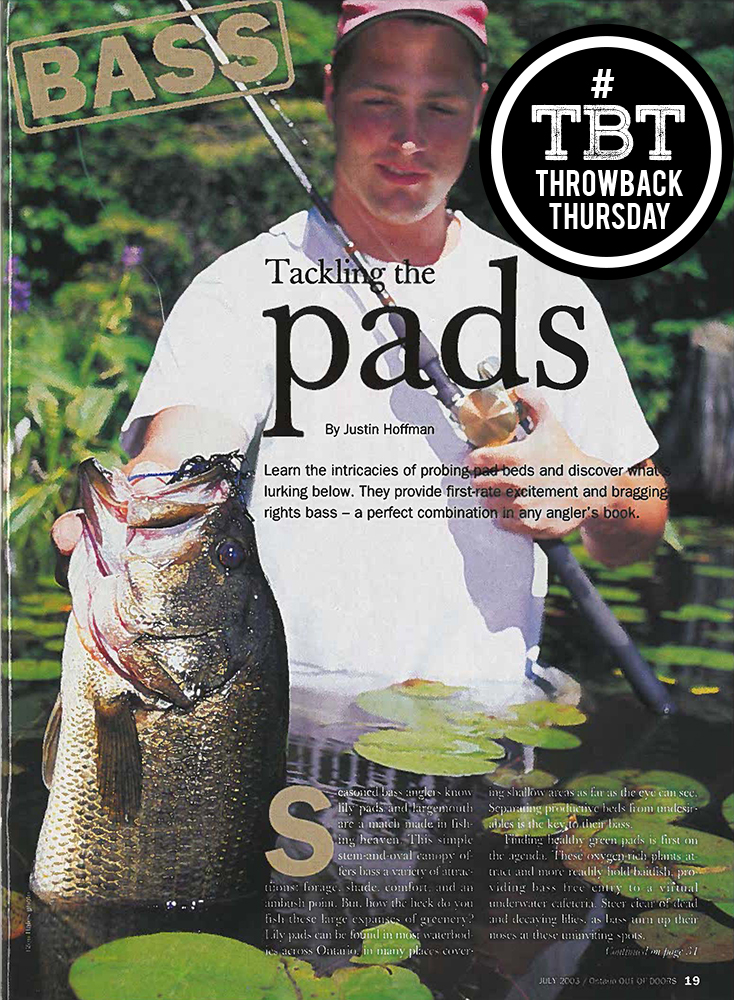 Seasoned bass anglers know lily pads and largemouth are a match made in fishing heaven. This simple stem-and-oval canopy offers bass a variety of attractions: forage, shade, comfort, and an ambush point.
But, how the heck do you fish these large expanses of greenery?
Lily pads can be found in most waterbodies across Ontario, in many places covering shallow areas as far as the eye can see. Separating productive beds from undesirables is the key to their bass.
Finding healthy green pads is first on the agenda. These oxygen-rich plants attract and more readily hold baitfish, providing bass free entry to a virtual underwater cafeteria. Steer clear of dead and decaying lilies, as bas turn up their noses at these uninviting spots.
Water depth is another prime consideration. The rule of thumb is, the deeper the water, the more attractive the pads will be to bass. One to three feet of water beneath the foliage seems to be optimum. You might locate bass lurking under pads in less than a foot of water, but not as frequently as you can in deeper water.
Largemouth prefer pad beds that have lead-in cover, be it weeds or brush. It allows them to travel in relative safety and concealment to and from other areas. Bass prefer to spend the least amount of time possible being a vulnerable target on open water.
In order to be at the top of the attraction scale, the pad bed should also have a variety of cover and structure, such as sand, wood, slop, and other weeds. Throw in deep-water access points that fish can use as escape routes. The more variables you uncover when out scouting, the greater the chance for pad-bed success.
One last thing I concentrate on is isolated pad beds. They conceal large loner fish. Top bets include small clusters of pads away from main beds, and solitary beds located on barren shorelines.
The first plan of attack once you've located a productive-looking pad is how to approach it. Quietness is key in these shallow spots, so use an electric motor or a push pole for a stealthy presentation. Set your motor on low and keep noise to a bare minimum. Never rush directly up to a pad bed, as you could be missing out on fish roaming adjacent areas.
Another good go-slow approach is to use a float tube and flippers. It takes some time to get comfortable with this system, but it can be a lot of fun on a warm summer afternoon. And, where there's a hard-packed bottom and the water is summer warm, a pair of running shoes to protect your feet can provide all the mobility you'll need in one to three-foot depths.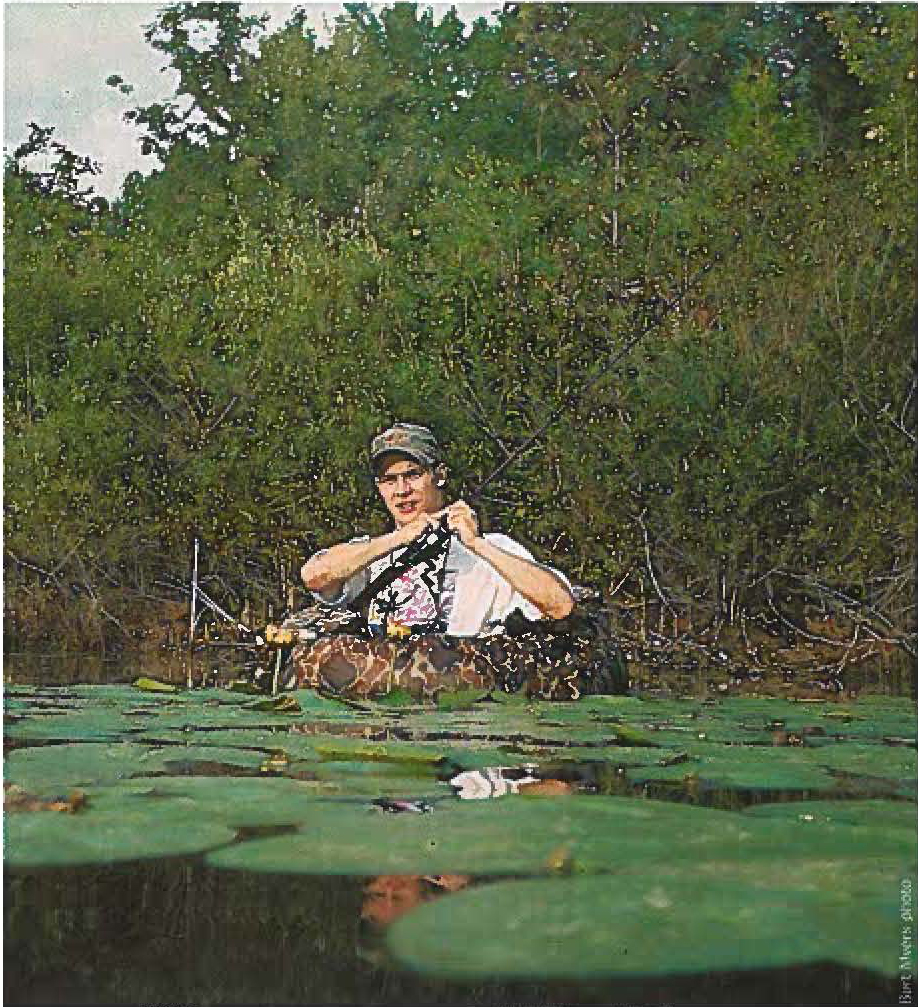 Throwing a variety of lures, including spinnerbaits and top-waters, around the outer edge of pads can mean an extra fish or two for the diligent angler. Top choices include buzzbaits, Zara Spooks, soft-plastic jerkbaits, and willowleaf spinnerbaits. Concentrate on a 25-foot radius surrounding the pad patch and work your bait right up to the edge.
Once you've combed the outer ring, gird for battle in the core of the bed. I start with surface baits that attract curious hidden largemouth and provide visual thrills for the angler. The main factor is choosing a weedless presentation. My favourite lure has predominantly been the Heddon Moss Boss, although the Scum Frog, Rat, and other weedless baits all do the trick.
Concentrate on dragging your lure slowly and methodically across the canopy. Pausing briefly over openings can elicit thunderous strikes, as can a do-nothing approach followed by a sudden movement. Work every nook and cranny of the lilies, as largemouth could be hiding anywhere throughout the maze of stems and leaves.
Tossing a top-water lure first allows active fish to take a swipe at your presentation, working to your advantage, even if you miss the fish. If you hook it, the only concern is getting it to the boat. Keep the largemouth's head on the surface and hoist it over and across the top of the pads. Game over. However, if you give an inch and the fish digs in, you might be left cursing all the way to the next patch of pads.
If you miss a striking fish on a top-water bait, you still might come out on top. Even though you failed to hook the show-off bass, it did commit the cardinal sin of giving away its location. Knowing that a hot fish is lurking under the pads leaves one avenue for success, a tried-and-true follow-up presentation.
Common baits to throw at surface boils or strikes are Texas-rigged worms, lizards, and craws, as well as a jig n' pig. Toss one of these offerings to the precise spot of the surface swirl, and nine times out of ten that fish will take the bait instantly. These lures are also dynamite for negative-moos bass, especially on days when you can't buy a bite on top.
When dealing with lily pads, stout tackle and equipment os the way to go. A flipping stick with sufficient backbone, coupled with at least 25-pound-test mono, is a mainstay in my boat.
---
Justin Hoffman is an outdoor writer, photographer, and YouTuber based in the Ottawa area.
You can find his trove of trail camera compilations and nature videos here.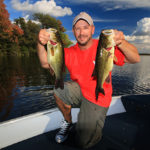 Originally published in the July 2003 issue of Ontario OUT of DOORS magazine.
For more bass fishing, click here