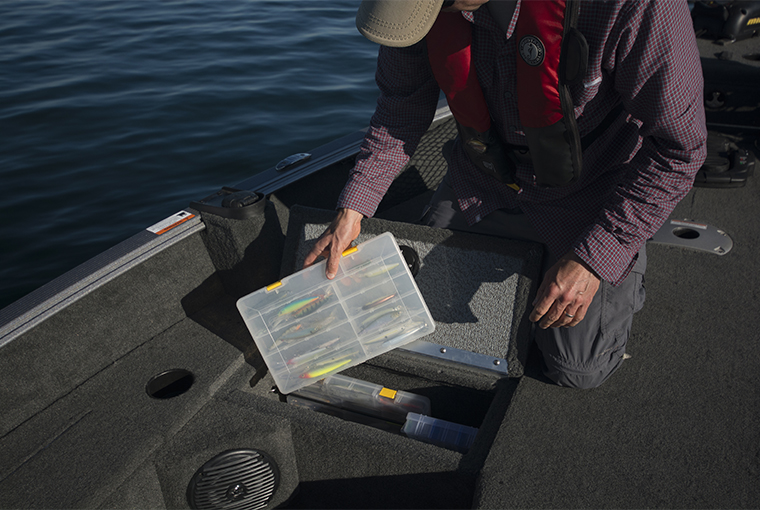 Tackle storage may not be advancing at the blistering pace of fishing electronics, but plenty of new bags and boxes are hitting the market, designed to keep your baits protected and organized. Here are a few tackle management trends, along with some tips for keeping gear tidy.
Built rugged
Secure, durable tackle-storage products remain popular with organized anglers. One newcomer is the uber-tough Bass Mafia "Double Barrel" Jerkbait Coffin. It holds 20 jerkbaits, which is appealing to bass enthusiasts looking to protect high-end lures.
Ruggedness is also a trend happening in larger items, from high-impact bins like the Plano Sportsman Trunk, to padded soft-storage such as the Flambeau Portage series.
Better and stronger utility box latches are also in demand. This is smart, as poor quality latches can lead to spilled tackle and headaches.
Flexibility
Versatile, customizable storage is another growth area. Several products feature interchangeable, mix-and-match containers that fit into a larger box, such as the Flambeau IKE Quotient "IQ" Series of utility boxes.
Plano's Utili-Tackle Rail System on its Guide Series Tackle Bags also allows for customized storage. The rail offers 17 attachment points for holding a range of items such as pliers, a fishing towel, a lanyard, or a hook file.
More tackle-specific storage
Several new utility boxes, binders, and bags have entered the tackle-specific storage ranks. Whether securing spinnerbaits, Alabama rigs, crankbaits, or a collection of soft-baits, you have plenty of options for keeping particular tackle more tidy than generic storage containers allow you to do.
The Jerkbait Coffin (see above) is an example of specific storage and Plano's Plastic Worm StowAway utility box is another. It features clips that hold soft-plastic bags, providing an intuitive option for storing plastics in their original packaging.
Foam security
Consumer choice in the cut-foam storage box market is also increasing. Foam is excellent for securing and holding hooks, spoons, and jigs. If your tackle is getting tangled or damaged in standard utility boxes, foam may be the solution. Bass Mafia's Hook and Weight Coffins, Gamakatsu's G-Box Slit Foam Case, and Rapala's Utility Box are just some of your options.
Moisture protection
Safeguarding gear from water is a longstanding priority in tackle management. Choice now abounds, from large totes featuring a water-resistant O-ring seal to fully waterproof utility boxes.
Many tackle bags and backpacks also feature designs to keep interior contents dry in standing water, a common scenario when fishing through a downpour. The waterproof phone pouch is another smart trend.
Quick tips
Whether you're looking to upgrade your storage system or are sticking with what you own, consider these quick tips for better tackle management: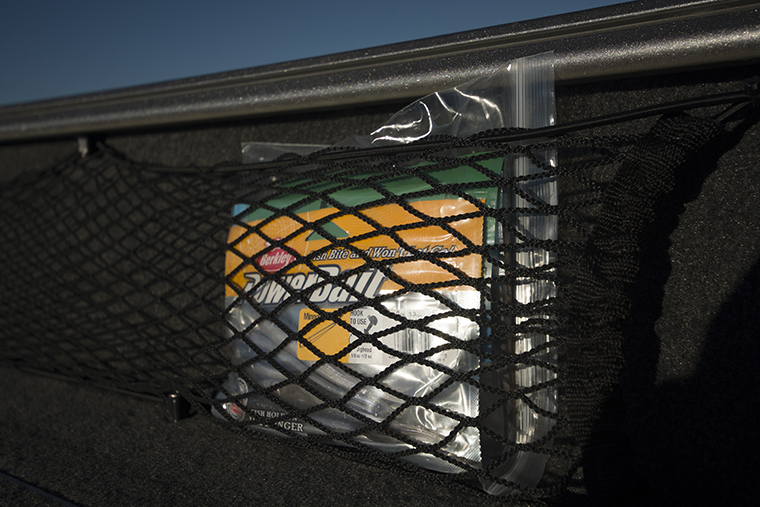 -Save space by matching container size to the amount and size of tackle (e.g. use a thin utility box to hold minnowbaits)
-Use liquid-tight, sealable containers to prevent spills when storing scent-marinated soft-baits
-Use labels to list contents in trays, bags, and totes
-Take only what's needed for the day; Culling tackle frees up space, lessens weight, and simplifies lure choices
-Prevent plastics from bending out of shape by storing boxes and bags flat or upright so soft-baits don't bunch up
-Factor your boat into tackle management choices; I store plastics in clear, sealable sandwich bags because they fit in the cargo netting that lines my deck
-Open wet boxes and bags at home to allow contents to air dry and prevent corrosion and rust
Get the best angling apps to reel in the big one here.