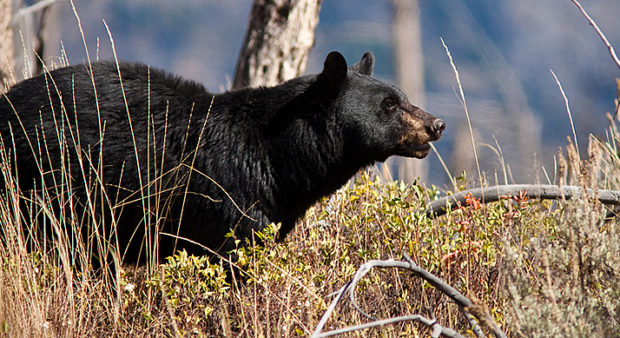 A private members' bill by Thunder Bay-Atikokan Liberal MPP Bill Mauro calling for the reintroduction the spring bear hunt passed first reading in provincial parliament on Oct. 8.
The proposal seeks an amendment to the Fish and Wildlife Conservation Act, 1997 that would open a season for black bears across Ontario from April 15 to June 15, annually. Second reading could take place as soon as early December.
Mauro says reinstatement of the hunt would reduce the likelihood of aggressive bears causing harm to people.
"The re-introduction of the spring bear hunt is something that a lot of northerners have been calling for…," he said. "This issue is becoming more important as time goes on. The growth of the region's bear population seems to be resulting in more frequent encounters and attacks by aggressive bears. The debate over the spring hunt has not really been about whether we hunt bears in this province — Ontario has a fall hunt — and I don't think any of the main parties are calling for an end to that. The concern with the spring hunt is over the orphaning of cubs. My bill provides the flexibility to introduce measures to protect female bears and their cubs. I hope that we can strike a balance that will bring about the re-introduction of the hunt, while addressing the concerns that many have about the orphaning of bear cubs. If this bill goes forward, I'm happy to work with others to help find that balance," said Mauro.
He also argues that the hunt would protect livestock in northern Ontario, be a boon to tourism, and benefit moose populations by reducing the number of calves killed by bears.
Proponents of the hunt are cautiously optimistic.
"It is still not apparent to us whether this initiative is merely a trial balloon or if it is in fact a serious attempt to bring back a spring bear hunt," said NOTO Executive Director (acting) Laurie Marcil.
"Of course, our industry is very much interested in having this hunt reinstated. It was a very sound management strategy for our wildlife. Its return would also be a strong driver for tourism growth in the province. The former spring hunt contributed more than $46 million to the Ontario economy."
"It's hard to say where this will go," said Ontario Federation of Anglers and Hunters (OFAH) Government Relations Manager Greg Farrant, "but we are grateful that it has re-opened a discussion about the spring bear hunt. We would certainly support any bill to reinstate it."
Originally published in the November/December issue of Ontario OUT OF DOORS magazine.