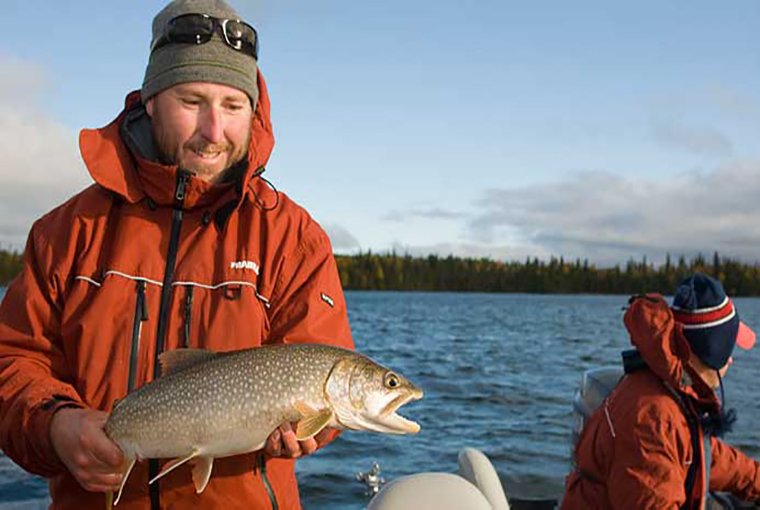 Brilliant colours, thick morning mist, and near 0°C temperatures accompany our launch into the clear waters of Vermillion Lake. Ben Beattie, professional guide and OOD field editor, distributes 1-ounce tube jigs as we approach a steep drop. "Just work the water column," says Ben, as he shifts the 90-hp tiller out of gear.
My tube hasn't even dropped the 70 feet to bottom when something takes a swipe. I set and miss. "Swing and a miss," says friend and OOD Senior Editor Gord Ellis, who's given to filling any silence with running commentary.
"Got him," I counter, as my hook sinks home into the returning trout.
Gord and I had pulled into Sioux Lookout (population 5,500) the previous night and settled into a cabin at Moosehorn Lodge for a few days of fishing the legendary waters around this small town. Moosehorn is on Pelican Lake and is connected by water to giant Lac Seul and walleye-rich Minnitaki. But, because it's September 30, the last day of trout season, Ben has suggested trailering the boat 20 minutes up Hwy. 664 for a day on Vermillion. After hitting 3 or 4 more laker spots, with each of us boating fish from 2 to 5 pounds, Ben suggests trying for muskie.
Lunge novice
Gord nods solemnly. We start casting shoals, narrows, and shoreline with lures like the big rubber Bulldog and hard-bodied Jake and Believer. I'm wondering when a muskie might take notice.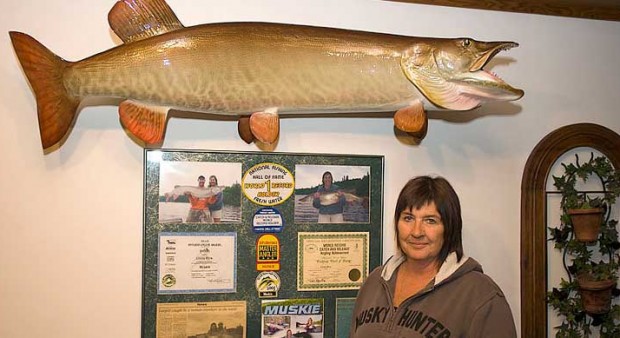 "Two swirls and a follow is a good day of muskie fishing," says Gord to a nodding Ben, who's obviously comfortable with long periods between bites.
I continue to seductively work a jerkbait called a Sledge. A big fish mellows, then sounds. My heart pounds and my legs are a little rubbery.
Soon after, another large fish follows Ben's Bulldog to the boat. He executes a few figure-eights and the 45-inch creature glances upwards, appears to yawn, then retires to the depths. We decide to give our arms a break and troll the shoreline.
The sonar shows fish, which we decide must be smallmouths, suspended off a sharp break. We switch to light gear and Gord immediately hooks and lands a 20-inch muskie. It's tiny by muskie standards, but a beautiful specimen.
"Two follows and a swirl," I say, flaunting my new-found muskie lingo. "Pretty good day."
So much water
Back at Moosehorn, I wander up to the main lodge where our host, Linda "Musky Mama" Rice, gives me a tour of the well-stocked tackle shop, squarely focused on muskie. Linda shows me her favourite lure, a brownish-black Top Raider. She says it's accounted for many good fish, including the 57-inch beast she landed in 2005, still the National Fresh Water Fishing Hall of Fame record for the largest muskie caught and released by a female angler.
Near a replica mount of the formidable fish is a wall map of 640 square-mile Lac Seul and myriad other lake and river systems surrounding Sioux Lookout. The amount of water is staggering, and approximately 30 lodges/tourist outfitters operate in the area. "Our guests just never run out of new water to fish," says Linda, smiling.
Our focus next morning is Minnitaki Lake. This walleye factory is normally accessible by water from Moosehorn, but low water this fall has Ben nervous about navigating the rapids into Minnitaki. Instead, we trailer the boat 20 minutes along Hwy. 72 and pull into Donnelly's Minnitaki Lodge. The Donnellys graciously allow us to use their launch ramp.
We blast up Pickerel Arm narrows, round Burnt Island, and head into a strengthening wind toward the southwest arm. We're surrounded by pine-capped smooth rocky shorelines, islands, points, lurking shoals, and rock piles.
Ben throttles back off a point and minnow-tipped jigs account for a flurry of 16-inch walleye. Next, we hit mid-lake windswept shoals to connect with walleye up to 24 inches.
Although we all catch and release our limits after visiting only a couple of spots, Ben explains that the walleye are in transition from summer to fall spots, and in July and August, Minnitaki promises hundred-fish days.
Fellow muskie-head Ellis shakes off another 17-inch walleye and suggests hitting Lac Seul for lunge.
Deception bay
The launch ramp off Hwy. 516 into Deception Bay of Lac Seul is proof that Sioux Lookout takes its fishing seriously. Maintained and administered by the community, the Gibraltar-like launch and dock installation is superior to any small-town launch I've visited.
"That's where I landed a 48- and 53-incher on consecutive days," Ben says, as we cast and troll steep transitional spots between the shallows of summer and deeper late-season hangouts. Extensions of points with cabbage, saddles between islands and shore, and looming rock shoals all have stories associated with giant muskie.
Forging stories of our own is proving difficult. Not that we don't have chances. Our first comes when casting a saddle adorned with dead standing wood. The second comes when working a rock pile off a point. In both instances, thick muskie ghost out of stained water behind Ben's offering then swim away with marked calmness.
With the sun sinking behind the tree line, we're trolling a broad flat near a narrows when I see Gord's rod bounce in the holder. "Maybe just tapped bottom," I say to Gord, then his pole arcs sharply, accompanied by the whine of the levelwind reel. He dives for the rod and leans back hard, just as a high-40s muskie launches itself into the cool night air well behind the boat.
"It's off," says Gord reeling in dejectedly.
Our few days in Sioux Lookout have been a teaser. Minitaki, Vermillion, and the seemingly endless interconnected waters around the community beg for a more thorough investigation. And, giant Lac Seul will suck you in and never let you go. Just ask Ben. He left an office job in southern Ontario several years ago and seems content to live out his days on the waters surrounding Sioux Lookout. For an angler, there are far worse fates.
Originally published in the 2013 Fall issue of Ontario OUT OF DOORS magazine.