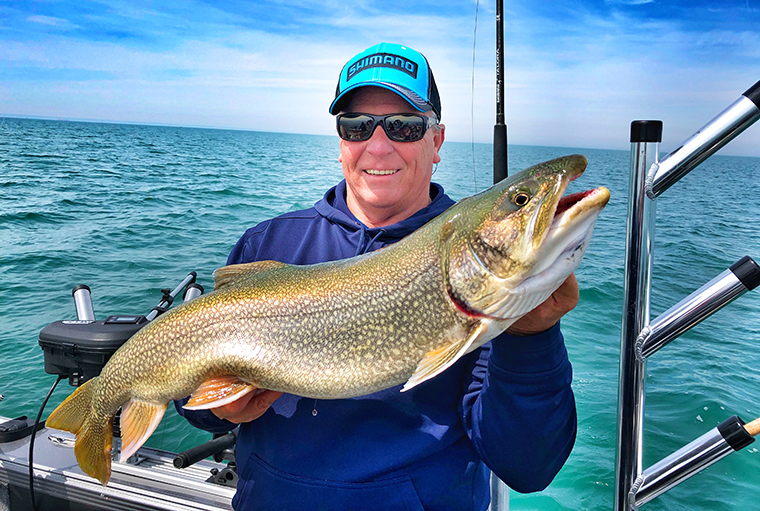 Renowned Canadian walleye charter operator, Captain Paul Powis relies on PowerPro braided line to put fish in the boat.
Powis' walleye program is centred on his ability to clearly identify each line and bite.
Once the lines are set, his boat looks like a rainbow of coloured lines. Using Maxcuatro, the new Super Slick V2, and Original PowerPro, he'll use their line diameters to properly target specific depths of the water column.
Powis uses Maxcuatro for running deep baits because it's 25% thinner than standard PowerPro lines with equivalent strength. The thinner diameter helps get baits deeper, and as an added bonus increases your reel capacity.
His favourite colour is Hi-Vis Yellow because he can see it the farthest. Powis also runs White, Blue, Green, Brown, and Red.
Powis watches the point where the line enters the water, as smaller fish will only move it an inch or so on the bite, whereas bigger fish will trigger the rod.
Running multiple coloured lines on dipsies on both sides of the boat helps Powis keep track of his baits at all times. To avoid confusion, he only uses a colour once on each side of the boat.
"You have two seconds to decide how you are going to deal with a double or triple header or you are going to have tangles and those fish are going to get off," Powis said.
Strub and the fine line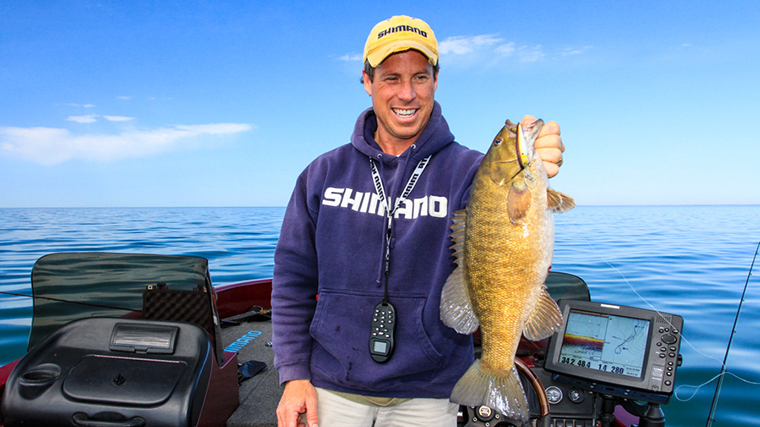 Professional Canadian angler and smallmouth ace, Derek Strub, also relies on the power of braided line, but he goes for the thinner diameter of 5-pound PowerPro, paired with an invisible fluorocarbon leader.
He makes ultra-long casts to finesse super-spooky smallmouth with micro-baits, spy baits, hair jigs, and drop-shot rigs.
By watching his line, Strub picks up those subtle bites.
"You'll see your line pop, stop, or speed up on the fall," Strub stated. "Those baits are pushed forward by smallmouth attacking the bait from behind, creating momentary slack. You wouldn't feel that with any other line," he said.
The new PowerPro Super Slick V2 is an 8-yarn Spectra fibre braid that feels smooth as silk. The reduced line friction on the spool and through the rod guides allows Super-Slick to cast like a bullet, reduced line noise and line toughness allows Strub to fish with confidence, stealth and silence.
Strub colour codes his line choices based on the technique he's using to keep him organized and fishing efficiently.
PowerPro braid's low-stretch properties mean Strub can rely on the line for sensitivity.
"When I'm drop shotting on slack line, often there's a bow in the line. You'll never feel that bite without braided line," Strub said.
And deep water and 5-foot waves only complicate things.
"With 80 yards of line out, you need a no-stretch line to feel the bite and get the hooks in," Strub said. "Cold water smallmouth sometimes won't even bite – they'll just stop the bait."