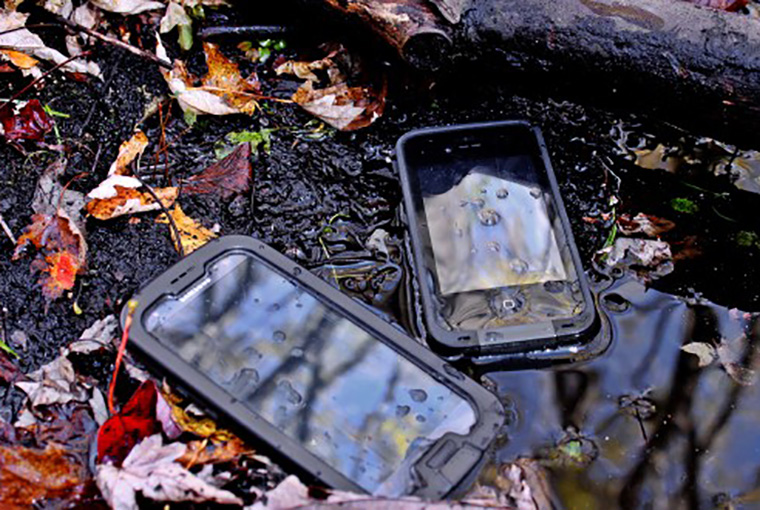 For 90 days (and counting) we've put 2 Lifeproof cases to the test: the Galaxy S3 Nüüd and iPhone 4/4s. They've been dropped on pavement, dipped in a river, and soaked in the rain, and both have delivered on the marketing claims. These cases are, indeed, waterproof, dirtproof, and shockproof. (Snowproof is still to be determined.)
The iPhone case is easy to put on and take off, but the Galaxy Nüüd case is a bit of a struggle. It took 10 minutes to get the grooves to align and snap closed. We tested the Nüüd line with "screenless technology" (no screen cover), which is why the fit is so snug — it's watertight.
The Nüüd case comes with a plastic phone insert to test the case's water resistance at home, although it has been factory tested. While it passed the home test, I was reluctant to submerge my own phone in water.
It wasn't until I accidently dropped it over the edge of the boat and retrieved it from the water that I was completely reassured.
Luckily, I was in shallow water because this case doesn't float. LifeProof makes a LifeJacket float for its iPhone 4/4s case, but nothing yet for the Galaxy models. The LifeJacket is not practical for day-to-day use, but takes only seconds to remove.
Unlike other defender-style cases on the market, the models we tested offer high protection without bulk. However, calls do sound slightly muffled and there is some vibration when the volume is high. These issues can be resolved by using the microphone earbuds that come with the phone. All in all, it's a good buy.
Do you use a great hunting or fishing app or electronic product? Email us, we want to hear about it.
Originally published in the November/December issue of Ontario OUT OF DOORS magazine. Subscribe.