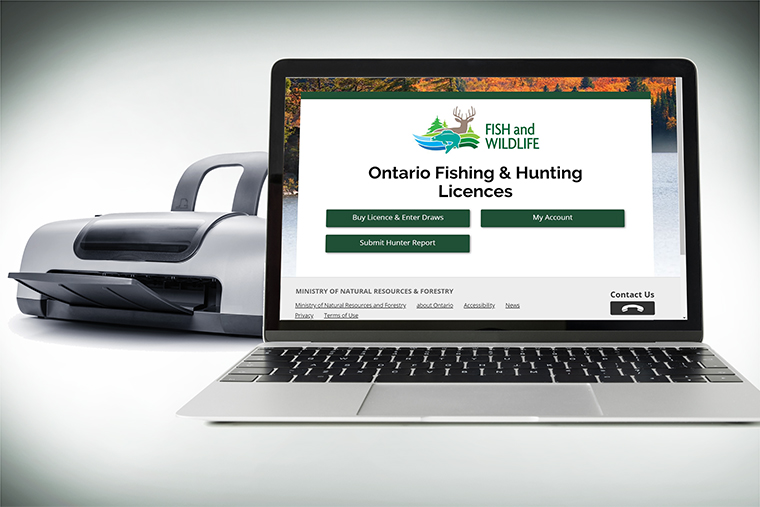 The promise of a convenient new online licensing system by the Ministry of Natural Resources and Foresty (MNRF) is not panning out for some Ontario hunters. Several people have reported experiencing issues trying to print their tags at home.
Mike Miller, host of Angler and Hunter Television, purchased two turkey licences and a bear licence using the online system on March 25. He was able to print his receipt and the new licence summary document, but the tags hung up in the print queue, leaving him watching what he described as, "the spinning wheel of doom."
The new system only entitles the purchaser to print a tag once, while licence summaries and receipts can be printed as often as desired. All of the documents must be printed on 8 1/2″ x 11″ paper.
Miller is not the only hunter who has had printing issues. A friend of Miller's was also unable to print his tags, and other hunters have posted comments on a thread on the OOD forum. ln at least two instances, the system registered the tag as already printed even though they were not.
All three men were able to have their tags issued at a ServiceOntario centre at no cost, but Miller advises hunters to check before they head out, as he was turned away at the Port Hope office. He was served at the Peterborough centre, where he signed a declaration and received the printed tags.
Time to resolve issues before openers
With spring turkey and bear seasons still weeks away, hunters might want to wait until the bugs can be worked out of the new system before purchasing a licence online, which requires the buyer to print a tag.
Licences can also be purchased at licence issuers and participating ServiceOntario centres.
In an email, Justine Lewkowicz, director of communications for John Yakabuski, minister of the Ministry of Natural Resources and Forestry said, "We welcome any feedback from hunters on their experience to help us improve the rollout of the new service."
The Natural Resources Information and Support Centre can be contacted by email at NRISC@ontario.ca or by phone at 1-800-387-7011 (TTY: 1-866-686-6072) Monday to Friday, 8:30 a.m. to 5:00 p.m. (ET).
This story will be updated as new information becomes available.
For the latest and breaking outdoors news click here.