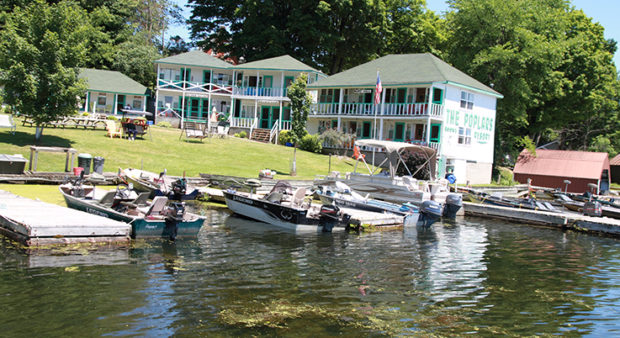 We had just finished supper and the kids were off again, streaking down to the dock. We'd already spent the entire day fishing, but the prospect of catching some crappies at dusk had me scrambling to keep up with them. It was only a short boat ride to a spot on the main lake recommended by a fellow guest, a weed point extending into deep water. The bite started gradually, but things heated up into the evening and it became almost impossible for me to keep a line in the water. As slab after slab graced the gunwale, I did my best to untangle lines and shoot a few photos, which were to become the subject of much fond reflection.
Newboro Lake, situated in the heart of the Rideau Canal system, is the kind of place people fall in love with, at least that was the feeling I had while visiting Poplars Resort with my father and two sons this past summer. Current owners Rick and Joan White are a case in point. Rick was a repeat visitor before he and his wife decided to purchase it nine years ago. Most people we met were long-term customers who return primarily for the largemouth and smallmouth bass. White is a former tournament bass angler and his knowledge of fishing ensures guests enjoy their stay.
Lots of water
The resort is located on Newboro Lake, yet anglers have easy access to five other lakes: Indian, Clear, Benson, Mosquito, and Loon. Mosquito is the only shallow lake; the others run to depths in excess of 100 feet. Each has its own character and unique fishery. Smallmouth and largemouth abound in all the lakes, and Indian Lake is stocked annually with splake. One of the highlights for my family was the panfish. Newboro Lake has more bluegill than any lake I've ever fished. It's also teaming with crappies, which receive virtually no fishing pressure. At dawn and dusk, it seemed like every mainlake point with weed growth had crappies on it, many that would rank as slabs.
The complexity of the fishery is what keeps anglers coming back. One of the strongest early season fishing patterns is targeting offshore humps and deep weedlines. However, the shallow bays and shoreline cover were so appealing, we ended up spending most of our time there, catching lots of bass up to 2 pounds. It was clear by the time we left though, that we too should have focused on the deeper patterns, as many guests showed off photos of 4- and 5-pounders pulled from deeper structure.
Other options
Besides fishing, there are lots of local activities and attractions to keep visitors entertained, including several golf courses and museums. Fort Henry in Kingston is an easy hour's drive away. Other historical sites include the boat locks along the Rideau River, most of which are still manually operated. There's also an active grist mill, which grinds wheat in traditional fashion. You can watch the entire process and purchase your own freshly ground flour.
The food served at the resort is exceptional and is a big draw for guests. The owners pride themselves on locally sourced supplies. The lodge has a large smoker for preparing chicken and ribs and their coffee is a special "Poplars Resort blend," roasted and ground in nearby Kingston.
All the guests we met were friendly, and the staff were attentive. The rooms are simple and clean, with a washroom and shower in each. Some of the rooms share a front porch where anglers can relax after a hard day of fishing, enjoy a drink, and exchange fishing advice. This contributed to the close-knit family atmosphere that prevailed throughout our trip. One of the guests even took my sons for a spin in his new bass boat. It was just one of many highlights of our time at Poplars.
CONTACT INFO
Poplars Resort
8 By Street, P.O. Box 30
Newboro, ON K0G 1P0
1-888-686-1891
www.poplarsresort.com