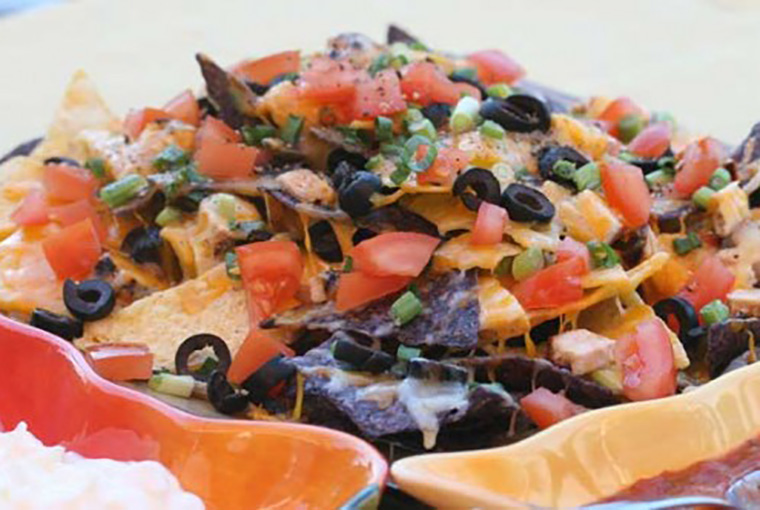 Nachos are one of those great dishes that are easy to make, delicious to eat, and loved by almost everybody. Perfect for a meal or just a snack.
Ingredients
2-3 good-size pheasant breasts
1 small bottle sundried tomato and olive oil dressing
1 bunch green onions, diced
6-8 oz. grated cheese. (I like spicy havarti mixed with medium cheddar.)
4 tbsp. black olives, pitted and sliced
1 tomato, seeds removed, diced
2 tbsp. jalapeno slices
1 jar salsa
4 oz. sour cream
Nacho chips
Instructions
The night before you serve, place pheasant breasts in a Ziploc bag and cover with dressing. Seal bag, toss the breasts to completely cover, and place in refrigerator. Remove breasts and grill on BBQ or in oven, about 3 to 5 minutes per side or until no longer pink, with grill marks on both sides. This will keep the meat moist. Chop into bite-size pieces.
Cover serving dish with parchment paper and trace outline of dish on paper. Trim the parchment paper 1 inch larger then outline. Place parchment paper on cookie tray. Layer ½ of the nachos on cookie tray, staying inside tracing. Layer ½ of all remaining ingredients, except salsa and sour cream, on the nacho chips. Layer the remaining chips on top of this, and then layer the remaining ingredients (except the sour cream and salsa) on top. Place cookie tray in oven, preheated to 350˚F, and heat until cheese is melted.
Slide the parchment paper with nachos onto the serving tray. Serve with sour cream and salsa.