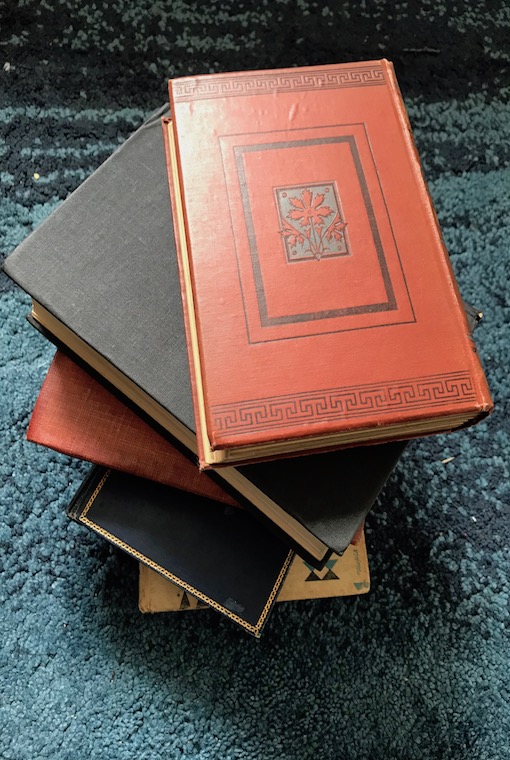 Have you been reading more lately?

We called on some of our contributors to recommend their top five fishing and/or hunting books to share with our readers for World Book Day. We hope you'll find at least a couple of new titles to add to your dwindling "To read" pile.
Tim Allard: Columnist
The Gilly: A Flyfisherman's Guide by Alfred Davy
A great intro to fly fishing. It served me well and shortened my learning curve.
Old Man and The Sea by Ernest Hemingway
One of my favourite short novels ever. If nothing else, it will make you appreciate all the angling-tech we are fortunate to have at our fingertips today.
Knowing Bass: The Scientific Approach to Catching More Fish by Keith A. Jones, PhD
Loaded with interesting perspectives on bass behaviour that will make you a better angler.
The Rivermen Echoes of Lake St. Francis by Roy Lefebvre and Norman Seymour
Historical overview of life and times on the Lake St. Francis stretch of the St. Lawrence River.
Kayak Fishing: The Ultimate Guide by Scott Null and Joel McBride
A good intro into the fundamentals of kayak fishing.
Ray Blades: Editor/Associate Publisher
Steelhead Fly Fishing by Trey Combs
Although much has changed in the steelhead fly-fishing world since this book was first published in 1991, there is a reason why many anglers call it "the Bible."
The Upland Shooting Life by George Bird Evans
If you enjoy bird hunting, this is a must-have from a writer that lived the upland life.
Trout Bum by John Gierach
The title says it all, and if you are one and haven't read this book, you must.
The Habit of Rivers by Ted Leeson
Leeson's love of rivers and the subversive act of fishing for no other reason than it is what he has to do, is all too familiar to me.
Death of a Riverkeeper by Ernest Schwiebert
This collection of short stories by one of my favourite "good read" angling authors is my go-to book when I just want to drift off, and be on a riverbank in another time, and another place.
Luigi De Rose: Columnist
Tracks Across Africa by Craig Boddington
Having hunted on six continents and taken over 300 species of big game, Boddington is considered the pinnacle of modern-day outdoor writing. Tracks Across Africa relives Craig's adventures from 1977 to 1986 on Big 5 safaris throughout the continent.
Fishing on the Edge By Mike Iaconelli
Great book that explores the internal struggles of trying to reach your dream in fishing. Great insight to the game of tournament fishing with humorous anecdotes.
The Horn of the Hunter by Robert Ruark
The benchmark novel to safari hunting. This book is considered one of the very best at drawing the hunter into dangerous game hunting, where tooth and horn is often more powerful than lead and steel. A must for anyone yearning for Africa.
Bass Madness by Ken Schultz
Explores the game of tournament bass fishing at its highest level, while providing a glimpse into the absolute horrors of trying to fish for a living.
Diary of a Bass Pro: A Year on the Inside of Fishing's Fast Track by Joe Thomas and Tim Tucker
An authentic, first-hand experience of a year on the Bassmaster Tour in the early 1990s. It unravels the mystery and frustration that goes into practice and tournament days at the highest possible level.
Steve Galea: Assistant Editor
The Grouse Hunter's Almanac by Chris Dorsey
This book is a fine introduction to grouse hunting and the biology and habitat requirements of our favourite upland bird.
A Rough Shooter's Dog by Charles Fergus
This is one of my favourite books. Fergus is a truly gifted story teller, who writes about the joys of transforming an English springer-spaniel pup into a wonderful companion and hunting dog.
To Ride the Wind by H. Albert Hochbaum
This book should be required reading for any waterfowler. After reading it, you'll never look at waterfowl and their migration the same way again.
A Sand County Almanac by Aldo Leopold
In my estimation, there has never been a more inspiring and uplifting book about conservation.
Algonquin Wildlife, Lessons in Survival by Norm Quinn
If you want to learn about the celebrated research done of our largest provincial park and more about the fish, forests and wildlife of central Ontario and beyond, this wonderful book by former Algonquin Provincial Park Biologist Norm Quinn is a great place to start.
Jeff Helsdon: Senior Reporter
Outdoors, Greg Clark and Jimmy Frise by Greg Clark and Jimmy Frise
This Canadian classic is about the adventures, or misadventures, of Greg Clark and Jimmy Frise are a comic relief from the negativity of today's news.
My Outdoors by Steve Galea
A compilation of some of the best weekly humour columns that have graced the back page of OOD.
A Hunter's Fireside Book by Gene Hill
This book is a collection of short stories about hunting and the outdoors written in a way only Hill can write.
Hell, I Was There by Elmer Keith
Keith was a cowboy, soldier, rancher, hunter, and guide who is also an expert on firearms. He had a hand in developing many of today's calibres, especially magnums.
Hunting Tough Turkeys by Brian Lovett
Lovett is one of today's most experienced turkey writers, and he shares some good advice in this book.
Scott McGuigan: Contributor
To Ride the Wind by H. Albert Hochbaum
Hochbaum is remembered as a father of waterfowl conservation. He is a talented writer, and equally capable with a paint brush and canvas before him. He marries these talents in To Ride the Wind, an easily digested and highly visual account of 'the ducks' annual saga that traverses the continent, only to start anew on the breeding grounds when birds return from their winter migration.
For anyone looking for a better understanding of waterfowl, and what drives waterfowl management today, this is a pretty quick and enjoyable read.
The Canvasback on a Prairie Marsh by H. Albert Hochbaum
The resplendent 'king of ducks' is honoured in grand fashion by another father of waterfowl conservation, with an overarching narrative about the history of waterfowl management.
Catch & Release by Mark Kingwell
Like many of the lessons I learned in my youth that had nothing to do with fishing, yet occurred while wearing a pair of chest waders and brandishing a fishing rod, Kingwell mulls existential questions against a backdrop of fly fishing.
It's not really about fishing at all, but a fisherman will certainly find a good bit of humour in Kingwell's prose and his masterful grasp of fly fishing. It's sort of Tennyson meets OOD funnyman, Steve Galea.
A River Runs Through It by Norman Maclean
Affectionately known in the fly fishing world as, 'The Movie,' the book is worth the read – every single page. I had seen the movie first, and it was one of my favourites. The book is quite possibly my favourite book of all-time!
The Watermen by James A. Michener
This work is a collection of excerpts from Michener's larger work, Chesapeake. It tells the tales of migratory birds, and the men that hunt them on the famed waters of the Chesapeake. Harkening back to the yesteryears and market days of waterfowling, it's a really compelling read for anyone with an affliction for diver hunt hunting.
For more from your favourite OOD experts, click here
Click here for more outdoors news