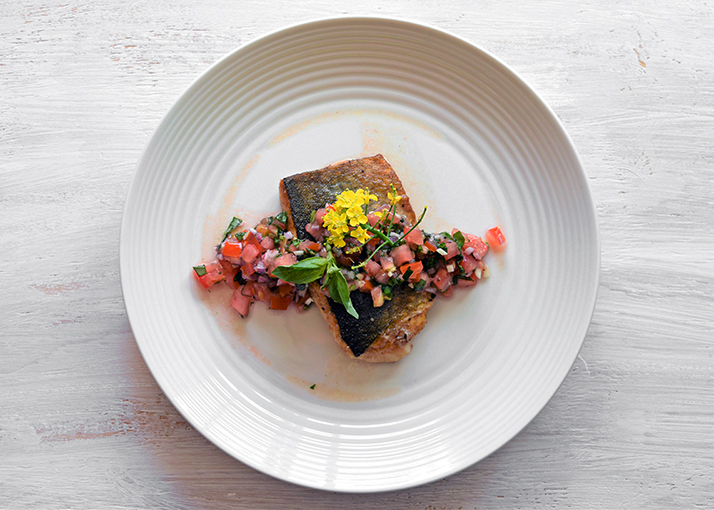 This bright and healthy dish is best served on a patio with a pint glass of shandy. If you grow tomatoes and basil, making a big batch of bruschetta is a great way to use the bounty your garden is producing. Or, just pick up some bruschetta at the grocery store.
Serves 2
Ingredients:
• Two 6-oz. lake trout fillets, boneless, skin on
• 1 tbsp butter
• 2 tbsp olive oil
• Salt and pepper
For bruschetta:
• 1 large ripe tomato, diced
• ¼ cup of fresh basil, chopped
• 1 small shallot, minced
• 1 garlic clove, minced
• 2 tbsp olive oil
• 1 tsp white wine vinegar
• 1 tsp honey
• Salt and pepper
Directions
1. In a bowl, mix tomato, basil, shallot, garlic, olive oil, white wine vinegar, and honey.
2. Season with salt and pepper, set aside.
3. In a large non-stick pan, heat 1 tbsp each of oil and butter on high.
4. Rub trout fillets with remaining oil and season both sides with salt and pepper
5. Sear skin side down for 3 minutes or until skin is crispy. Lower heat to medium.
6. Flip and sear for another 3 minutes or until trout is just cooked through.
7. Place fillet onto plate and top with a generous serving of fresh tomato bruschetta.
Originally published in the August 2018 edition of Ontario OUT of DOORS magazine.
For more cooking recipes, click here.