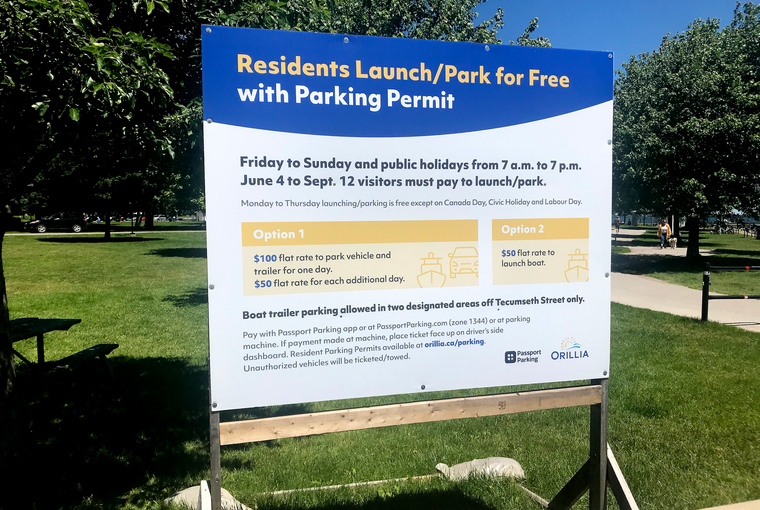 Orillia has once again implemented restrictions around water access and parking. As of June 4, the COVID-19 Waterfront Parking and Boat Launch Program requires visitors to pay as much as $100 per day to launch and park at the city's public boat launches and waterfront parks.
The program, which was also implemented midway through the summer of 2020, requires residents of Orillia to apply for and display a free resident parking permit to park and launch their boat at public access points and waterfront parks during weekends (Friday, Saturday, Sunday) and holidays, between the hours of 7 a.m. and 7 p.m. While residents of neighbouring Oro-Medonte, Severn, and Ramara Townships can purchase a $50 seasonal parking permit, non-resident visitors must now pay $50 per day to launch and an additional $50 per day to park their vehicle and trailer.
Visitor parking is also restricted to designated lots, while residents and those displaying seasonal parking permits have access to additional parking spaces along certain residential streets.
These new measures are intended to curb the flow of outsider travel and crowding within Orillia, as restrictions on none-essential travel loosen across the province.
"We greatly value visitors and the many anglers and boaters that come to Orillia," Orillia Manager of Legislated Services Shawn Crawford said. "We recognize their important contributions to our economy and community, and it is counterintuitive for us to be putting these restrictive measures in place and discouraging you to come share in all that Orillia has to offer. During normal times, we would welcome everyone to Orillia with open arms and we certainly look forward to doing that again as soon as possible. At this time, we need to have restrictions in place at our waterfront parks, boat launches, and beaches to create a safe environment during the COVID-19 pandemic."
Click here for more outdoors news