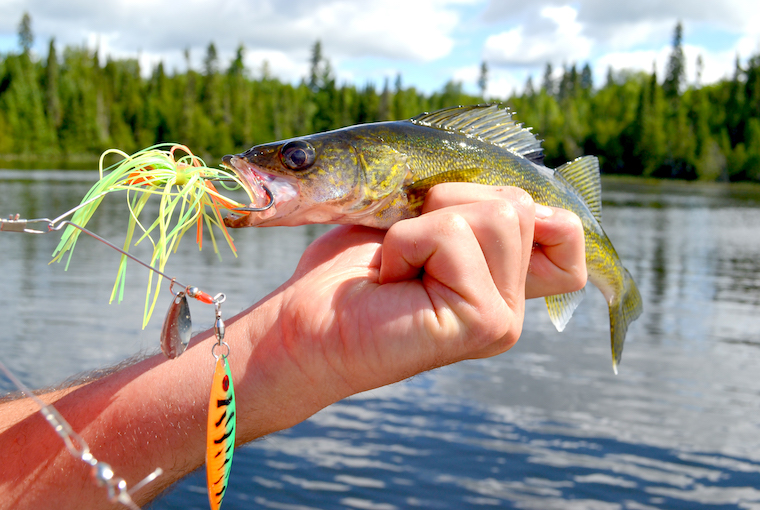 It was early August, the blazing summer sun was high, and walleye were hiding from the summer heat. We trolled rocky shorelines, dropped leeches into deep holes, and bounced jigs off rocky points without success.
So, we shifted to more accommodating smallmouth bass. We rounded a point, drifting into a weedy little back bay. Sparse cabbage weeds floated just under the surface, and I pitched a tube into four feet of water. It didn't take long to get a hit, but instead of the bass I expected, a golden walleye broke the surface and slipped into the net. It was followed by several more, along with more bass.
Weedbeds, made up of several different species of aquatic vegetation, can be a highly productive place to target mid-summer walleye. Though it may seem odd to head to shallow, warm, weedy water when the sun is high and hot, the fishing can be hot.
What's the draw?
Weedbeds are attractive to walleye for many reasons, including being an excellent source of cover, providing a place to hide or seek out bait fish. There are also generally large concentrations of insects and aquatic invertebrates that provide a food source for baitfish and smaller fish, drawing in and offering something for every level of the food chain. The weeds allow fish to lie in wait, hiding to ambush their next meal, instead of chasing it in open water. Another big draw is oxygen, something that is even more important during the hot summer months.
Oxygen levels and water temperatures are inversely related; cooler water holds more oxygen than warmer water, so as water temperatures rise in the summer, oxygen levels decrease. Areas with healthy aquatic vegetation are likely to have higher oxygen levels, and this can be a significant attractant for fish, especially during the hot summer months when aquatic vegetation reaches its maximum growth. Where aquatic vegetation is located shallow enough to see the sun, aquatic plants boost the dissolved oxygen in the water through photosynthesis. (If there are a lot of dead plants though, they will use oxygen in the water through decomposition, and plants will also deplete oxygen at night when they take in oxygen.) The aquatic vegetation also provides shade and can lower water temperatures.
Family secrets shared
I spoke with Kyle and Nick Vescio, a skilled father-son duo and accomplished anglers who spend a lot of time on the water. Kyle and his wife Tracey operate Kashabowie River Resort on Shebandowan Lake west of Thunder Bay, one of my favourite walleye and smallmouth destinations.
Situated in the heart of spectacular walleye and smallmouth territory on Upper Shebandowan Lake, it's a remarkable waterbody and a seriously productive fishery. For much of the season you can catch limits of walleye right from their docks, or at least within sight of the launch. During mid-summer heat waves, however, walleye can become a little more elusive. I often fished deep water, focused on last light, and regularly fished a deep, flowing narrows on the lake, catching a few fish here and there.
Kyle shared some weedbed walleye secrets with me several years ago that changed my thinking when it came to targeting heat-wave walleye. They key was weedbeds. I spend far more time now looking for midday walleye in the weeds in just six feet of water. I have tried this elsewhere and have found it holds true in many other walleye lakes. If I'm exploring for walleye, and find a good looking weedbed, you'd better believe I will stop there.
The Vescios find that during hot weather periods, areas like weedbeds and areas with current (rivers, creeks, and narrows) seem to really attract and hold walleye.
"Weedbeds, especially beds with tall cabbage weeds, seem to really hold walleye when it's hot out," Kyle said. "I think because these areas are oxygen-rich, as well as providing cover for smaller bait fish, they are very attractive to walleye."
When the weather heats up, fish move away from prime early season areas, making it the perfect time to start looking for walleye amongst the weeds.
"Once the weather gets really hot, the weeds should be close to reaching full growth," Kyle added. "This provides excellent cover for walleye and offers the fish a shady place to chill and wait for a meal."
Locations
There are a variety of things to look for when searching for weedbeds with walleye. I prefer spread out, sparse cabbage weeds. Walleye seem to love them and they're very fishable.
Kyle likes wind and rocks paired with weeds. "I like to look for weedbeds that are close to rocky structures, as well as areas exposed to the wind. There is nothing better than a weed bed with a nice walleye chop rolling over it."
Locating these weedbeds is the biggest (and most obvious) first step. Sometimes you may be fishing in four or five feet of water, where the weeds are plainly visible. Other areas may be deeper, but you can still see the tall, spread-out cabbage-type weeds reaching for the surface. In deeper or stained water, use your electronics to locate this vegetation, and once found, drop a pin on your GPS.
I also spoke with OOD columnist Tim Allard for his take and some perspective from another region. He says any lake or river that supports healthy vegetation always has the potential to hold walleye.
"Key to me is forage. When I'm scoping out weeds, I want to see minnows, perch, and other forage fish scooting around," Allard said. "I have a lot more confidence in weeds for walleye when I know there's ample food in the area. Easy access to a deep-water drop-off is another good find when shortlisting weedbeds."
Once you find areas that hold fish, they tend to be productive year after year. With a collection of weedbeds marked on your sonar, you can almost run a circuit from one to the next. You may not hit the jackpot each time, but odds are one of these weedbeds will have fish.
"Cabbage"
Floating pondweed, or other species of potamogeton, are common in shallow, slow-moving water, and are what anglers often refer to as "cabbage." They provide cover for larval fish and fry, baitfish, and predators, provide shade with broad leaves and can grow deeper than other aquatic vegetation.
Feathery and curly types of vegetation, such as chara and nitella, also provide excellent cover. They harbour invertebrates, an important food source for many fish. Perch often lay their eggs here. While chara and nitella are rooted plants, they are also a type of colonial or macroalgae.
Myriophyllum and ceratophyllum provide similar habitat and structure and are found in many local water bodies. (A note of caution, myriophyllum spicatum, Eurasian water mil-foil, is an invasive species that has caused extensive damage to many lakes. Take the advice of the Ontario Invading Species Awareness Program: Clean, Drain, Dry your boat, trailer, and equipment after each use. Remove all plants, animals, and mud before moving to a new waterbody.)
Strategies
The Vescios have a few strategies when it comes to targeting walleye in greenery.
"A favourite presentation is trolling jerkbaits along weededges, or throwing jerkbaits right on top of cabbage. We've even caught walleye while targeting smallmouth bass throwing poppers," Kyle said.
Live bait is a solid option. I've had great success fishing beds of tall, sparse cabbage weeds, by drifting through them with a jig and a minnow or leech, and slowly working it around the cabbage.
"If you like to fish live bait, a worm harness trolled along a weed edge can prove deadly," Kyle said.
Kyle and Nick also like fishing with slip bobbers, dropping their live bait offering right in the cabbage. I have caught walleye in weeds in four feet of water pitching a tube jig for smallmouth bass and have even caught them running large spinnerbaits over top of cabbage weeds. When walleye lurk there, they are stalking prey and don't hesitant to bite.
Allard uses several different baits when targeting walleye in the veg.
"I tackle weed-walleye with a heavy reliance on ripping a 1⁄4 – or 3⁄8 -ounce buctkail jig on 20-pound braid. It triggers a reaction, covers water and is well suited for heavier weed growth. This said, I'll also use more moderate swimming retrieves with three and four-inch Berkley PowerBait Minnows and Z-Man StreakZ on jigs, as well as pitch drop-shot rigs with finesse plastics, to work along outside weededges and lanes and pockets within deep weeds, and around cabbage clumps.
"If fish are more active, say at dawn, I'll use a faster hop-swim presentation with the jig or swim a swimbait around these areas.
"Trolling or casting outside weed edges with shallow-running crankbaits or minnowbaits at dusk and into nightfall is another solid strategy.
"Trolling covers water, but it is easier along consistent outside edges or when pulling baits through the open water above weedtops on flats, which is killer in some lakes in the summer at night. I prefer the control casting affords to dissect irregular weedlines, be it with a shallow crank or jig. Dunking a slip-float (see page 36 of the July 2022 issue) with a leech or minnow into pockets within weeds has saved me on more than one occasion."
Originally published in the July 2022 issue of Ontario OUT of DOORS