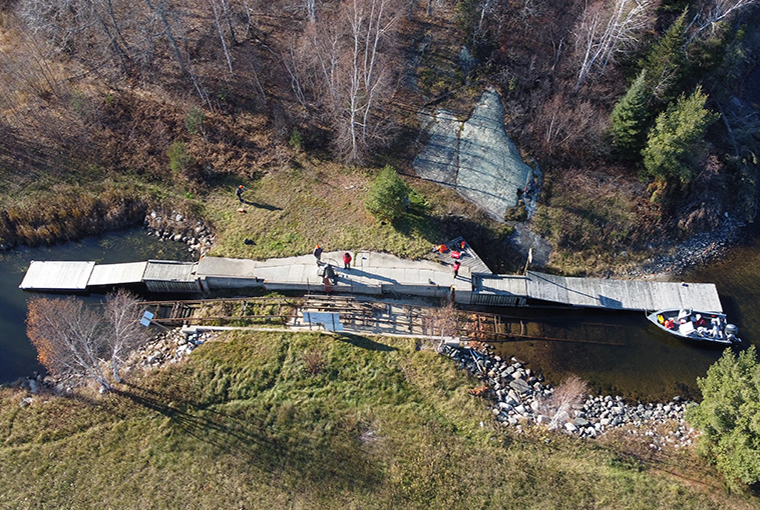 Anglers are expected to benefit from an $800,000 upgrade to a boat shortcut connecting Whitefish and Sabaskong bays on Lake of the Woods.
The revitalization of the Turtle Portage Marine Railway, which saves boaters a 145 kilometre journey around the Aulneau Peninsula, was announced by the province in Kenora on Monday, Jan. 24.
The marine railway will be upgraded to improve functionality, safety, and reliability, allowing for more recreational boating opportunities, officials stated.
Anglers frequent span
Wayne Helliar, owner and operator of Helliar's Resort in Nestor Falls, knows many anglers that like to use the crossing.
"Sabaskong Bay and Whitefish Bay are very different waters and locals as well as guests like the ability to fish both in the same day," he said. "I believe it's an important historical tradition that is an asset to our region and should be maintained."
Off-site assembly activities are underway and on-site construction will begin as soon as conditions improve in the spring. The upgraded marine railway is expected to be ready for use by this summer.
"Lake of the Woods is a vital part of tourism in the northwest, attracting cottagers and visitors who come to enjoy the many recreational opportunities the area has to offer," Northern Development, Mines, Natural Resources, and Forestry Minister Greg Rickford stated. "Turtle Portage is an iconic landmark on Lake of the Woods and that's why our government is proud to ensure that boaters can safely use this overland crossing for many years to come."