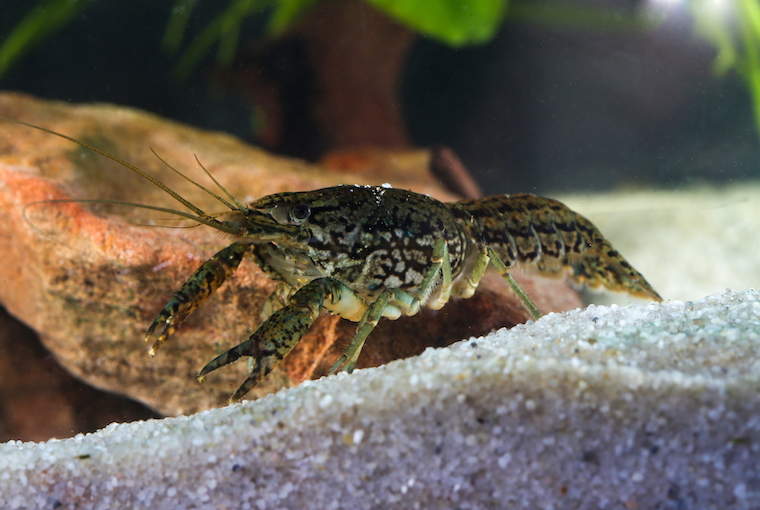 A new aquatic species that is prohibited in Ontario has been discovered for the first time in the province.
"The marbled crayfish was first reported in the Burlington area on the app INaturalist in 2021 but was incorrectly identified. In January 2022, however, it was positively identified by Dr. Premek Hamr, known by many as 'Dr. Crayfish,'" said Brook Schryer , assistant coordinator for the Ontario Federation of Anglers and Hunters Invading Species Awareness Program (ISAP).
OFAH takes action
This prompted the OFAH and ISAP to spearhead eDNA work to confirm the species was present in the area in the spring of 2022, he said. Live specimens were found in the summer of 2023, and now the species is the target of an ongoing eradication program by the Ministry of Natural Resources and Forestry, Schryer added.
The marbled crayfish is one of 30 regulated invasive species under the Invasive Species Act. This means it is illegal to import possess, release, transport, breed/grow, buy or sell, marbled crayfish in Ontario. Nor are they legal to keep in an aquarium. Though they sometimes are listed for sale as marble crayfish, self-cloning crayfish, or marmorkrebs.
The prolific species can reproduce rapidly and clone themselves. All it takes is one crayfish to start a new population as they are capable of reproducing hundreds of offspring.
The impact
If they establish, it is feared they will have a negative impact on Ontario's native crayfish populations through competition for food and habitat. They can rapidly take over an area and replace native crayfish species which are already being impacted in parts of Ontario by the invasive rusty crayfish.
They may also impact Ontario's biodiversity by feeding on algae, plants, invertebrates, and amphibians. And may cause shoreline destabilization and erosion through burrowing activities.
The province is hoping a vigilant and quick response will prevent this – and is requesting that the public helps by finding and reporting them and other invasive species.
If you see a marbled crayfish in the wild, contact the toll-free Invading Species Hotline at 1-800-563-7711 or report it online or with your mobile device at www.eddmaps.org.
"This is a species of special concern in the province, given that it reproduces asexually. We at the OFAH are hoping to educate the public regarding it and to help eradicate the species," Schryer said.
For more information, including what you can do to properly dispose of marbled crayfish, contact MNRF staff at invasive.species@ontario.ca.