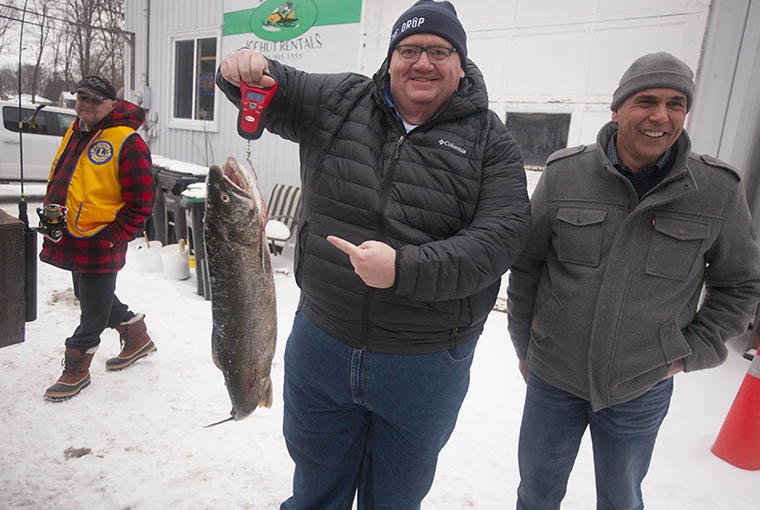 The fish were impressive, but so too were the number of anglers taking part in Ontario Family Fishing Weekend, Ministry of Natural Resources Minister Graydon Smith said while visiting a Lake Simcoe fishing derby.
"It's so great to see so many people out. (Family Fishing Weekend) has been taken well advantage of in 2023 and that is fantastic," he said at the Brechin and District Lions Club's third annual ice fishing derby near Lagoon City on Saturday, Feb. 18.
Smith, MPP for Parry Sound-Muskoka, helped weigh in some big fish at Brechin Ice Hut Rentals, including a 14.1-pound lake trout and 14.9-pound walleye. The event had more than 150 registrants, tournament organizer Derrick Patrick said.
Education key
Ontario Federation of Anglers and Hunters (OFAH) Invading Species Awareness Program (ISAP) staff were on hand raising awareness of baitfish regulations. That education is key, Smith said, praising the effort.
"We want to make sure we're not introducing invasive species into environments where they shouldn't be and that we're respecting the baitfish zones in Ontario," he said while holding a package ISAP staff were handing out in the bait shop.
"This is a great way for people to A, get their first experience fishing, and B, make sure they are being educated about the right things to do when they are out on the ice or on the water," Smith added. "Thanks to the OFAH for being such a great organization in helping get this word out."
Bait must be dumped at least 30 meters away from any waterbody, Aquatic Project Specialist Rob McGowan reminded.
"We encourage anglers to take their bait home with them and dispose of it through municipal waste," he said. "It is illegal to dump the contents of a bait bucket water, soil, or other material or live or dead bait into the water or within 30 meters of it."
Other licence-free events include Mother's Day weekend (May 13-14, 2023), Father's Day weekend (June 17-28), as well as Family Fishing Week, from July 1-9, 2023.
To learn more about Family Fishing weekend, click here