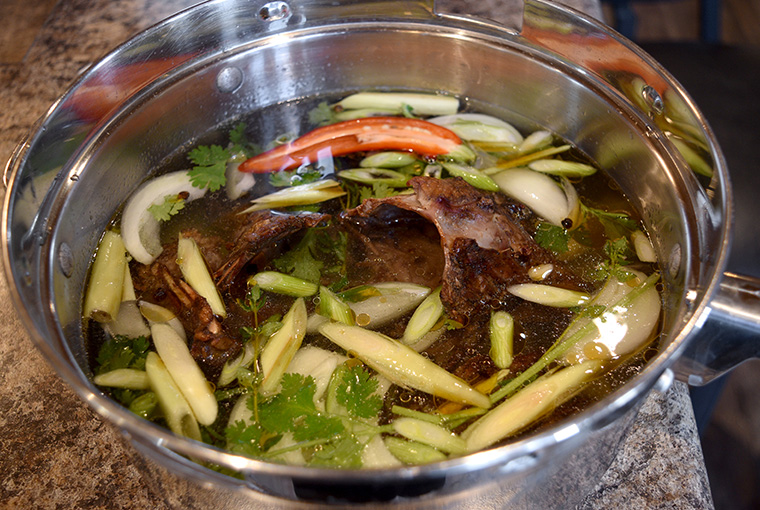 Broth or stocks made from animal bones are the life-blood of the culinary world. These flavourful liquids are the base of so many recipes. From soups and sauces to braising meats, cooking potatoes or vegetables, and much more. They are an amazing and versatile kitchen ingredient. Making stock is also a great way to make use of something that is often discarded.
Wild turkey broth
Turkey bones have great flavour and make a perfect base for soup and gravy. For a clearer broth, don't roast the bones.
Ingredients:
1 wild turkey carcass
1/4 cup canola oil
2 cups dry white wine
1 large onion, chopped
2 large carrots, chopped
4 celery stalks, chopped
4 bay leaves
1 head of garlic, sliced in half
4 sprigs fresh thyme
2 tsp whole black peppercorns
Directions:
1. Chop the turkey carcass into chunks, making sure there are no feathers or organ meats.

2. Lightly drizzle the bones with canola oil and roast at 400 ̊F for 20 minutes until nicely browned.

3. Shift bones to a large stock pot. While the pan is still hot, deglaze with white wine, scraping flavourful bits from the pan and into the pot.

4. Add all remaining ingredients to the pot and add just enough water to cover the bones.

5. Simmer on medium high for 3 hours, skimming off any foam that rises to the surface.

6. Pour through a fine strainer lined with cheese cloth.

7. Refrigerate for 5 days or freeze.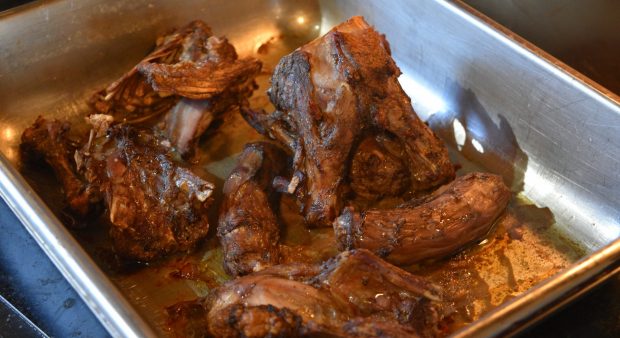 ---
Roasted venison broth
I love the deep, rich flavour of roasted bones and tomato paste. This works great for my venison Irish stew, game meat tourtière, or braising venison (or lamb) shanks.
Ingredients:
3 lb venison bones
1/2 cup tomato paste
3 tbsp olive oil
1 large onion, chopped
1 large carrot, chopped
1 bulb fennel, chopped
8 cloves garlic, skin on
1/2 tbsp dried thyme
1 tsp whole black peppercorns
1/2 tsp whole cloves
Directions:
1. Preheat oven to 400 ̊F. Toss venison bones with olive oil and roast for 15-20 minutes. Coat bones with tomato paste and return to oven for 10 more minutes.

2. Remove bones from pan and add to stock pot.

3. Deglaze pan with red wine. Pour contents into stock pot as well.

4. Add remaining ingredients to pot and simmer for 4-6 hours.

5. Once liquid is reduced by half, strain through a fine sieve lined with cheesecloth.

6. Refrigerate or freeze for later use.
---
Asian duck broth
Ingredients:
3 duck carcasses, chopped
2 tbsp sesame oil
3 cloves garlic
1 tbsp fresh ginger, chopped
1/2 cup green onion, chopped
3 tbsp soy sauce
1 red chili, sliced in half
1 whole star anise
Directions:
1. Toss the duck bones with sesame oil and roast at 400 ̊F for 10-15 minutes.

2. Add bones to a large stock pot. Add garlic, ginger, green onion, soy sauce, and red chili.

3. Fill pot with enough water to just cover the bones.

4. Simmer on medium until liquid is reduced by a third.
I love using this exotic-flavoured broth to make homemade pho or other Asian noodle or wonton soups.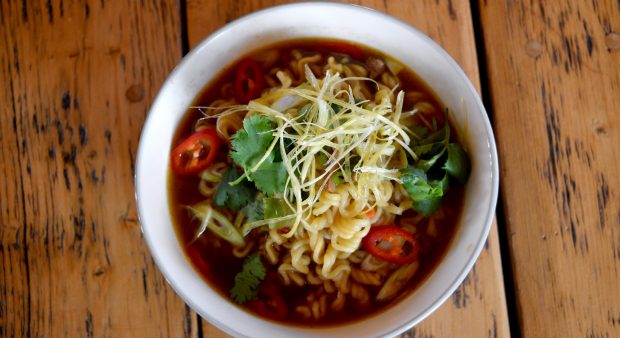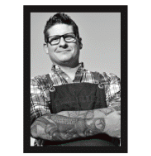 Andrew Rochon is OOD's food editor. You can follow more of his culinary adventures on Instagram: @wilderness_chef
Originally published in the Nov.-Dec.2021 issue of Ontario OUT of DOORS