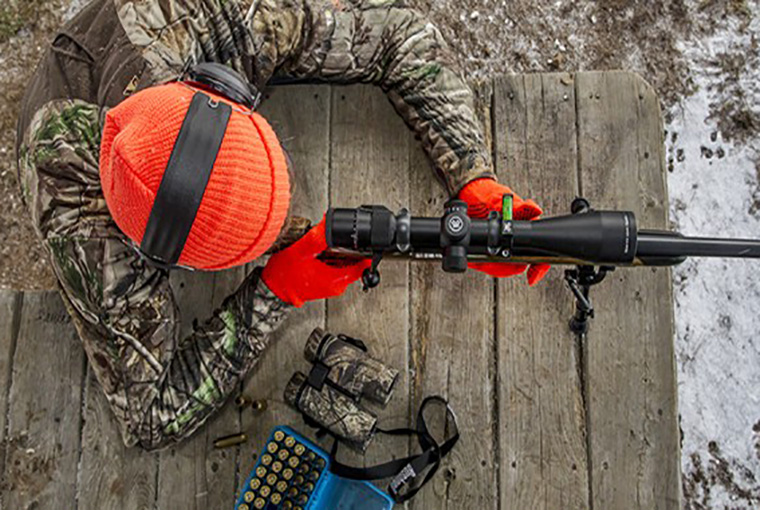 Energy = Mass x Velocity Squared
If someone had told us we'd need math and physics to understand ballistics, we'd have paid more attention in high school. When you're choosing your bullet, you'll find there is a dizzying variety of types, weights, shapes and promises.
Then there's the speed of the bullet and its 'ballistic coefficient'. Basically, if fast is good, faster is better (so long as your bullet is built for speed, and most have a maximum speed rating to let you know how hard you can push it). The speed of the bullet refers to muzzle velocity. The terminal velocity is affected by muzzle velocity, but also by the ballistic coefficient (its ability to overcome air resistance in flight) of the particular bullet.
If you're using factory ammunition (rather than hand-loads or specialty ammo), it won't be going really fast. Heavy bullets are often in the 2600 – 2650 fps range while most factory .308 cartridges are in the 2650 – 2750 range. The smaller varmint rounds are often much faster and that helps make up for their relatively small payload. (Ammo manufacturers quote their muzzle velocity for a particular barrel length. If you use a barrel of a different length you will get different results.)
Below is the ballistics of common hunting calibres. For more on taking long shots, see the related story in the 2014 Hunting Annual.
100200300400500600Meters
Our 7mm WSM
Drop
0
1.5
3.75
6
8.75
11.5
MOA
Velocity
2808
2714
2622
2532
2443
2356
fps
Energy
2694
2517
2348
2190
2039
1896
ft-lb
7mm WSM
Drop
0
1.25
3.25
5.75
8.25
11.5
MOA
Velocity
2985
2780
2584
2394
2212
2037
fps
Energy
2967
2573
2223
1909
1629
1382
ft-lb
300 Win Mag
Drop
0
1
3
5
7.5
10.5
MOA
Velocity
3143
2900
2670
2446
2231
2027
fps
Energy
3290
2801
2374
1993
1657
1368
ft-lb
270 Winchester
Drop
0
1.75
4.25
7
10.25
13.75
MOA
Velocity
2717
2539
2363
2204
2042
1887
fps
Energy
2758
2147
1868
1618
1388
1186
ft-lb
30-06 Springfield
Drop
0
1.5
4
7
10.25
14.25
MOA
Velocity
2765
2539
2320
2111
1913
1727
fps
Energy
2545
2147
1792
1484
1219
Below 1000
ft-lb
308 Winchester
Drop
0
1.75
4.5
7.5
11.25
15.5
MOA
Velocity
2670
2446
2231
2027
1834
1653
fps
Energy
2374
1992
1657
1368
1121
Below 1000
ft-lb
303 British
Drop
0
2.25
5.5
9.5
14
19.25
MOA
Velocity
2457
2226
2006
1801
1608
1435
fps
Energy
2010
1649
1340
1080
Below 1000
Below 1000
ft-lb
243 Winchester
Drop
0
1.5
4
6.75
10
13.5
MOA
Velocity
2791
2587
2391
2204
2016
1938
fps
Energy
1730
1486
1269
1079
Below 1000
Below 1000
ft-lb
22-250 Remington
Drop
0
1.5
3.75
6.5
9.5
13
MOA
Velocity
2834
2629
2432
2243
2056
1877
fps
Energy
1427
1227
1050
Below 1000
Below 1000
Below 1000
ft-lb
45-70 Marlin
Drop
0
5
12
22
34
49
MOA
Velocity
1822
1496
1181
Subsonic
Subsonic
Subsonic
fps
Energy
2212
1490
Below 1000
Below 1000
Below 1000
Below 1000
ft-lb
30-30 Winchester
Drop
0
4
10
17
26
36.5
MOA
Velocity
1949
1671
1448
1264
1127
Subsonic
fps
Energy
1264
Below 1000
Below 1000
Below 1000
Below 1000
Below 1000
ft-lb
Technical Specifications
All with 26″ barrel unless otherwise noted, sight 1.7″ above bore
Velocity based on reloading manual maximum velocities (except our 7mm WSM)
Data from Sierra Infinity Ballistics software
Our 7mm WSM with 154 gr Hornady Interbond at 3100 (27″ barrel)
7mm WSM with 150 gr Sierra SBT bullet at 3200 fps
300 Win Mag with Sierra 150 gr spitzer boat tail at 3400 fps
270 Winchester with 150 gr Sierra at 2900 fps
30-06 Springfield with 150 gr Sierra spitzer boattail bullet at 3000 fps
308 Winchester with Sierra SBT at 2900 fps
303 British with 150 gr Sierra SBT at 2700 fps
243 Winchester with Sierra 100 gr Sierra spitzer boat tail at 3000 fps (22″ barrel)
22-250 with 80 gr Sierra HPBT bullet at 3050 fps
45-70 Marlin with 300 gr Sierra at 2200 fps
30-30 Winchester with 150 gr bullet at 2300 fps