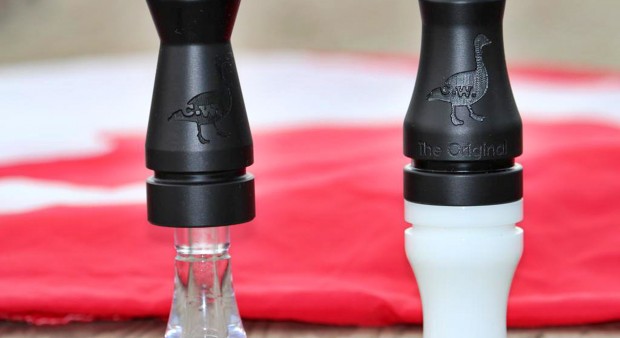 What does NHL defenceman Eric Gryba have in common with waterfowl guides Ryan Reynolds and Dustin Pritchard? More than you might think. For one thing, they're all founders of Capital Waterfowling, a new call manufacturer based in the Ottawa region. The trio have become good friends over the past few years through their love of waterfowling. And like all friends, they kick around some pretty novel ideas. But when the topic of creating a call company came up in mid-February, they didn't dream about the idea, they took action.
In a little over a month, Capital Waterfowl came into being, with a web-site and a line of calls ready by the end of March.The trio's intent is to make calls for Canadian hunters, by hunters. With a duck call and a pair of goose calls in the lineup, Capital Waterfowling hopes to become a giant in the Canadian market. Plans to expand their lineup are already in the works. Eric Gryba, a blueliner for the Ottawa Senators, grew up in Saskatoon.
Before the 26-year-old was lacing up his first pair of skates at the age of 4, he was retrieving ducks and geese. Waterfowling is in his blood, so he felt pretty lucky when his hockey career landed him in our nation's capital, an incredibly bird-rich area. That's where Gryba met and forged friendships with Reynolds and Pritchard. Well known in the water-fowling community, Reynolds is a masterful contest caller and owner of a guiding business. Pritchard is newer to the guiding game, but has been hunting ducks and geese for over 14 years. Collectively, the 3 minds bring various strengths to the venture, but their passion for waterfowling is the real driving force behind this venture.
When asked about his desire to own a call company, Reynolds said, "It's something that I've wanted to do for years." While Capital Waterfowling is building its brand by doing the trade show circuit, Reynolds hopes that in time their website will be their primary sales platform. The lineup features a duck call dubbed The Original Duck Call. It comes with a poly insert in either delrin or acrylic. It's a responsive double reed in the medium– high volume range. It's user friendly and sounds ducky.
I tried the delrin model and it's an exceptionally good duck call at that price point ($39.99). The Original Goose Call also comes in delrin or acrylic. It's a very easy blowing call that doesn't require much getting used to. I like the design, as it seems to fit naturally into my hand, which could be advantageous to some-one new to a short-reed. Rounding out the lineup is the Goose Father, a nasty acrylic mouthpiece designed to wreak havoc on migrating flights. It's a little deeper and goosier than the Original. The product line ranges from $39.99 to $134.99.
Waterfowler or not, opposing forwards should stay out of the trolley tracks when Gryba's patrolling the blueline. I asked him if he'd think twice before lowering the boom on a opponent who's a fan of his calls. His reply, "When somebody is coming my way with their head down I don't discriminate, even if they do blow a CW call."
Listen to these calls:

This was first published in the Ontario OUT OF DOORS Hunting Annual.