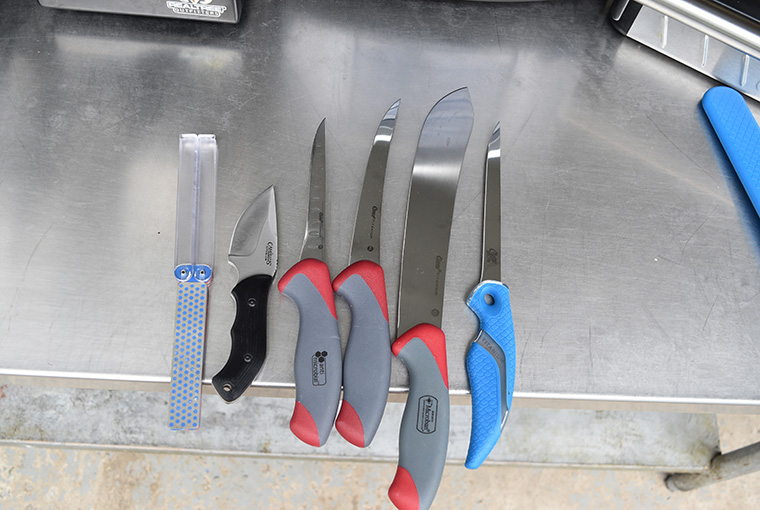 OOD Food Editor Andrew Rochon talks tools and how to use them when prepping your wild-game meat or fish. Make processing your harvest a slice with this culinary breakdown.
Handheld tools
Knives
Knives are the most important tools when it comes to preparing your wild-game meat or fish. When it comes to breaking down big game, I like a nice, thick blade with a firm backbone. While in the kitchen, I like to use Japanese-style chef's knives made from Damascus steel. For butchery, I prefer a heavy-duty, titanium-bonded, stainless-steel blade.
Skinning
When it's time to skin out a deer, I use a Camillus HT-7 skinning knife. The full tang, four-inch blade is the perfect size for making those small precise cuts around the legs, but still long enough to make nice, long slices to peel back the skin on the sides.
Boning
Once the animal is quartered and on my butcher block, it's time for the boning knife. I like a mostly stiff knife with just a little bit of flex to get around the joints. The straight blade makes removing silver skin and fat a breeze. I use a Clauss six-inch curved and Clauss six-inch straight boning knife, depending on the situation.
Butchering
I'm old school when it comes to breaking down boneless meat for stew or cubing it for the grinder. I love a scimitar-style butcher knife. Clauss' butcher-style knife is an awesome, durable knife with an oversized backbone, making it very sturdy. The 10-inch butcher blade will even make cutting large moose steaks a breeze.
Filleting
I love my Cuda six-inch titanium-bonded fillet knife. It comes with a heavy-duty sheath for safe transport and in my opinion, has one of the best grips when it comes to fillet knives. Its flex is also perfect — not too flexible, but not too stiff.
---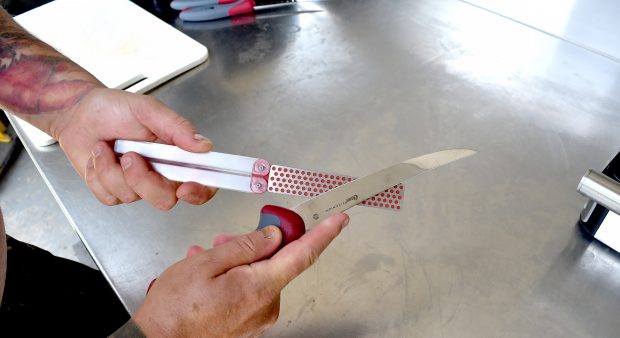 Knife sharpener
I use a DMT Diamond Sharpener. Its compact folding style makes it super portable. It also has a coarse and fine side to really help hone your blade to perfection.
---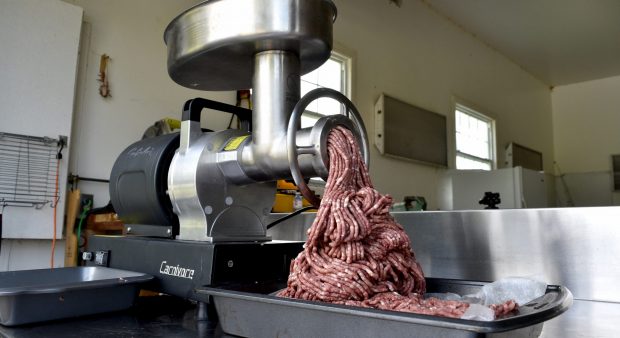 Grinder
I use a Cabela's 3⁄4-hp Carnivore grinder to make burgers and to stuff sausage and pepperettes. This reliable unit has great power but is heavy. I have the much lighter Weston #8 grinder and sausage maker as a backup and for easier travel. Both units come with a variety of sausage-stuffing attachments, including larger ones I use for summer sausage, to small skinny ones for pepperettes.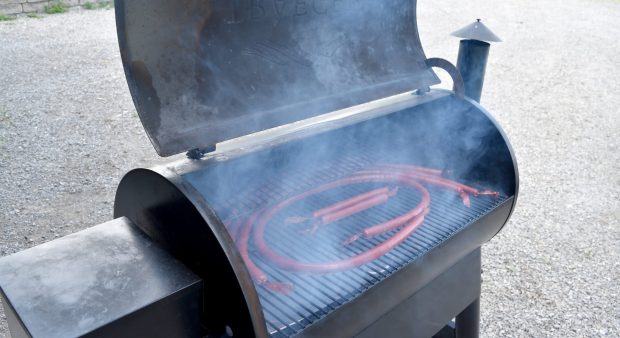 Smoker
Propane, charcoal, or electric? I've used all three and each has its pros and cons. An upright propane smoker is lightweight, has fewer moving parts that can break down, and is handy for hanging long sausage links vertically. Charcoal creates amazing flavour but is a labour of love and needs to be tended frequently.
I now use a Traeger Pro 34 electric pellet smoker. With more than 5,700 square centimetres of grilling space, this smoker allows me to do large batches of pepperettes or sausage on a nice low, steady temperature. The built-in meat thermometer is crucial when testing your product's internal temperature. When you're done smoking, crank up the heat and toss on a nice rack of venison for a great sear and unbeatable flavour.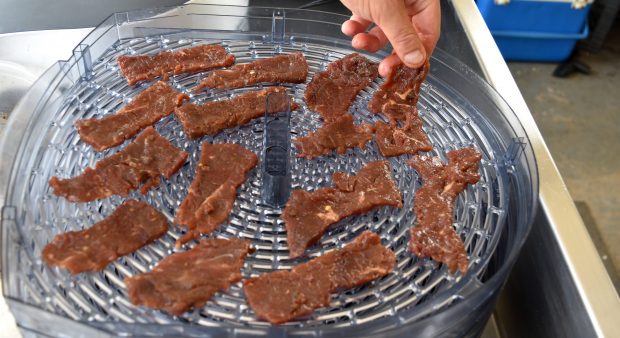 Dehydrator
I use a dehydrator for making jerky as I prefer a non-smoke flavour (although smoked jerky is also delicious!). I use a Cabela's six-tray digital dehydrator. It's easy to use, with touch-button settings for timer and temperature. Just layer your marinated meat and boom, you've got jerky in the morning.
I also find dehydrators great for expediting the curing process of turkey spurs and beards, and it's handy when you have an abundance of chilis or garden herbs you want to dry and save. It also makes great dried fruit snacks.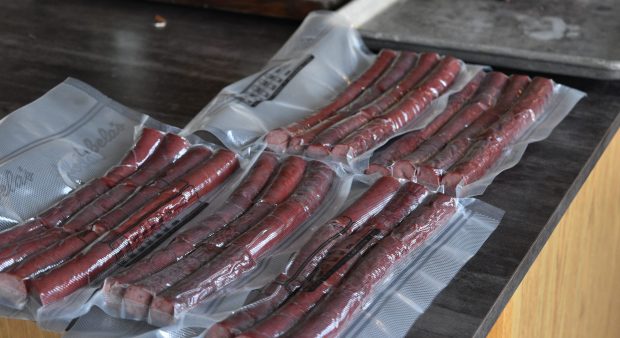 Vacuum sealer
This is another kitchen tool I cannot live without. While butcher paper wrapping protects the meat from freezer burn for a while, nothing beats a vacuum-sealed product. Meat in plastic wrap or butcher paper can generally last up to six months before a change in flavour and colour, whereas a vacuum-sealed product can hold quality for over two years.
There are many great, affordable food-saving tools, as well as commercial-grade vacuum sealers that can cost as much as $5,000. I prefer something in the middle. The Cabela's commercial 12-inch vacuum sealer is a reliable tool I use weekly in my house. Whether it's a couple of walleye fillets, some wild ramp pesto, or 100 pounds of venison, this unit gets it done.
Andrew Rochon is OOD's food editor. You can follow more of his culinary adventures on Instagram: @wilderness_chef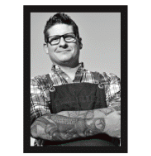 Originally published in the 2021-2022 Hunting Annual issue of Ontario OUT of DOORS magazine.