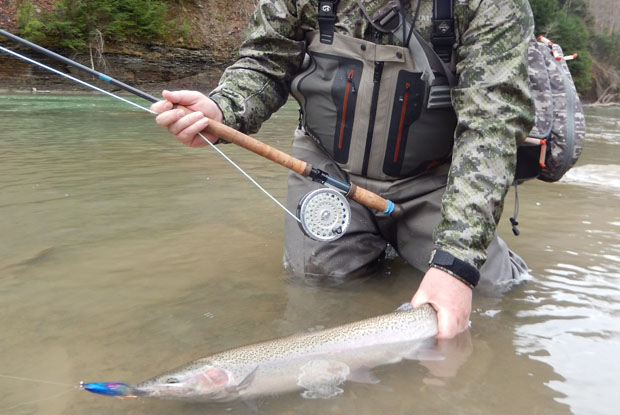 I must admit, I can be a little jaded when it comes to trending topics in the fly-fishing world. Most seem to be little more than thinly veiled attempts by PR types to earn their keep, and social media their way to a free ad campaign.
The #keepemwet campaign, however, is different. As the hashtag implies, when you intend to release caught fish, keep them wet and handle them as little as possible.
Sporting photographer Bryan Huskey of Boise, Idaho started the campaign innocently enough in 2008, when a local fly-fishing club asked him to give a presentation about trout photography.
When I recently spoke with Huskey, he said he was really just looking for a way to help people take more interesting fish photos. "I hoped to subtly convey anglers' responsibility to be good stewards of the resource, and to handle catch-and-release fish with care," said Huskey, "especially when extra time is taken to photograph those fish. I called this portion of my presentation 'Keep 'em Wet.' I outlined that not only are wet fish healthier, they look better, photograph better, and getting the camera down to the fish makes for much more interesting angles and overall composition."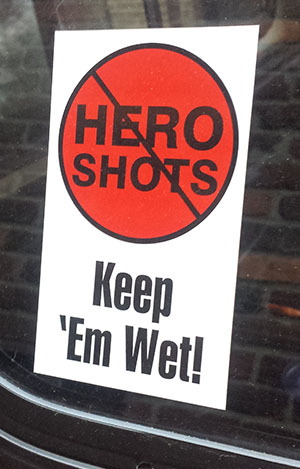 I couldn't agree more.
The standard grip-and-grin pic of an angler with a fish, usually held and photographed several feet off the ground and away from water, is not the best for fish survival.
It can be dropped from that height onto a stream bank full of boulders, easily done while holding a slimy fish that doesn't want to be part of the party. It also makes for a rather unimaginative photo, one I've seen ad nauseam.
Husky also began tagging his social media pics of catch-and-release trout and steelhead with #keepemwet in an effort to increase angler awareness about the negative effects of air exposure to fish, promote proper catch-and-release handling, and encourage anglers to get creative with their fish photography.
"The message behind the hashtag — as I intended it — is to convey that great images can be taken of fish while keeping them away from any dry surface… Dry ground, dry nets, dry hands, dry clothing, whatever. Simplified and stripped down to simplest terms, just 'keep 'em wet' best conveyed this awareness."
Huskey's early efforts at increasing awareness have expanded beyond a simple hashtag. There's now a website – www.keepemwet.org – dedicated to the cause, where all Keepemwet principles and tips are first approved and supported by Science Advisor Dr. Andy Danylchuck, a fisheries professor and research fellow for Bonefish & Tarpon Trust.
Dr. Danylchuck backs the movement's views with solid scientific research, and notes that all fish species face a common hurdle to survival when caught, and that's stress. Research is bringing to light some of the fundamentals that can reduce fish stress, even in diverse species.
"Nuances in the best practices for the catch-and-release of bonefish, such as the presence of aquatic predators (sharks, barracuda), may not apply to rainbow trout in shallow, cold, mountain streams," writes Dr. Danylchuck.
"Nevertheless, predation could be a problem for largemouth bass, not on adults, but rather on fry as they float vulnerably around the nest while the father is being caught and released."
As much as I try to adhere to #keepemwet with my catch-and-release fish photographs, I pressed Huskey with the view that I, and many other anglers enjoy a good hero shot now and again, and that some anglers who post those pics are vulnerable to social-media backlash.
He says that lifting a fish from the water shouldn't feel wrong. "Just make every effort to do it as quickly and carefully as possible. If a particular fish is extra special, it may come up for some sort of 'presentation' shot — but only for a few seconds. If I'm prepared and know what I'm doing, that's all it should take."
One issue that has come about as an offshoot of #keepemwet, (and is by no means new to those familiar with proper fish handling and good photography), is "wet fish drip," or better yet #wetfishdrip.
This attitude tries to bridge that gap between fish-in- and fish-out-of-water photos. A photo of a fish held close to the surface and dripping with water is a very visual demonstration of the angler's conscious effort to adhere to good practices.
"As a fly-fishing angler who often practises catch and release, it makes perfect sense to me that any fish released back into the water ought to be handled with utmost care. Otherwise, what's the point of the release?"
"As a fly-fishing angler who often practises catch and release, it makes perfect sense to me that any fish released back into the water ought to be handled with utmost care. Otherwise, what's the point of the release?" said Huskey.
"As a photographer I'm often taking pictures of fish prior to release, so I'm compelled to handle fish with careful procedure. As an outdoorsman, I feel a strong conviction to minimize the impact I have on the resources I value so much."
Visit www.keepemwet.org for more info about the movement. It offers great tips to help anglers meet the three principles that help assure fish live to fight another day: minimize air exposure, eliminate contact with dry surfaces, and reduce handling.
Join the #keepemwet and #wetfishdrip hashtag campaigns with your catch-and-release photos, too. You'll help keep fish swimming and, who knows, you might even get a more dynamic photo.